We've launched our Summer 2024 Surf & Yoga Weekends, 4 day intensive Beginner Courses and 5 day White to Green Improver courses with some lovely early bird discounts. These discounts are available for a limited time and on a limited number of spaces so book early and save some extra pennies to maximise your escape to Cornwall!

---

Our Surf Sistas Surf & Yoga Weekend Retreats are great for all surfing abilities, so its the perfect choice if you are coming with a friend or partner and you are at different stages of your surfing journey but would like a shared experience. Our coaching sessions are divided into small groups tailored to your level and our maximum 1:4 coaching ratio (standard surf schools are 1:8) means that we can really focus in on your surfing goals and help you progress quickly, wether these are your first waves or you are a seasoned surfer.

Choose a Surf & Yoga weekend if you are looking for an easy and fun escape to the coast as a solo traveller, you want to learn to surf in a supportive and friendly environment, you would like to meet some like-minded women or just experience a beautiful part of the UK for the weekend. With great waves on the doorstep, a beautiful 4 star hotel by the beach, attentive surf coaching, and even the option of a ride to/from London, all you need to do is block of a weekend in your diary, book your spot and let us take care of the rest!

---

If you have a bit more time to spare and are keen to progress your surfing quickly then check out our 4 day Beginner Surf Courses, which run Monday to Friday with Wednesday off for a chance to rest, recover and explore this wonderful corner of Cornwall! Why not take a hike along the stunning wild north cornwall cliffs, take a dip in a quiet cove (we will share our fave swim spots with you), stand up paddleboard or kayak along the Gannel river, hang out in Newquay's much loved eateries, head to a beachside sauna or treat yourself with a session at one of the local luxury spas.

To keep our weekly courses as inclusive as possible we don't include accommodation so that you can pick the option that is best for your budget. Drop us an email and we will send you the password to our online list of recommended hotels, airbnb apartments & rooms, B&Bs, hostels, surf lodges & campsites.

Find out more about our 4 day beginner courses and reserve your Early Bird Discount here
---
Our popular White to Green Improver Course is moving into its 14th year and shows no signs of slowing down. We designed this course as a stepping stone for women who have covered the basics in the white water, have maybe got into a bit of a rut there (or have found themselves back in the white water because surf progression is not always linear!) and want to gain the confidence and techniques to consistently paddle out and catch green waves.

Its a great opportunity to invest some quality time in your surfing progression, if you have been feeling stuck, have lost your mojo or lost confidence this is the perfect course for you! Read more about the course and snap up a £100 Early bird discount here for a limited time only!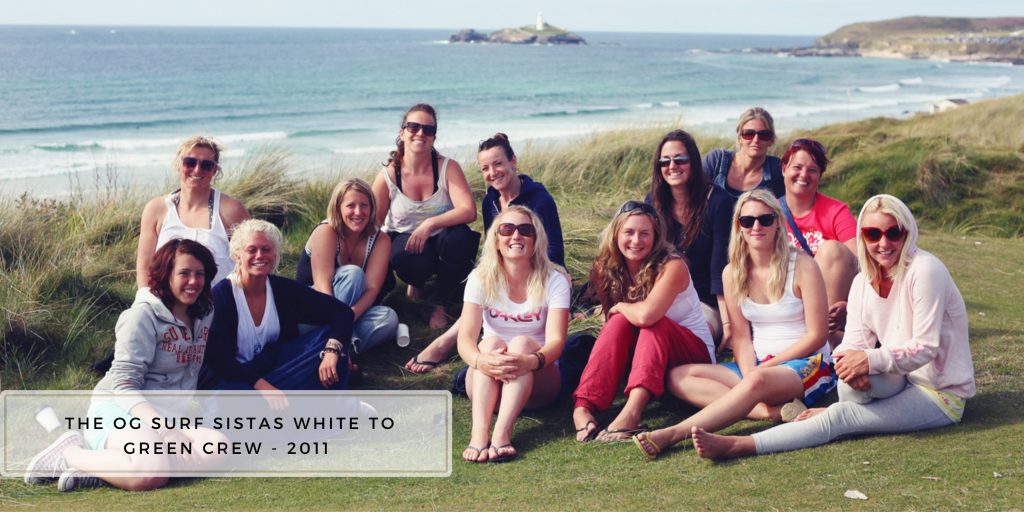 Not sure which Surf Sistas Course or experience is right for you? Check out our guide here or drop us an email and we can help you decide.