How amazing does this sound? Cycling through the pine forests, surfing glassy waves at first light, sleeping under canvas and exploring sleep French villages.  This could be you on the Big Friday cycle surfari in South West France – the ultimate off the grid surf trip for adventurous surfers!
The Big Friday cycle surfari takes us from Hossegor to Lacanau in South West France, surfing as we go! You will be cycling with your board either pulled behind using a mule or carried on a cycle hook.
The Big Friday support van takes all of our camping equipment and baggage so you will only need to cycle with your daily surf gear and lunch! We will be pitching and collapsing our camp as we move, and cooking up a storm for breakfast, lunch and evening meals, so you can concentrate on cycling, surfing and exploration!
Upcoming Dates:
Email for updates

Price:                                £699 per person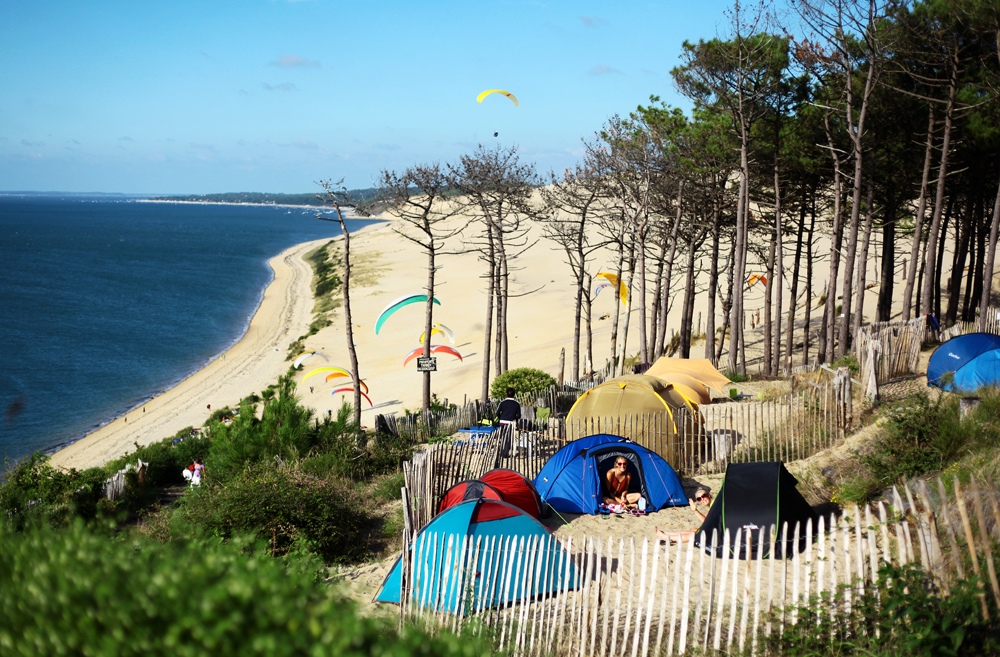 We had a truly fantastic time on the Big Friday Cycle Surf. Thank you for putting together such an amazing trip with such a brilliant team Sarah, London
ACCOMMODATION

We move to a new campsite each evening, all are official sites with full shower facilities and all within walking distance of the surf. Some campsites that we visit offer a swimming pool.
We have two person or individual tents which we pitch for you each day, we also have a communal area for eating and relaxing together in the evenings.

MEALS
All your meals are included except one evening meal during the week when we give our chefs the night off and you have the opportunity to sample the local restaurants (or feel free to use the cooking equipment in camp).
Breakfasts and lunches will be served up in the camp or packed up and loaded in the bike panniers depending on the plan for the day and how early we are up for the surf. Tea, coffee and soft drinks are available in the camp at all times.
Our chefs cook up a storm at the campsite every day and our menu is healthy and filling using local produce. Breakfasts are a continental spread with a hot option each day, lunches are sandwiches, pastas and salads with snacks and fruit.

SURF TUITION & SURFBOARDS
To come on this trip we ask that you have surfed before and are happy to surf without supervision. Private 1:1 tuition is available with our surf guide on request.
We recommend that you bring your own board however this is not essential and rental boards are available. Let us know what you need when you book and we will arrange this for you.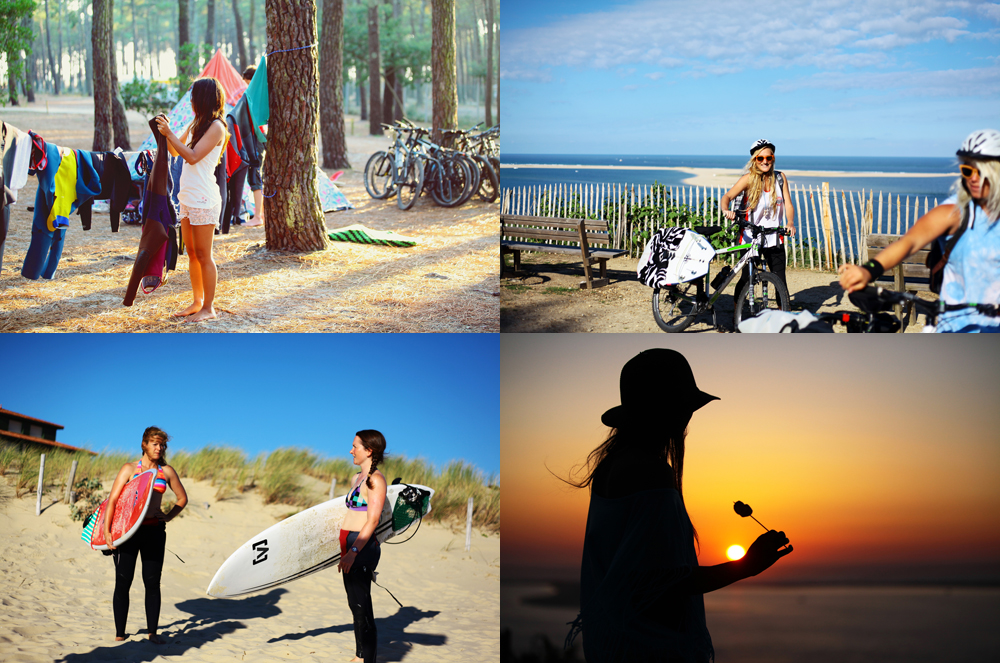 The Big Friday Cycle Surf was one of the most rewarding holidays I've been on in years. The riding terrain is definitely a highlight; a mixture of smooth tarmac, few hills, lots of greenery, and the odd patisserie Ant, London
DAILY ITINERARY
Day 1 – Arrival in Biarritz and transfers to our first camp site in Seignosse where your bikes and board mules/hooks will be waiting. Time to get used to cycling with the mules/hooks and boards and go for a surf! An evening feast at the campsite and then the option to explore by pedal power the local Hossegor night life.
Day 2  – We will be relocating to Vieux Boucau today, its a short ride so we will make a decision according to conditions and tides when to go. Depending on that choice we will surf either the breaks of Seignosse or Vieux Boucau .. or more than likely both!  [Cycle distance approx 7 miles]
Day 3 – After a morning surfing Vieux Boucou we will set off on our first big cycle to Contis-Plage. Good to know a hearty meal and a new surf break awaits us! [Cycle distance approx 23 miles]
Day 4  – Today we head to Mimizan, again our camping spot is right by the beach and a lovely chilled out space. [Cycle distance approx 15 miles]
Day 5  – Onwards to Biscarosse Plage today and plenty of time to surf. [Cycle distance approx 18 miles]
Day 6  – Today we head to Pyla Plage to camp in an epic campsite in the pine forest by the largest sand dune in Europe. Our route hugs the coast and we will explore places to surf as we cycle. [Cycle distance approx 10 miles]
Day 7  – This is the big one, the cycle from Pyla Plage to Lacanau. After a morning surf we will load the boards in the van and hit the road boardless for the big ride. A sunset surf and a final night feast/fiesta awaits us in Lacanau. [Cycle distance approx 33 miles]
Day 8  – We will have most of the day to surf and relax before transfers to Bordeaux airport.

WHAT TO BRING
There are a few essentials that we ask you to bring along for your own use:
sleeping bag
sleeping mat if you need one
plate, bowl, mug, cutlery
torch
reusable water bottle
day use ruck sack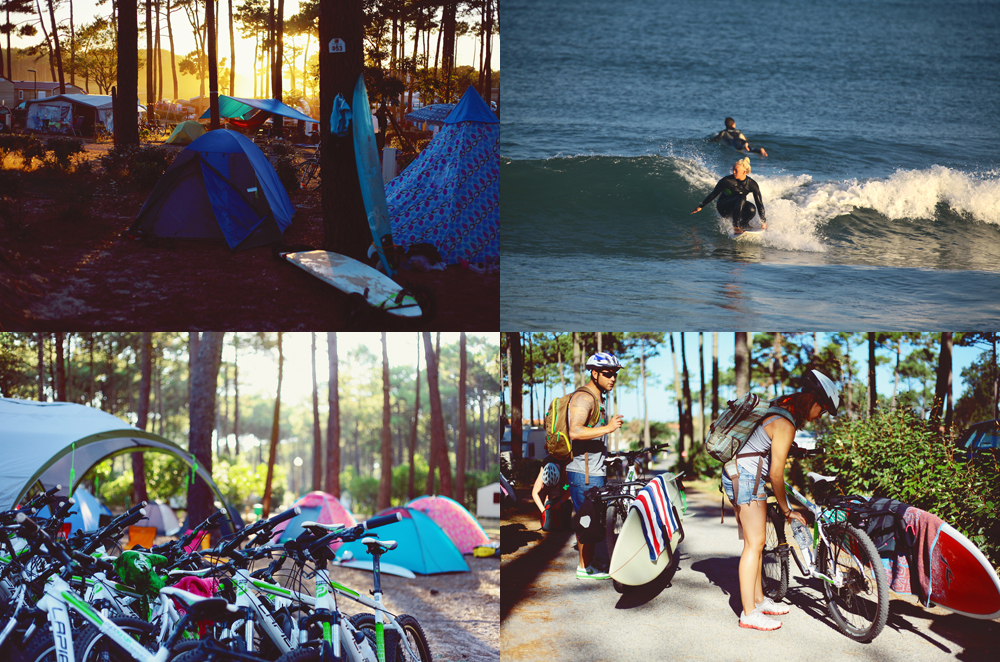 FLIGHTS
We will recommend flights from the London area. It is also possible to make your own way to our meeting point in Hossegor and from our final destination in Lacanau.
TO BOOK
To ask us any questions about the cycle surfari or to make a booking please email us.
Early birds can pay a 50% deposit to hold your space and the remainder on 1st July.