:: NEW FOR 2023 ::
If you already surf green waves comfortably then this course is for you! In terms of progression, surfing doesn't have an end point, there's always more to learn, even if you are Carissa Moore!

If you're wanting to extend the length of your ride, negotiate bigger swell or improve your cutback then these weekends are our opportunity to provide you with focused support in an intensive 2 day programme.

We have spaces for a maximum of 8 students on this course with 2 Surf Sistas instructors in the water with you and our videographer/photographer on the beach/in the water capturing your waves. You will receive plenty of tailored 1:1 instruction throughout the weekend.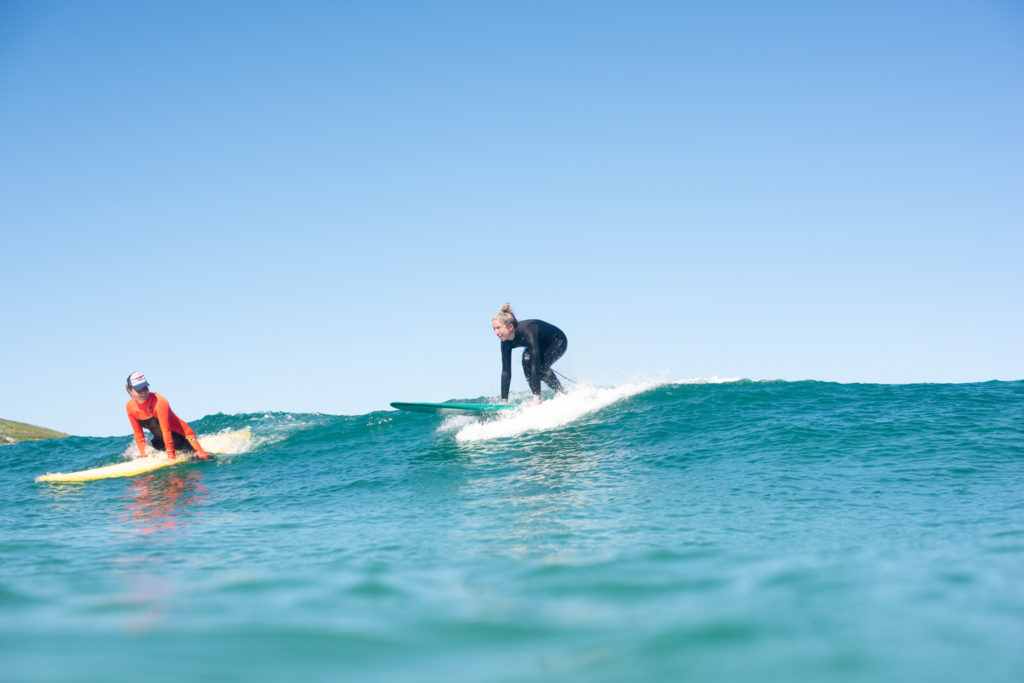 What to Expect
Expect an intensive weekend of in-water coaching and accompanying video analysis and theory. We will be helping you to hone in on your own style in the water, and giving you the option to experience different boards to diversify your surfing skills base.

If you have wanted to try a shorter board, or maybe try a longboard when you are usually riding a mid-length, then this is the perfect opportunity to try something new with expert guidance.
We will start your weekend by identifying individual goals so that we can tailor our coaching to your specific needs. This will be followed up by a video analysis session on Saturday afternoon to give you a visual of the adjustments you may need to progress, for example fine-tuning your turns or positioning.

Sunday gives us the chance to work in the water with your coaches on the specific advice drawn from your video feedback session. You can expect to leave us with improved techniques, new skills in your repertoire and plenty to focus on independently in your upcoming surf sessions.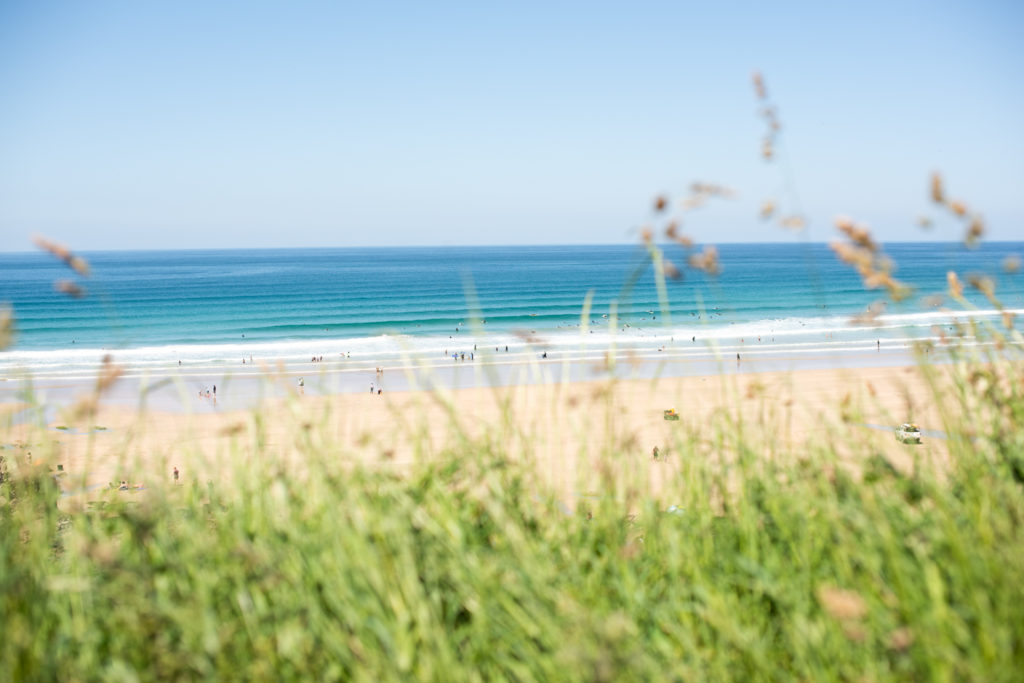 Is this Course Right for Me?
If you are confident paddling out to the line-up by yourself, but are looking to refine your current technique or add new skills, then this is the course for you.

If you're getting out the back sometimes but need a little support with building consistency in paddling out, then you might get more from our 5 Day White to Green course. If you're not able to make weekdays and are still looking for an intensive course to support your progression, check out our Surf & Yoga Weekends which include small group coaching tailored to different ability levels.

If you are unsure which course is right for you please do drop us a line, we are happy to chat this through with you.
What's included in your progression weekend:
4 in-water coaching sessions
1 Video Analysis/Theory Session to support your progress
Group dinner on Saturday night at one of our fave local eateries (vegan & GF catered to)
All sessions videoed plus one session with an in-water photographer.
Support from a dedicated Surf Sistas host and a team of experienced Surf Sistas coaches
Exclusive Surf Sistas tote bag to take home, including vegan treats and offerings from our favourite brands
All photos and videos from your course
Surf Specific warm-ups to mobilise you for your session
A maximum instructor ratio of 1:4 giving you tailored support and dedicated time
Full pre-course support in preparation for your trip, including two exclusive Surf Sistas recording to help with your pre-course surf fitness (Yoga & surf specific workout routine).
Discounts from some of our favourite brands
Not Included:
Transport to/from Cornwall
Beach transfers (if we surf outside of Newquay we will coordinate car pooling to ensure everyone can get where they need to)
Accommodation (Contact us for a list of accommodation suggestions to suit all budgets from campsites to spa hotels)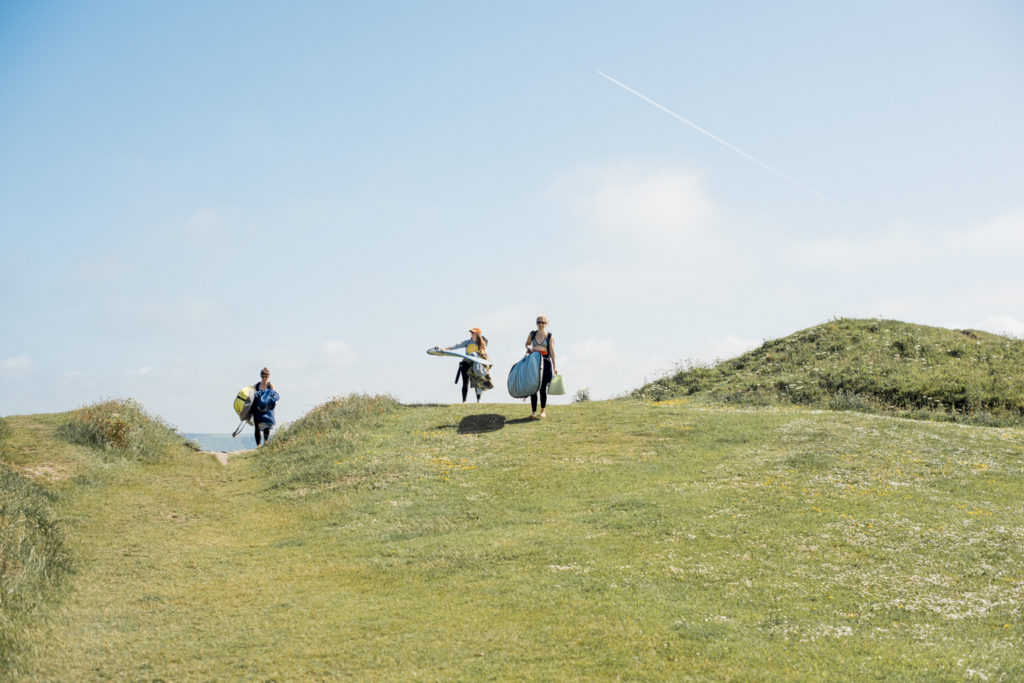 What You Will Learn
Our coaching will be adapted to your individual progression needs, but you could expect us to cover areas such as:
Angled takeoffs
Adapting to different types of wave and take off.
Generating speed along the wave
Turning and Cutbacks
Improving stance
Improving backhand and forehand surfing
Top turns and bottom turns
Surfing bigger waves and getting out back
Techniques to get through the waves
Theory:
Individual specific skill improvement points
Different type of surfboard (e.g. Fin types and placement, surfboard shapes)
Advanced surf forecasting
Reading waves and positioning
Navigating the line-up
Location
Newquay, Cornwall, UK

We meet at South Fistral beach in Newquay but may change our location over the weekend subject to the conditions. We will keep the group informed of any changes and coordinate a car pool to ensure that everyone is able to get to any different beaches.
Hours
The course hours are 9.30am – 4.30pm each day, although this will be kept flexible so that we can make the most of the conditions each day. Be prepared for dawnies and/or sunset sessions if it means we can catch the best waves. If you are travelling to Cornwall for this course we recommend to stay nearby on the Friday night so that you are fresh for the Saturday morning session.

We will run two water sessions per day with an additional photo analysis/theory session on Saturday afternoon.
Dates & Rates 2023
27/28 May (FULL)
17/18 June (2 Spaces)
24/25 June (4 Spaces)
1/2 July (FULL)
9/10 September (Spaces)

£239 per person

Where to Stay
We don't include accommodation as part of our courses, so that you can pick an option that suits your budget. This makes our courses more inclusive and also gives you the flexibility to stay longer in Cornwall and enjoy all it has to offer. Upon booking a course with us we will send you a comprehensive accommodation guide with suggestions from campsites, through B&B's and airbnb's to spa hotels. Drop us a line if you would like this list in advance of booking.

Our meeting point is South Fistral beach in Newquay, you can park free of charge along Esplanade Road but arrive in plenty of time to grab a spot. If you don't have transport then we recommend to stay on the Pentire Peninsula or in central Newquay to be within walking distance.
What to Bring
You own surfboard (You can also hire from us for £12/day)
A wetsuit (We include a free 4'3 full wetsuit rental if you don't bring your own)
A changing robe or towel
A bag, bucket or changing mat to store your wet wetsuit in
A reusable water bottle + coffee cup/flask
Waterproof jacket and beanie
Clothes: dress for the season in whatever you feel most comfy in. We do recommend warm jumpers, fluffy socks and waterproofs to keep you warm in between sessions though!
Sun protection – Sun hat, waterproof suncream, zinc and sunglasses
Any personal medication or medical items (we will take a first aid kit + dry bag with us to the beach so you can store it in here)
Wetsuit boots (you may wish to bring these if you have them and are joining us for a surf course in May)
Wetsuit gloves (useful for surfing between November and February but you may wish to bring some if you know you get chilly fingers.

How To Book
To book please use the paypal link below and once we have received your payment we will email you through your booking confirmation with all the information you need about the course, what to bring, and how to find us on the Monday morning. You can pay a 50% deposit to reserve your spot and the remainder is due 2 weeks prior to the course.
We can't wait to meet you! If you have any questions about this weekend course or any others please drop us a line