It's time to celebrate another wonderful woman in our Surf Sistas Interview series! This time we had the joy of chatting to long term friend of Surf Sistas and all round one women circus Rosie Underwood. Rosie has had a dynamic and diverse career in London from her early 20s (she can tell you more about this).
And although she's a legend of the big city lights, Rosie is a grounded soul, creating space to enjoy the ocean through surfing and swimming as well as dedicating time to helping others.
You may be a city dweller yourself, exploring how you balance life as an urbanite with your passion for surfing or swimming. You might find Rosie's story inspiring and relatable! We chatted to her earlier this year to learn more about her life and her relationship with surfing and the ocean.
Hey Rosie! Tell us about yourself. Where you're from, what you spending your time doing, and about your vibrant and varied career!
Hi legends! I'm from the south coast of England and basically spend my time between there, London and of course Kernow home of Surf Sistas when I'm in the UK. I love to surf, swim, sail, be very vocal, dance, box and of course go to Yoga. I love writing too, its never a bus man's holiday for me, I really love everything I do for work and fun. I've worked as a journalist for the last 15 years, I started off in TV working on the X Factor and then moved onto being the Fashion and Beauty Director of a few main stream magazines. I'm also a Yoga teacher, trained in positive psychology and I'm an Integrative health coach. I like to make people feel happy! (Find more about Rosie's work here!)
What motivated you to become an integrative health coach and yoga teacher?
Working as a journalist for some mainstream titles I was lucky enough to travel the world at quite a young age and meet a lot of people that our culture labels as 'successful.' The trouble was, it felt like most rich and famous people I had the pleasure of working with had misdiagnosed their own needs and weren't happy as a result.
I realised we're often sold lies to essentially make us all consumers. Its felt like consumerism was playing on scarcity mindsets, and making people's realities very warped. Without getting too heady, I realised I could easily fall into this trap myself. So I dedicated all of my spare time to studying and training over the course of about seven years.
The aim was to make people feel the best they possibly can, no matter what their life situation. You got to have a blast while you last!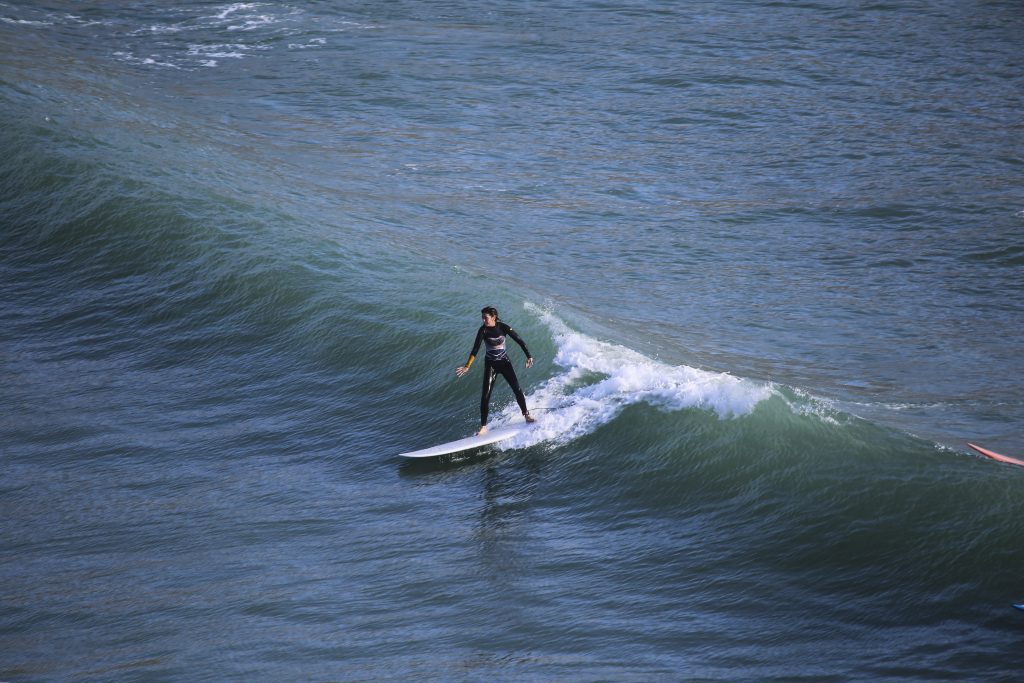 When did you first learn to surf? What inspired you to try?
I think it was in my early twenties. Obviously I was that kid who jumped on a body board at any given opportunity but I think in my twenties it was a way of escaping everything I just listed above.
What impact has surfing had on your life?
A huge one. The biggest impact has been the people I've met, and the times we spend together. The lifestyle is expansive, abundant and full of laughs that make me think I might die.
Tell us about your time with us at Surf Sistas. What surf Sistas courses/retreats/trips have you been on?
So many highlights! I literally cry laughing just thinking of so many! Surf Sistas have taken me to places I never thought I'd see, pushed me to my edge, and given me friends for life. Once we surfed a point break in Costa Rica and Whale came to visit us. Needless to say I tried to speak whale that day. Every trip fully immerses you in the culture if where ever you go, taking you off the beaten track, in safe hands, really taking  the stress out of seeing places and having new experiences.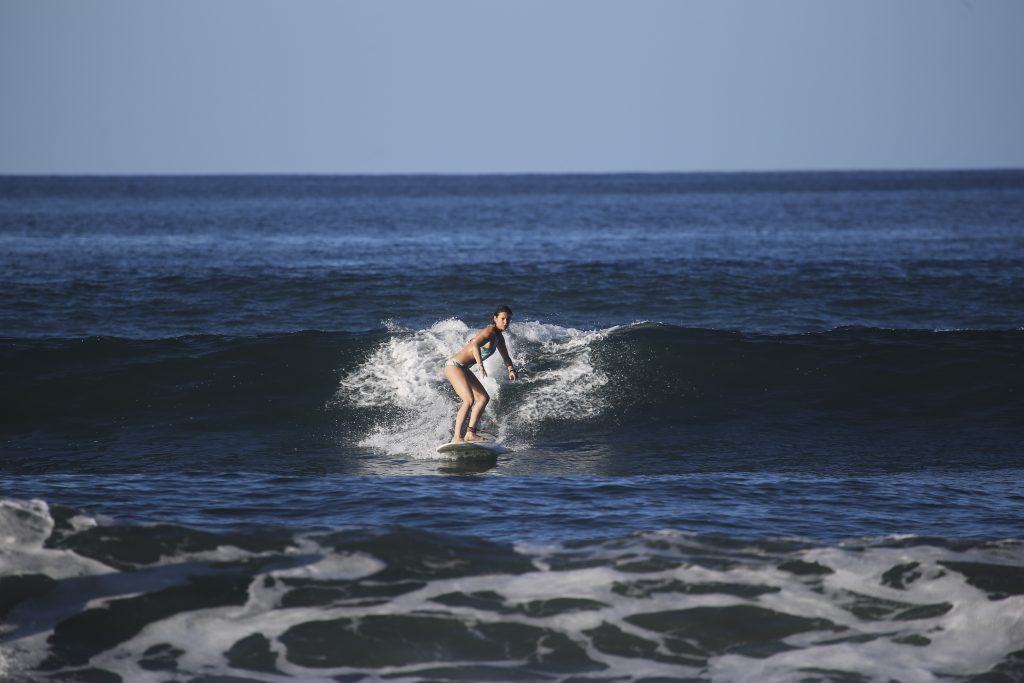 How has surf Sistas helped you on your surfing journey?
Big time. I went from wrestling with a crocodile like a kook in the soup, to surfing like a spatch cock chicken, to out back on green waves with their very empowering, professional coaches.
As a health coach and yoga teacher any advice you'd give surfers to stay fit and healthy for surfing year round?
Sadly, be absolutely rigid with checking the Surfers against Sewage app. (Vote wisely folks) You need a lot of flexibility in your hips, shoulders and ankles if you surf, so a regular Yoga practice is super healthy. Surfing gets you into a flow state, so it's something I'd label a primary food, which is something that nourishes you off the plate. With that being said, its important that we don't get too hooked on a flow state or primary food, because we can end up neglecting other important areas of our lives. So as with everything, find balance.
Have you got any surf trips or other adventures lined up this year?
I'm running a few retreats abroad this year and teaching at lots of festivals, so it's a busy summer, but hopefully I'll squeeze in a trip for me that's not work related later in the year.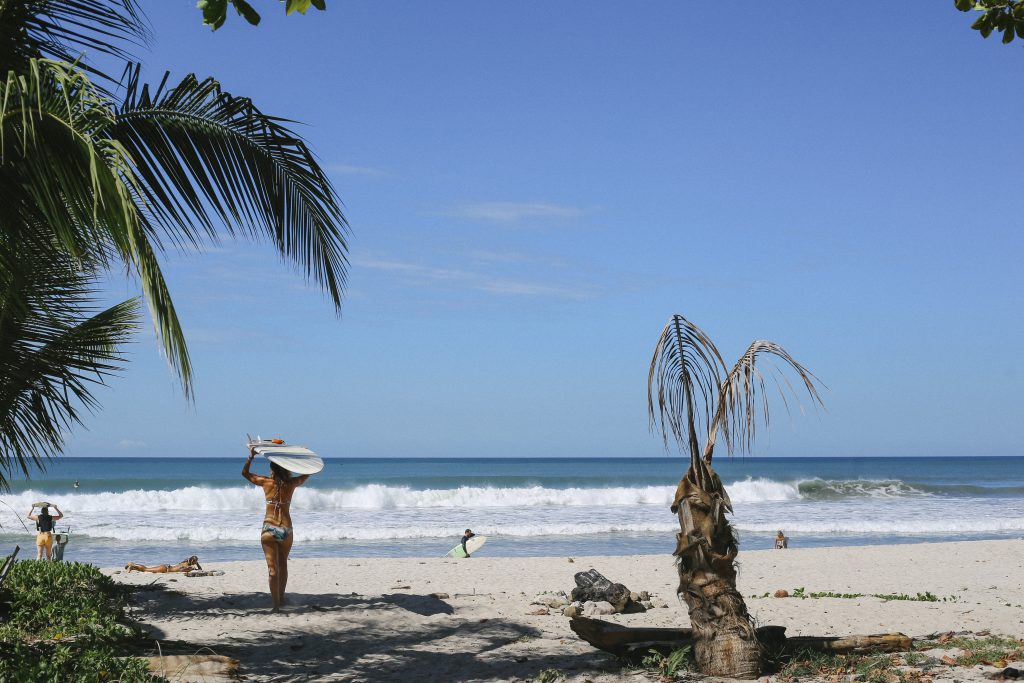 If you're a London city surfer like Rosie, you'll love our Cornwall Surf Retreats and Tropical escapes. For our full course calendar – Click Here