So you want to get a new swimsuit that doesn't cost the earth (literally) and are struggling to pick out the most environmentally friendly brand to buy. It's a confusing affair. Understanding what constitutes sustainability and which companies are actually sustainable is easily overwhelming with the terms eco, green, conscious and ethical being thrown at us from all angles.
What is clear from exploring the different sustainable swimwear companies is that sustainability stretches beyond merely what your clothes are made from and must also include how they are made, and even how they get to you. Are swimwear brands thinking about human rights and working conditions? Are other materials and energies used in the process of bringing the swimsuit to the consumer also considered?
To narrow our search, we've created this guide to celebrate swimwear brands based in Cornwall, who take multiple steps to be as sustainable as possible whilst creating beautifully designed and high quality swimwear products. We feel that supporting local swimwear businesses is a net positive as it promotes resilience and collaboration within our Cornish community.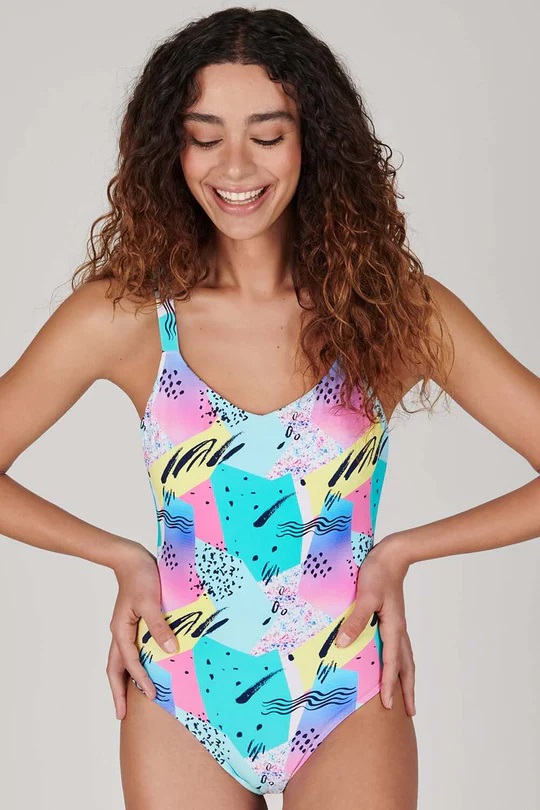 Born out of her love of surfing, Sammy, the owner of  Newquay based brand Tide + Seek,  had a vision of creating a swimwear brand that tackled coean plastic pollution. Her suits are made out of 100% plastic bottles, her products are packed in degradable shipping bags that can be reused and offcuts of swimwear are used to make scrunchies. 
The swimwear is manufactured in a factory in Bali (it took Sammy 3 months of rigorous research to find the one that aligned with her values). The factory pays employees above minimum wage, offers health insurance allowances and provides working conditions in line with UK standards. Sammy provides a great depth of transparency on her site about how the swimwear is made and how it is sourced – read more here.
We love the vibrancy and energy of the collection so much so we've teamed up with T+S to offer you all 10% off their swimwear range until 28th November (2022). Simply head to their website and use the code 10SURFSISTA at the checkout.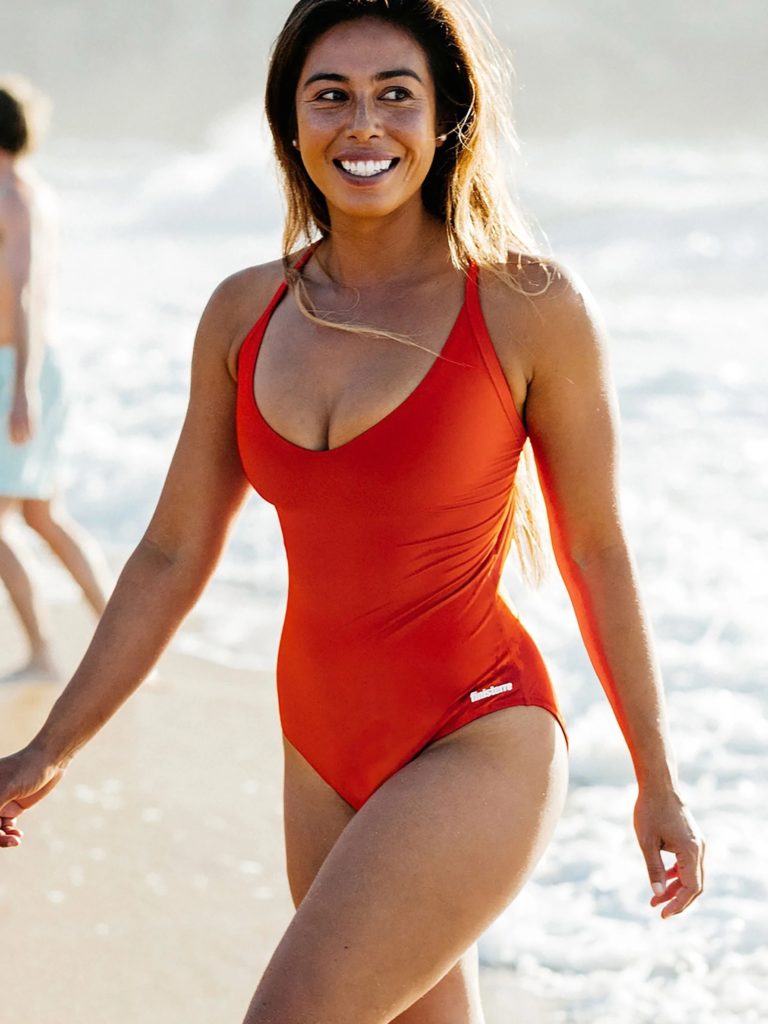 Cornish surf brand finisterre creates recycled ECONYL® swimwear and wetsuits made from Yulex (natural rubber sourced from FSC certified forest. They're also a registered B-Corporation, meaning they're a company meeting high social and environmental standards in the way they do business. We love their practical suits that can be used for surfing and sea swimming both in coldwater and warmer climes. Used by one of our surf coaches, we can recommend their pieces.
Made of Water was started by a collection of women who wanted to connect other women to the sea in a way that's inclusive, embodying and empowering. Alongside their own clothing brand they offer three different swimwear brands, handpicked for their sustainability principles and flattering swimwear pieces. We love that they are sourcing some beautiful international brands that we might otherwise not get to see here in Cornwall!
Winki produces small batch neoprene suits to minimise waste created from mass production practices. Winki works with the Blessed Sewing Project, whose aim is to rehabilitate female victims of human trafficking through sewing training as a form of therapy plus building workplace skills. 
OHOY has a mission to create a flattering and long lasting swimsuit with minimal impact. Their suits are made of either ECONYL® or OEKO-TEX® (certified fabrics free from hazardous chemicals) that are chlorine and sunscreen resistant.
September the Line: Another collection of beautiful swimsuits, these 100% Econyl pieces are made in a female owned factory in Bali that works to the Ethical Trading Initiative base code to ensure fair working conditions for all  employees. 
Warning: If you head to the Made of Water shop (find it in Sunset Surf on Fore Street) in search of one swimsuit, you may end up with 3 or 4, their collection is rather lovely and these girls know their swimwear and what will work for you!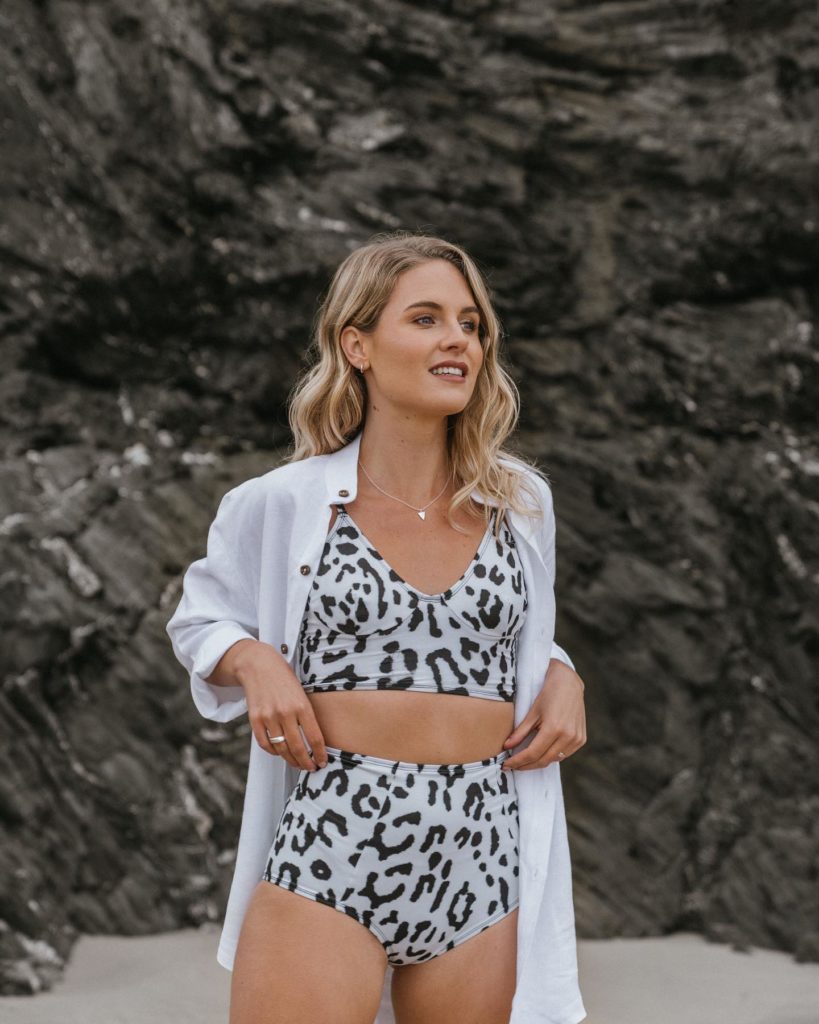 Surfer and Swimwear designer Vicki, created Sand and Palm to create durable artistic swimwear that doesn't fall off in the surf. Having worked for major surf brands in the past, she noticed that the swimwear market lacked small brands providing well fitting swimwear built on sustainable principles.
Vicki uses the most appropriate materials for the garments so that quality isn't compromised. Her swimwear is made of ECONYL® (regenerated fishing nets) and she uses Hemp for her clothing lines, for it's low water footprint, ability to improve soils health and high absorption of C02 making it carbon negative is it's growing process. (Hemp is amazing, you can find out more here!)
Her swimwear is made in small batches from her studio in Newquay to minimize waste and uses methods of hand dying, natural dying and laser printing to create artistic swimwear without the pollutant chemicals. We've tried and tested these swim pieces and can highly recommend!
Surfer Ellen Caldwell started Figure in 2019 with the aim of creating bespoke surf suits pieces 100% free from single use plastic. She makes small batch lines of swimwear made out of Recycled Nylon Swimsuits manufactured in the UK.
Based on circular economy principles, Figures neoprene wetsuits and swimsuits are made using Yamamoto Limestone Neoprene manufactured in Japan. Sitting on a hotbed means that the melting down of the limestone happens from renewable energy sources.
All panels of suits are ergonomically designed to be replaced instead of the whole suit and offcuts are used to create other products and returned suits sent to a wetsuit recycler to be repurposed into other products.
The end result is flattering one of a kind products built to last and keep you enjoying the sea.
Finding the most sustainable brand will always be challenging with technology changing and multiple angles to approach the concept of sustainability. However, we hope you find this guide useful and it helps you to indulge in the purchase of beautiful swimwear with the planet in mind. 
Do you know any other great Cornwall based swimwear brands? Please share with us and we can add to our list!