COSTA RICA SURF ROAD TRIP
Waking at dawn to the sound of howler monkeys, surfing glassy waves at first light under the guidance of our Surf Sistas instructors, exploring beautiful beach towns and countless stunning surf breaks, stretching out in a Yoga class under the palms, navigating dirt roads and rivers in 4 wheel drives, quad biking, zip lining through the rainforest canopy, swimming under waterfalls, enjoying fireside beers on the beach at sunset with your fellow Surf Sistas, dancing under the stars at the local reggae night, and even more .. our 10 day Costa Rica surf road trips are an adventure you will remember forever!
Costa Rica was the best trip I ever had. I met amazing girls, we had absolute great surf Instructors Nicole and Sam…wonderful places to stay, a lot of surf and of course a lot of fun.  I am still dreaming of this wonderful time, thank you Surf Sistas!
Michaela, Switzerland

2024 ROAD TRIP DATES:
Coming Soon!
 
PRICES AND WHATS INCLUDED:
US$ 2500* per person (shared double room or shared twin room).
Single supplement $400 per person for private double room.
If you are coming solo and would like to share we will match you with a roomie in a twin bed room (same sex).

Pay a 50% deposit to reserve your spot & the remainder 8 weeks before the trip.
Use www.xe.com for a current conversion into your own currency.

On the Road in Costa Rica from Surf Sistas on Vimeo.
THE ROUTE
Our 10 day surf road trip takes us from Tamarindo in Northern Guanacaste on the Pacific Coast, down to Nosara on the Nicoya Peninsula, and then further South to the sleepy beach town of Santa Teresa. Its an adventurous journey with rugged and beautiful scenery, beach driving, river crossings and incredible surfing. With our team of experienced guides and coaches we will ensure you are are surfing the right waves for you every day.
Our starting location (1) is Tamarindo, our home for 2 nights. We will be surfing the breaks right on our doorstep as well as driving to nearby beaches such as Playa Grande and Playa Avellanas. Other activities in Tamarindo include Yoga, watching the giant leatherback turtles in Las Baulas National Park, day spas, horse riding and of course sunset watching!
On DAY 3 we will head South to the relaxed beach community of Nosara (2) on the Nicoya Peninsula. Here we will spend three days surfing the local breaks .. keen Yogis might want to visit the renowned Nosara Yoga Institute.
DAY 6 will take us on an adventurous and scenic drive even further south to the sleepy beach town of Santa Teresa (3). River crossings a plenty and the opportunity to stop and check different breaks and find one of our favourite spots for lunch. After a few stops en route we expect to make it to Santa Teresa in time for a sunset surf!
Our last 4 days in Santa Teresa will be packed full of surfing, a snorkel tour to Cabo Blanco and a hike at the local waterfalls.  We can also visit the local tide pools, secret beaches, take an SUP or quad bike tour, or just chill out by the pool at the hotel, do some Yoga or have a massage…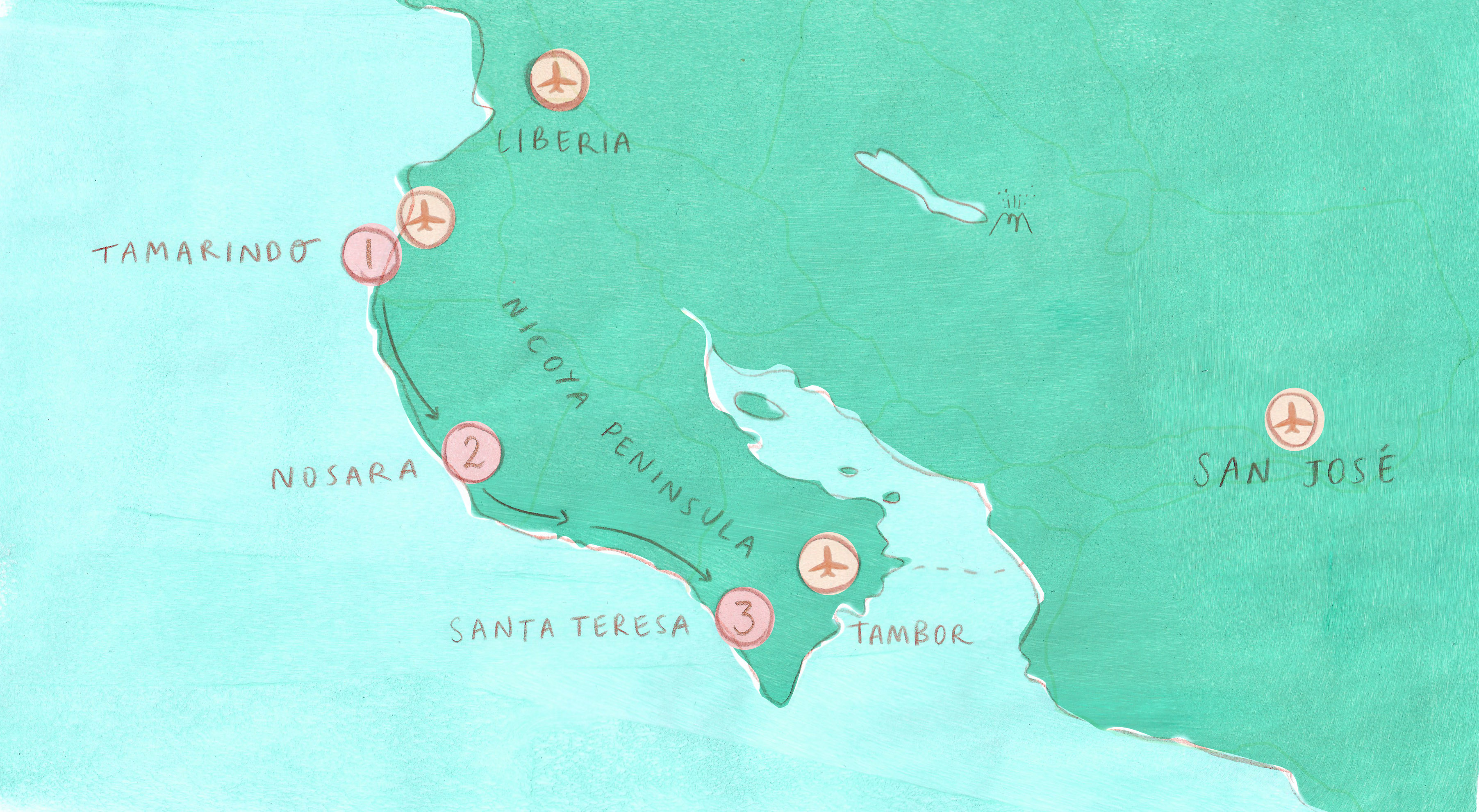 YOUR SURFING
All of our accommodations on the road trip are located just a few minutes walk from a surf break and we have 4×4  vehicles so that we can find the best surf each day and also show you some different breaks in each location.
We have a maximum of 10 guests on the road trip and 3 surf coaches with us, so you can be sure of plenty of one to one tuition with your coaches.
Beginner surfers will learn the basics of surfing, how to position yourself on the board, catch waves and pop up, and importantly how to stay safe in the water. By the end of the trip we will be concentrating on your paddling, how to catch green waves, and turning.
Improver surfers will benefit from our 'White to Green' coaching, helping you to really take your surfing to the next level where you are gaining confidence in paddling out the back, consistently riding green waves, turning and trimming along the wave, turtle rolling or duck diving. We will use video analysis where appropriate to help you to identify the key areas you need to work on.
Experienced surfers will benefit from an introduction to different breaks along the Nicoya Peninsula, our local knowledge of conditions and coaching using video analysis to work on specific aspects of your surfing.
You will have the option to take 2 coached water sessions each day unless you would like to take some time off to relax in a hammock, explore or try out some different activities.
Bring your own surfboard or rent one with us for the trip ($100). If you know what kind of board you want to ride then let us know in advance and we will make sure we have the the right board for you when you arrive. We will choose a board for you if you are a beginner.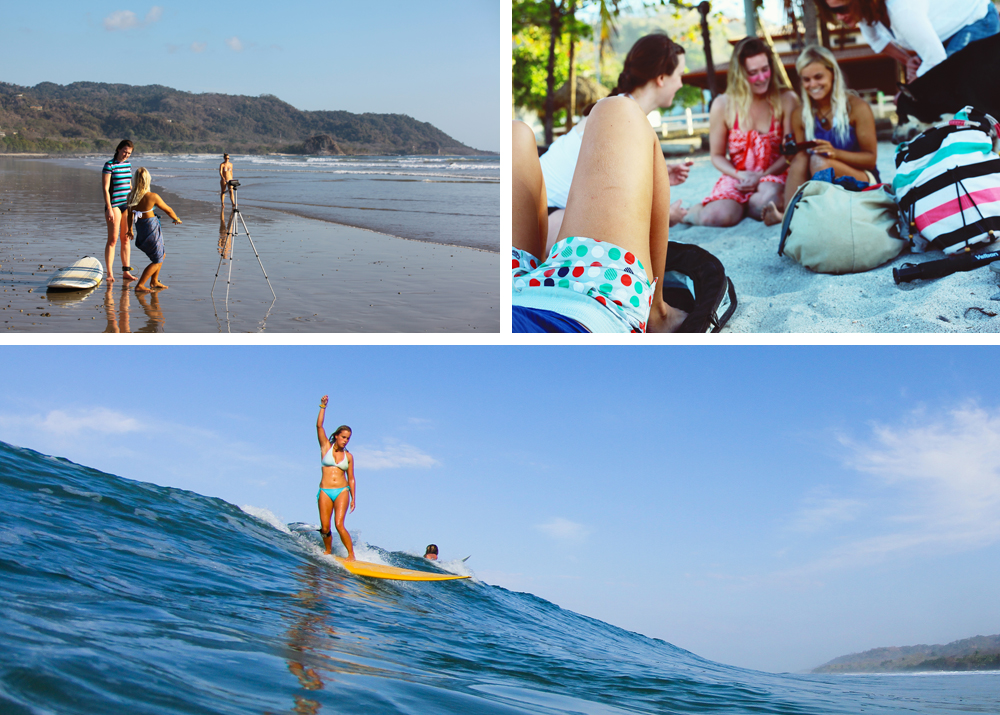 "This holiday offered everything needed for a great experience, whether you go on your own or with friends! The instructors were very warm, welcoming, helpful, enthusiastic and happy. Everything was thought of and catered for, including the amazing accommodation and being taken to breakfast bars, cafes and restaurants to taste the delicious local delicacies and eat lots!

The surf was awesome and it was possible to do as much or as little surfing as you wanted, including sunrise and sunset surfs with good quality rental boards! The instructors were always on hand to help you out and encourage too, no matter what your surfing ability is. They're also great at teaching you how to read the surfing conditions including reading surf reports, learning how the wind affects the surf and how to read the waves when you're sat on the beach looking out!

Being a road trip meant that we got to see lots of this beautiful country, including many of the beautiful beaches, local towns, mangos and lots of the local wildlife and experience driving through rivers and across the beach! Many other excursions were available on the trip, including turtle watching, snorkelling, boat trips to local beautiful islands, tree top zip lining, hoola hooping and massages! You could make this holiday as relaxed or jam packed as you like, as you have the opportunity to chill by the pool in each place you stay or relax on the beach too!

The girls went above and beyond to make this trip brilliant! If you like adventure, this trip is definitely for you!"
Laura, UK
ACCOMMODATION
We have hand picked our three surf camp accommodations to provide us with a great base in each location, always within a short walk of the waves! Each has a pool and is close to lots of great cafes, restaurants and beach bars to soak up some Costa Rican beach life.
All the accommodations have AC and wifi. Linens and towels are provided but please bring your own beach towels.  All the rooms are twins or doubles.  If you are coming solo we will match you with a fellow roomie for the trip or ask about our single supplement. 
Healthy and delicious breakfasts are included with your retreat. For lunch we will be dropping in to local Western style cafes or to the local soda for a typical Costa Rican lunch dish, a casado. There are also supermarkets close to all our accommodations for snacks and drinks and we will happily be recommending all our favourite haunts for the best smoothies, chocolate brownies or gallo pinto!
In the evenings we will be heading to different local restaurants or sodas as a group, there are so many amazing options that we won't even have enough enough evenings to take you to our favourites. We know you will love the ones we choose though! We can also recommend the best places to go dancing from beach parties under the stars to beach bar reggae nights!
AND THERE'S MORE

Watch giant turtles lay their eggs, Zipline through the jungle canopy, hike to waterfalls with new friends, quad bike to remote beaches, hang upside down in an aerial silk class, make chocolate cake from avocados in a raw food workshop, kayak at dawn, stand up paddle board down the rio bongo, snorkel off Tortuga Island, indulge in a spa treatment or massage .. these are just a few of the amazing activities available to you on our Surf Sistas Surf Road Trip.
Either book extra activities in advance with us or when you arrive with your Surf Sistas host. If you are feeling more chilled there are of course the other wonderful and free activities of reading by the pool, snoozing in a hammock, bathing in natural tide pools and strolling along mile after mile of glorious beaches..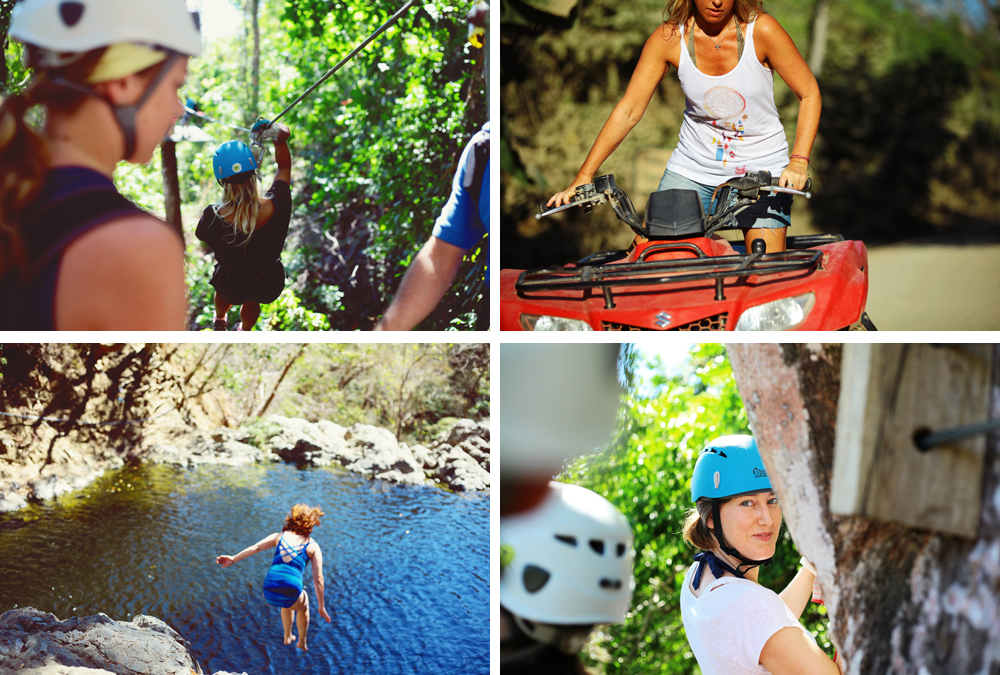 YOUR VACATION INCLUDES:
Arrival transfers from Tamarindo Airport (5 mins drive) or Liberia Airport (1 hr drive)
Departure transfer to Tambor Airport (45 mins drive)
9 nights accommodation (2 nights in Tamarindo, 3 nights in Nosara, 4 nights in Santa Teresa)
Breakfast every day
Daily transportation to different breaks and to new locations in comfortable 4×4's
Daily surf coaching and guiding with our fun, experienced and qualified Surf Sistas coaches (3 coaches for 10 guests)
Surf Sistas host on hand to help you make the most of your time in Costa Rica
Snorkel trip to Cabo Blanco
Trip to swim at the Montezuma Waterfalls
Free wifi at each accommodation
Amazing Surf Sistas Surf Goody Bag!

Optional extras include the following:

Surfboard rental $80 for the trip (we will choose boards for beginners)
Stand Up Paddle Surfing tour (from $70)
Quad biking tour (from $70)
Hoola hooping class (from $8)
Zipline Canopy tour & Waterfall hike (from $40)
Aerial Silk class ($25)
Raw food workshop ($80)
Juice cleanse (ask for prices)
Bicycle rental (from $7)
Spa treatments and massage (from $50)
Fishing trip (ask for prices)
Tortuga Island tour with snorkelling ($50)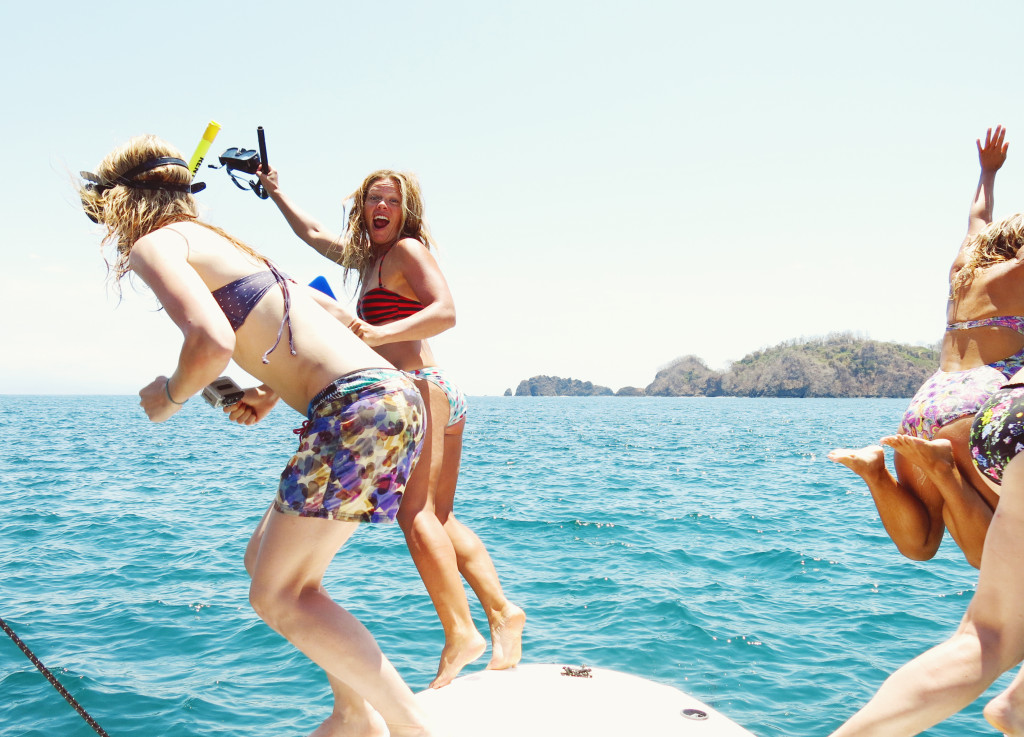 FLIGHTS:
Your trip includes arrival transfers from Tamarindo or Liberia Airports and departure transfers to Tambor airport. We can also help you to book land shuttles from San Jose airport, or advise on domestic flights.
You will need to book your own flights, however we can advise you on flights that others are taking, the latest deals that we have discovered, and also recommended booking agents.

EXTEND YOUR STAY:
We are happy to help with details of other places to visit in Costa Rica and accommodation suggestions if you are staying extra days either side of the road trip, just ask us when you book.
HOW TO BOOK:
Twin share/double share room – US$ 2500 per person
Single occupancy double room –  US$ 2900 per person
See www.xe.com for an up to date conversion to your own currency.
Select the Paypal button below to pay your deposit to reserve your space(s) on your preferred trip.  The remainder payment is due 8 weeks prior to departure.  Once your payment is received your space is reserved and we will email your booking confirmation within 24 hrs.
Any booking questions please email or call +44(0)7779099770
Please click here to view our terms and conditions
We love questions so any queries, thoughts or worries just let us know and we will do our best to help.

LETS GO!
"I booked this road trip on a whim, having never surfed before. It turned out to be one of the best things I've ever done. The road trip was the best way to really see the beautiful coast while learning to surf at the same time. I met an amazing group of girls, went home with unforgettable memories and a new addiction to all things surfing."
Jenny, Canada
Hope you're still having a good time in Costa Rica, I massively have the post holiday blues! I wanted to say thank you for a really, really awesome trip. Everything was amazing, we both loved it all but especially the coaching. So please pass on another thank you to them, we both feel we got exactly what we needed 🙂
Amy & Dave, Nottinghamshire, UK
Costa Rica Surf Road Trip 2018 from Surf Sistas on Vimeo.