We've been running our women's Surf & Yoga weekends for over 20 years now. In fact, a little brand history moment, Surf Sistas evolved from these very weekends. Back in the day we were known as Big Friday and we ran surf weekends for Londoners who wanted to escape the city. We saw a need to create an empowering surf space that would encourage more women to get into surfing. And here we are 20 years later!
Our Surf & Yoga weekends are still our most popular events today, and secretly they are still our faves too. There is something really magical about a group of women escaping to the coast for a few days and making the most of their time away.
If you want a little more insight, here's 7 reasons to join our Surf & Yoga weekend in Cornwall in 2023.
You don't need to get time off work
Being a weekend thing, you can hop in the car on Friday, cruise down to Cornwall and be on your way again mid afternoon Sunday. This means you'll be able to enjoy a mini getaway to the sea without having to use up annual leave!
Another bonus. The dates of our Surf & Yoga courses all fall outside of school holiday season, that means less friday night traffic to battle with! Phew!
If you work weekends, don't worry! We've got you covered with beginner and improver courses running during the week.
You'll receive lots of tailored tuition
With our Surf & Yoga weekends being the original course we started running 20 years ago, we've have the know how when it comes to helping you progress your surfing in this time frame. Whether you're looking for a bit of fun, tips to iron our bad surf habits or want more coaching on catching green waves, our maximum 1:4 coaching ratio means you'll get specific tuition based on your needs.
When you book a course with us, we'll ask you to send us info on your surfing ability. From there, we'll group you with other Surf Sistas based on what you want to get out of the Surf & Yoga weekend, so expect tailored tuition from the get go!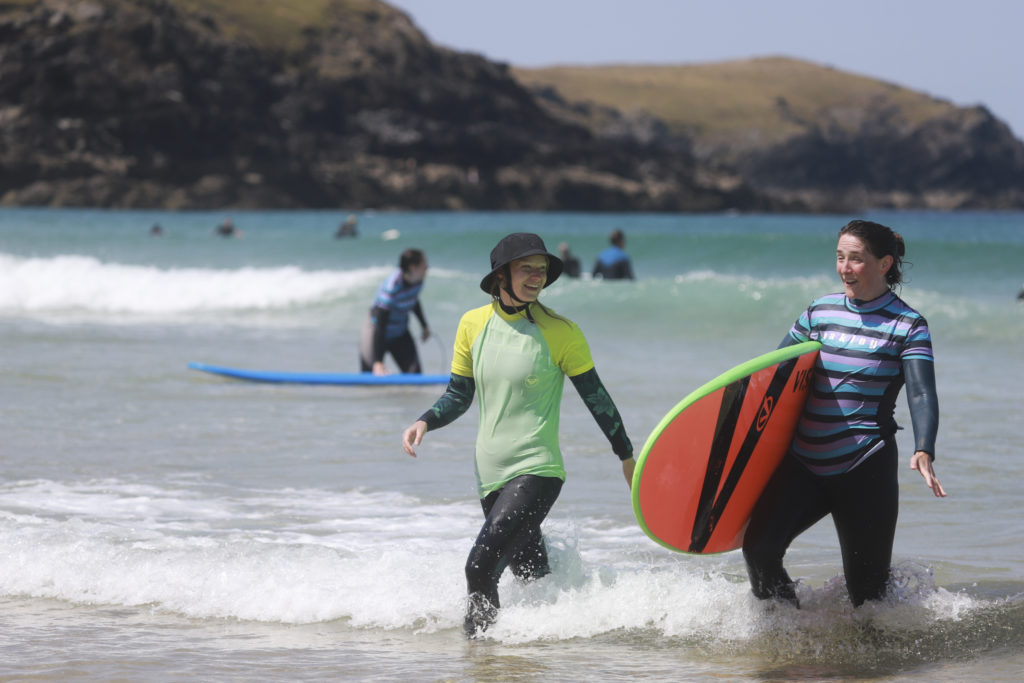 You can come with friends of mixed abilities
This course is for all ability levels as we don't want you to miss out if you're only available for a weekend course. Therefore if your friend is charging the green waves but you're still getting to grips with your pop-up, you can still share the experience together whilst receiving coaching pitched to your level.
Are you and your friends all green wave riders competent at paddling out? If that's the case, you might enjoy our Intensive Intermediate Weekends, aimed at consolidating your technique and style riding green waves. If you're unsure of your surfing ability level – read this guide.
Coming alone? Most women on our courses are flying solo, and we aim to provide a non-intimidating supportive environment where you can connect with likeminded salty souls! If you are worried about coming on your own, pop us a message for a friendly chat.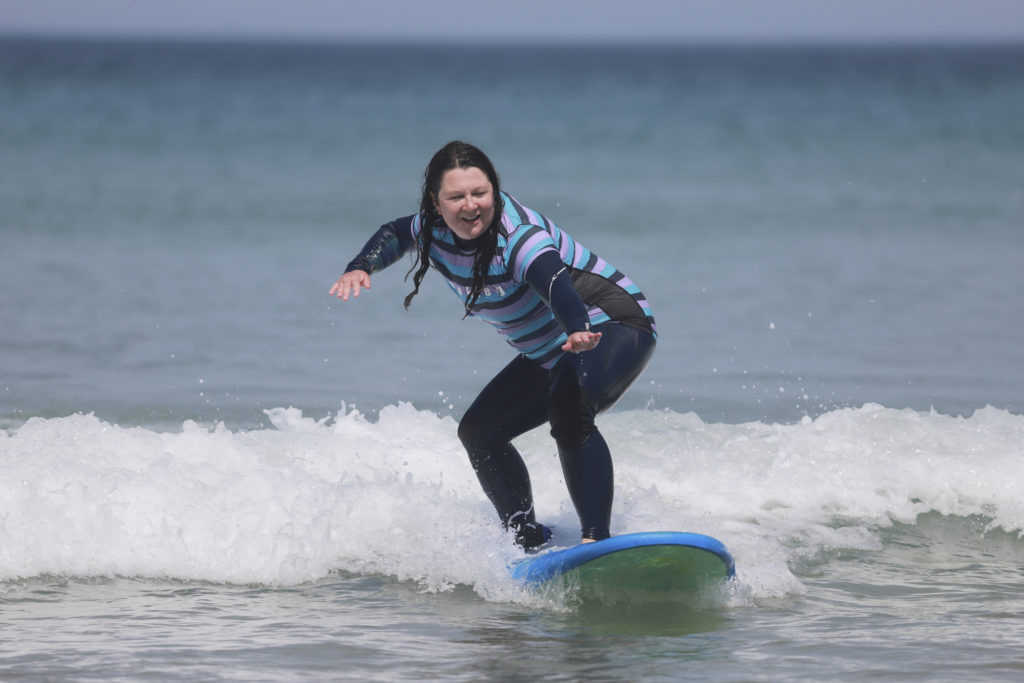 Everything is sorted for you
Life can get busy, we understand. And planning and booking a surf holiday isn't always straightforward.
Often once you've decided dates, you need to book accommodation, organise transport, work out where you're gonna surf and where to hire board/wetsuits (if you don't already have equipment). Logistically can be a hassle, especially if you're planning a weekend trip last minute for a quick escape.
Luckily, our surf and yoga weekends include pretty much everything! Including accommodation, breakfast and a table booking for Saturday night dinner. So you just need to book and get yourself here!
What Included with Accommodation:
3 surf lessons tailored to your ability level with our Surf Sistas coaches
Surfboard rental
Wetsuit rental
Yoga for surfers class
2 nights accommodation in 4 star beachside hotel in Newquay (choose shared twin/double room or single occupancy double room)
Use of hotel pool & sauna
Delicious Breakfasts
Welcome drink on Saturday evening
Group table reservation at one of our favourite restaurants on Saturday night
Surf Sistas host on hand all weekend to help you make the most of your time at the beach and in Newquay!
Photographs of you surfing in an online gallery to download
A lovely Surf Sistas goody bag to take home
If you want to organise your own accommodation we also offer a package for Surf & Yoga only. For full details – Click Here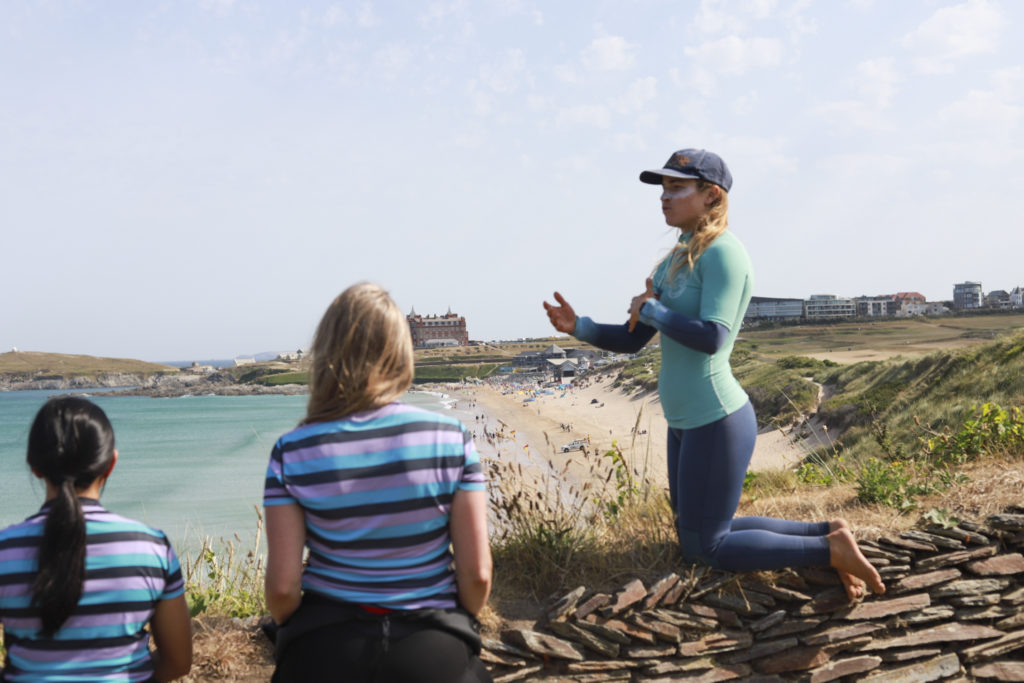 You'll leave feeling refreshed
You'll get lot of water time over the weekend – Yay! But surfing is tiring work (in a very relaxing way mind). Your full body will be put through it's paces. And if you're returning to the desk on Monday you might be feeling a little stiff. To balance out all that paddling and wave riding, we'll finish off the weekend with a relaxing Yoga session to stretch out your hard worked body.
Our Yoga Teachers are all surfers themselves, so they'll be taking you through a surf specific flow. This is also great knowledge to take with you and postures you can use before and after future surfs.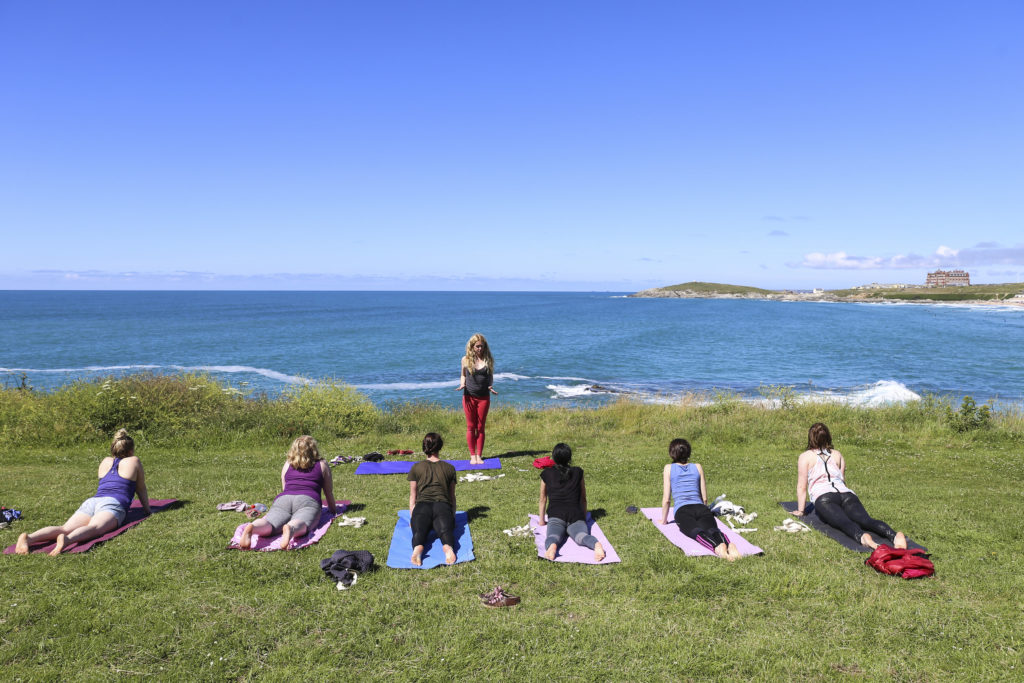 We'll come get you from London!**
Live in London or thereabouts? We run a shuttle on Friday to transport you down. Plus back on the Sunday afternoon! This can remove the hassle of driving yourself or makes life a lot easier getting to us if you don't have a car.
**Our shuttle isn't available in May, as Kate will be in Ibiza heading up our Swimming Retreat. Lucky thing!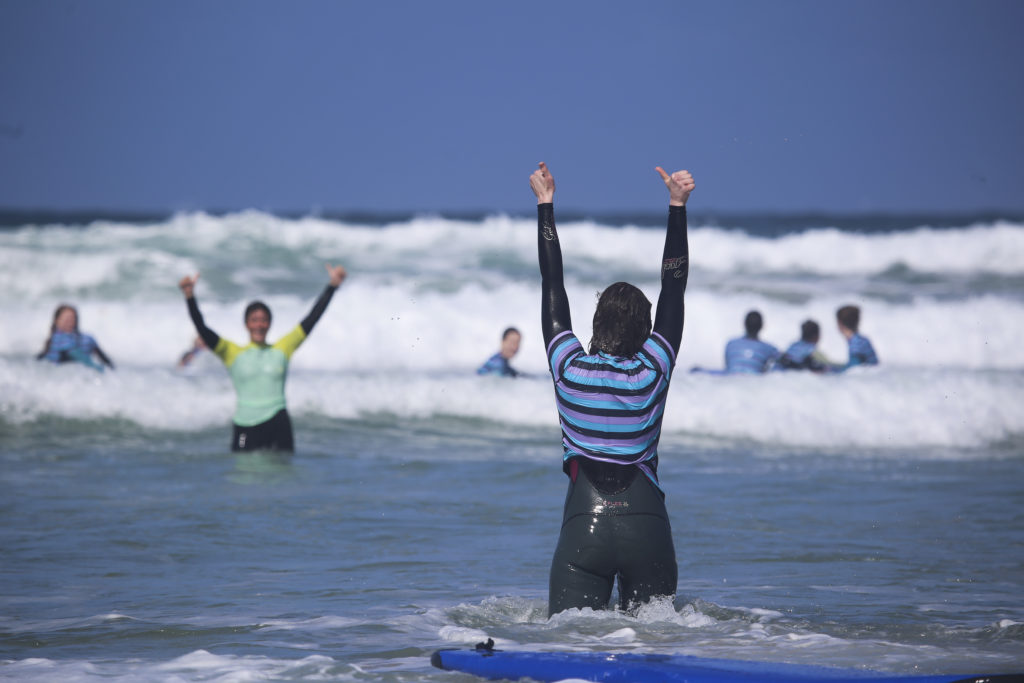 It'll be a right laugh!
Whilst we want to help you improve your surfing ability and ocean confidence as much as possible, the main aim is to have fun in the sea! Our female coaches, have fun warm ups and games up their sleeve to get you relaxed into the weekend. We also don't take ourselves too seriously, so expect lots of giggles, party waves and wooping throughout the weekend.
Sounds like the course for you? Check out our dates below and hit the booking button for full info and to secure your place!

Surf & Yoga Weekends 2023
19-21 May (Fully Booked)
9-11 June (Limited Spaces)
7-9 July (Spaces)
1-3 Sept (Spaces)
15-17 Sept (Spaces)
Location: Newquay, Cornwall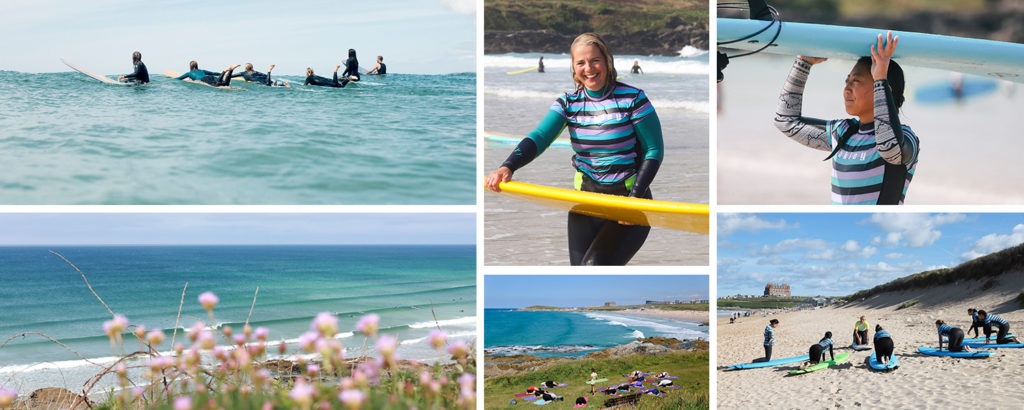 Got more time on your hands? If you fancy a longer surf trip to Cornwall we offer 4 Day Beginner and 5 Day Improver courses between May and September too! Click Here for our full Calendar.