You're on the beach buzzing to get in, excited to score the ride of your life. But as soon as you touch water you mind starts chattering about all the things that could happen. You're a bad surfer, you can't get your pop-up dialled, you're scared of paddling out back, big waves and walls of white water make you freeze in fear.
It could be your self-confidence holding you back! We all experience this from time to time, even our coaches and professional surfers! But the key is having the awareness and some tools up your sleeve to deal with the unhelpful thoughts when they come creeping in.
We have a remedy. And you don't need to get smashed by white water to get it!
Stay dry for a change and join us at a Surf Confidence Workshops with Transpersonal Psychotherapist and Surf Coach Danni Unway.
In these workshops you'll explore:
The mental side of surfing
Share experiences of our struggles (and wins!)
Mental blocks
'The fear'
Imposter syndrome
Confusion about surf etiquette
The list goes on..! We can work on identifying specific areas that might be holding you back and find ways to help overcome this and slowly build your confidence.
About Danni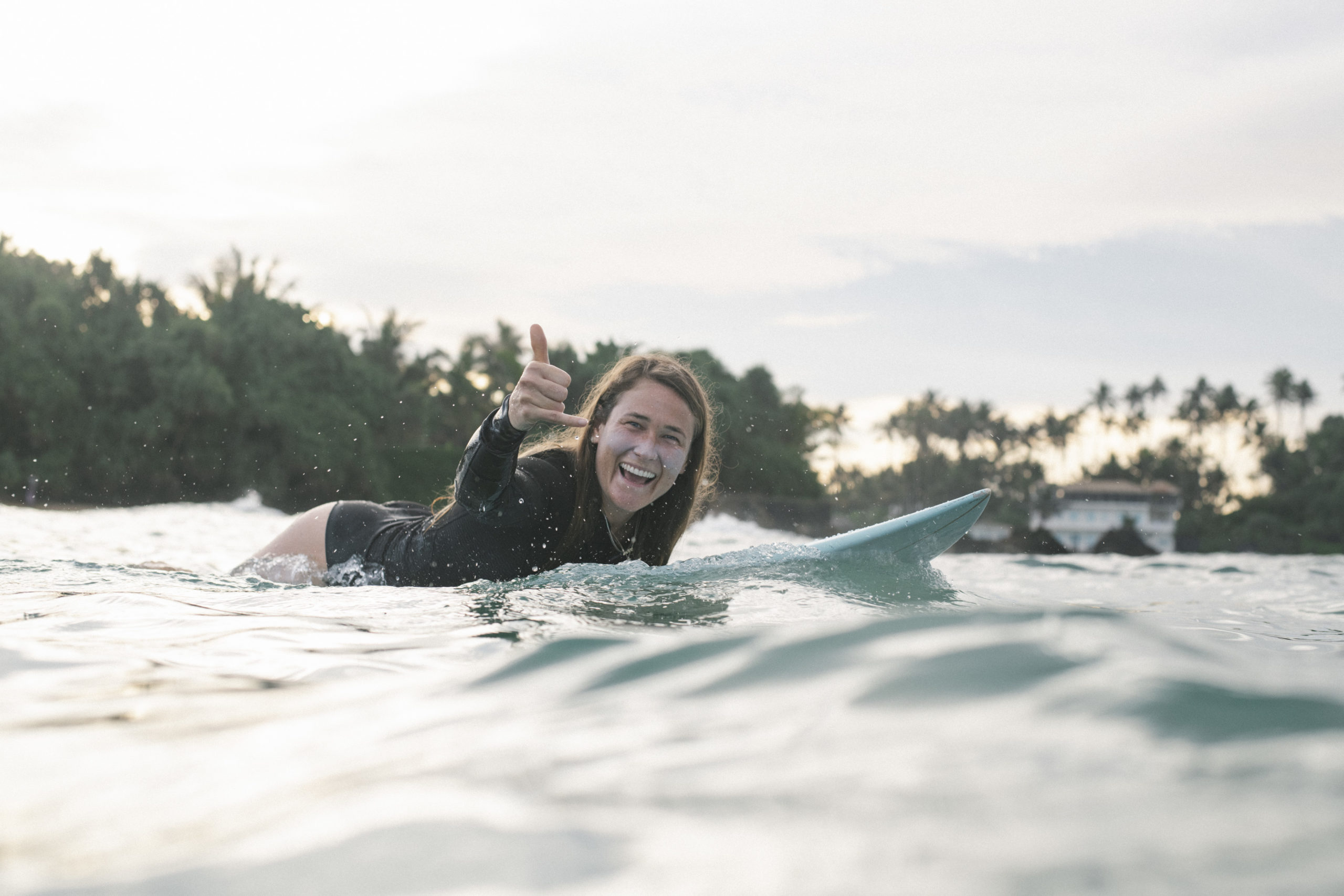 Danni is a qualified Transpersonal Psychotherapist, Yoga Teacher and Surf Coach living in Newquay. She first started surfing in her 30s, getting hooked during a holiday in Portugal. Pursuing her new found passion, she then spent time in Bali travelling, surfing and practicing yoga before returning to the UK.
Through working as a surf coach last year, she found that what holds us back a lot in surfing is mental/emotional, which often doesn't get addressed when we're in the water. This compelled Danni to start Surf Confidence workshops, to help other people and to bring together her two passions – Surfing and Human Behaviour.
Surf Confidence Workshops with Surf Sistas
We've teamed up with Danni to bring you Surf Confidence Workshops for 2023, we'll be offering these workshops on the following courses:
5 Day White to Green Improver Course
4 Day Beginner Course
Sessions will run on Tuesday evenings and are an optional extra. We highly recommend you joining, it'll be a great point in the weeklong courses to check in with yourself so far and identify anything you've been struggling with over the first two days.
Price & Booking
We need a minimum of 6 participants to run the workshop. At the time of booking your Surf Sistas course, you can register your interest for the Surf Confidence Workshop.
Drop us a line at surfsistas@gmail.com to register your interest.
Confirmation of final numbers and payments will be due the week before the start of your course.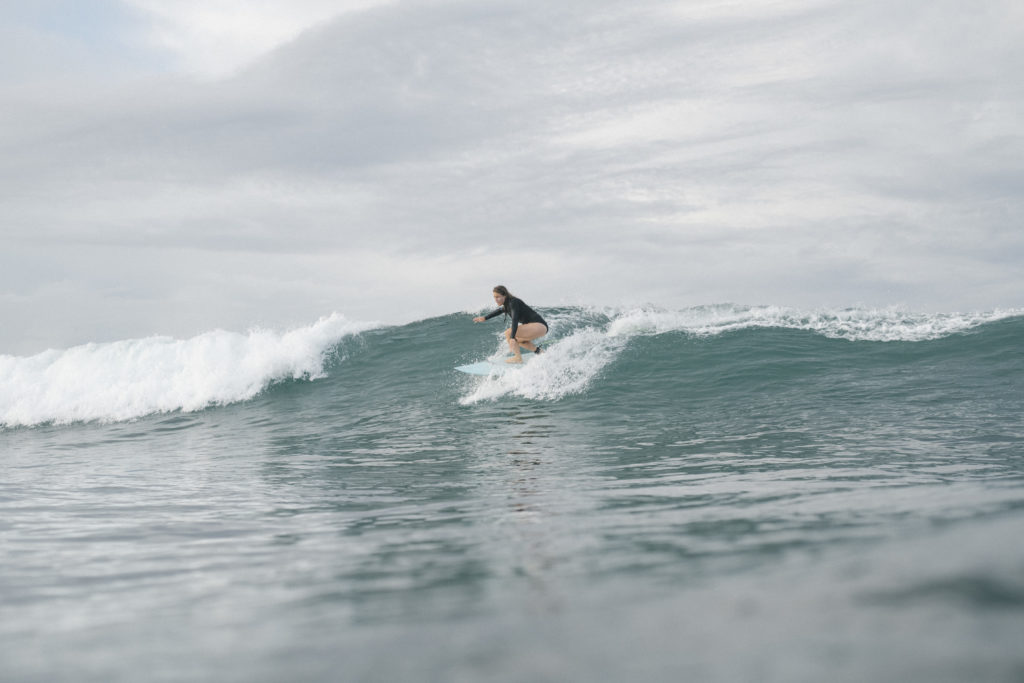 FAQS
What typically happens in a Surf Confidence Workshop?
In these workshops I encourage open and vulnerable sharing within a group setting out of the water. This can include possible fears, struggles, mental barriers, but also celebrate the wins and help the group connect with their most positive moments, those that keep us coming back for more.
We cover topics like 'the fear', imposter syndrome, confusion about surf etiquette, the list goes on..! The session also helps identify specific areas that might be holding each individual back and steps to work towards overcoming these.
How do you tailor the workshops to meet different needs?
All workshops that I have hosted so far have had some recurring themes, but no workshop has been the same and each group dynamic has been very different, this is what makes this work so special and fascinating.
In order to meet different needs, I draw upon my training, my experience participating in – and assisting a lot of group work, my own surfing journey and my intuition. When someone shares something that feels like it needs a little extra attention, I spend some time with them there, offering some tips or a gentle reframe on their way of thinking or / and involve other participants that particularly relate to what's been shared.
I never really know what people are going to bring but that's also the beauty of it. Meditating before each session helps me feel completely present, engaged and connected with the group. The sessions can also be tailored to other sports or topics.
As the focus is on the sharing and what each individual brings, it's actually a wonderful way for any group to connect on a deeper level whilst discussing something they are passionate about.
What specific techniques or strategies do you use to help women overcome fear or anxiety related to surfing?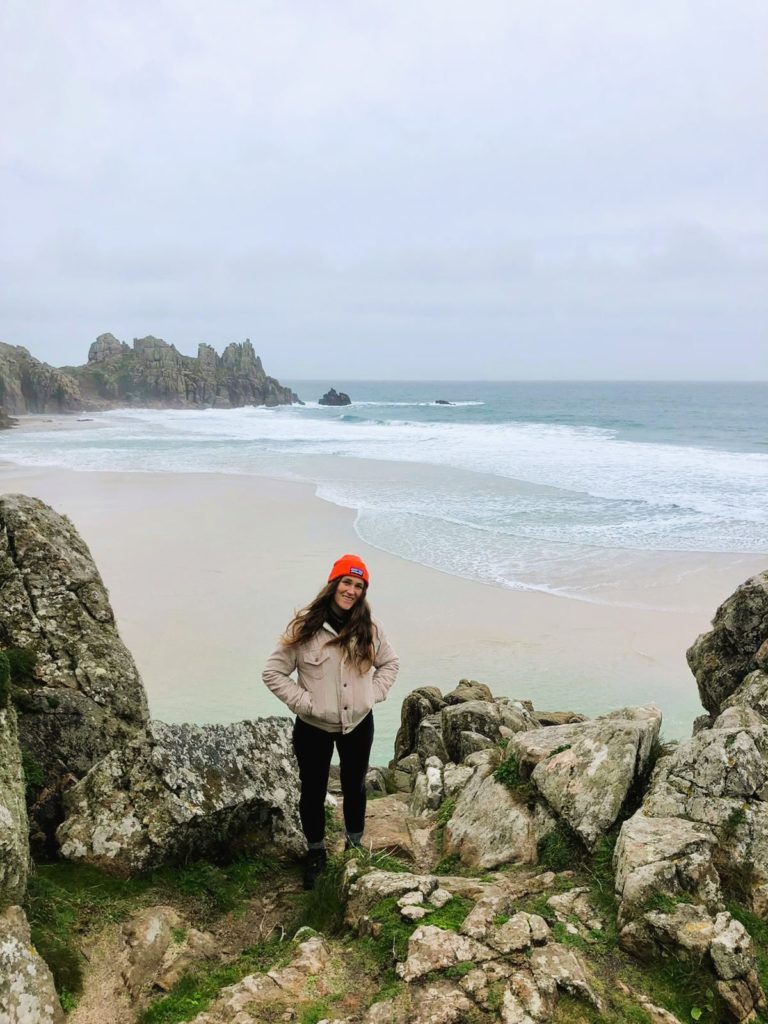 I think one of the most powerful and effective elements within these workshops is the vulnerable sharing itself. In this strange world we live in, we don't often get chance to truly share, we talk a lot about what we are doing, what our plans our etc, but we don't often share openly about how we are feeling.
These workshops give women the chance to be seen and heard in a safe space, they are given permission to take their masks off and be real about what's going on for them in their surfing… and more often than not this is very similar to what's happening in other areas of their lives as well.
I believe there is such power in giving those fears and struggles a voice. Being seen and heard in that place actually helps shift those feelings that might have been causing our mental barriers.
Also, a lot of the time we believe we are alone in our struggle but we're really not, so being in a room with likeminded women who seem to be going through something similar is very comforting.

Other tools I use are
– Positive visualisations
– Gentle goal setting
– Identifying first steps to help overcome barriers
– I also encourage people to become more present when surfing.
This can involve checking in with ourselves, deepening that awareness of how we are feeling in the water, finding that sweet spot of discomfort, we don't want to be pushing ourselves too far but also not too little!