Surf leggings, how do we survive without them!
Gone are the days of badly sunburnt legs, tears and enforced non-surf days on tropical surf trips. These days we just pop some leggings in our bag and they serve a multitude of purposes. Just in case you don't believe us we have listed them below like the crazy surf leggings evangelists that we are.
Sun protection is the biggy! If you surf in a bikini or boardies and have fair skin, the backs of your legs will burn, burn, burn. This is super painful and can ruin most of your trip if it happens in the first few days. Don't take the risk, start in some leggings and let your skin adjust to the glorious sun exposure slowly.
Surf leggings are the ultimate multi-purpose travel pant .. great for travelling on planes, strolling around towns, covering up when visiting cultural sights, a must for Yoga classes and the perfect 'the AC is making my room too cold' wardrobe solution. One pair of surf leggings ticks all these boxes and takes up barely any space in your bag.. amazing huh! These are also perfect if you're joining us on a Surf & Yoga Retreat in Cornwall.
They prevent board rash like a super hero. We're talking knees, thighs, inner thighs .. anywhere our delicate lady legs rub against the surfboard and wax. One important tip we learnt recently, make sure there is no sand inside your leggings or you're pretty much applying extra sand paper to go – you're welcome!
Protecting our modesty ladies, or at least letting us forget for a session about the dangers of wedgies or full bottom reveals. Good surf leggings are made to stay put and it's one less wardrobe adjustment to think about as we pop up and charge down the line.
Which brings us to looking good and feeling comfy. Yes we know surfing is not about what we look like but we are all human and some days it's just nice to feel stylish in a pair of comfortable leggings and not have to walk around in a bikini.
Reef protection. If you get tumbled around on the reef then a thin pair of lycra leggings is not going to help too much but they will surely ward off some minor scrapes and cushion the blow a bit. They might also help with sea lice, jelly fish stings etc
You will get heaps more photos of you surfing.  Any surf photographer will tell you that in a crowded line up an eye catching piece of clothing will get you loads more shots.   Hurrah!
Our friends at 10 Over Surf Shop are now stocking OLAS Surf & Yoga Leggings. They're made and designed in the UK from 78% recycled polyester from plastic bottles and 22% lycra. These leggings are 4 way stretch giving you maximum flexibility and comfort whether you're surfing, SUPing, chilling or getting on the yoga mat. They're also UPF+ 50 so you can surf all day long with maximum sun protection.
We've also gathered together links to our other favourite leggings below. Find them at the bottom of the page.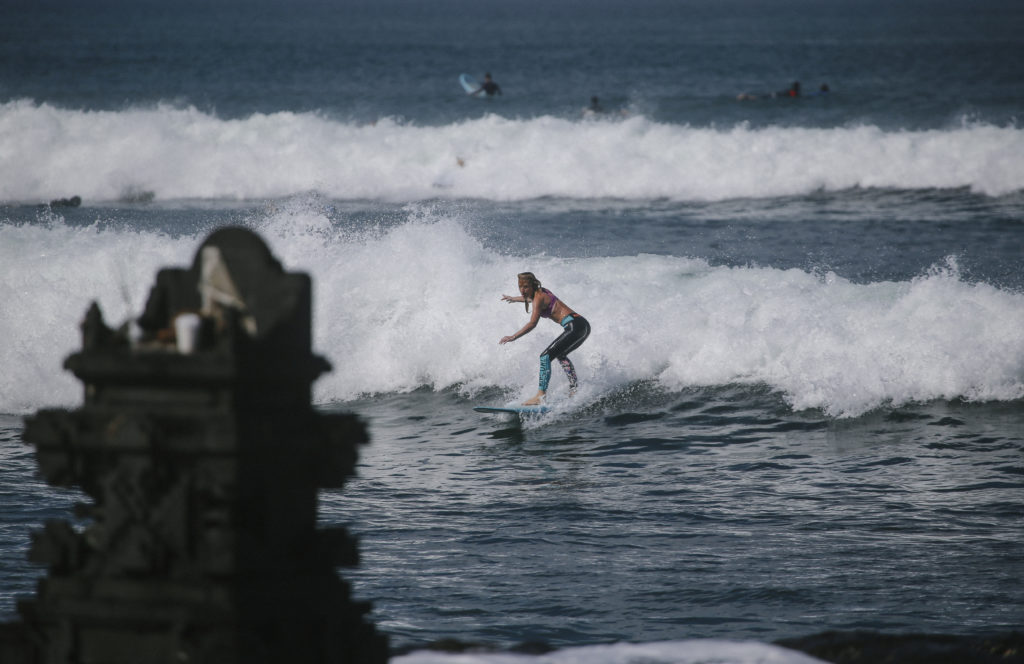 OLAS
Salt Gypsy | Tide + Seek |
Seafoam Collection | Billabong
Fancy a Tropical Surf Trip with Surf Sistas? We're putting together some brand new surf trips for you, to get exclusive first news and early bird discounts, sign up to our newsletter.