Whilst surfing is the main pull for many to visit Cornwall, Wild Swimming could now be a close second! Especially as we learn more about the benefits of cold water swimming (read our blog on this) and being in, on or near the ocean.
We love our wild swimming, which is why we created our Swim Sistas Wild Swimming Retreats so you can enjoy Cornwall's swim spots whilst building lots of sea swimming confidence. We want to share the love of wild swimming with you all which is why we've created this guide so you can explore for yourself.
We explore many of these locations on our retreats so if you want the safety of a group and to experience either short dips or longer swim treks with specialist coaching then join one of our courses! We've also got tips below for safe swimming to get your started.
Some Key Tips and Safety points to know to Know
The best time to swim depends on the Tides. In general swim in tidal pools at low tide. It's not as safe at higher tides as you've got the ocean to deal with. Swim at beaches at high tide. Or at least 1 hour before or after high tide. Otherwise, there's probably not much water to swim in and you could find yourself wading through mud. But we'll give specific points for each spot as we go through the guide.
Key Safety Tips:
Know your entry and exit points. Upon arriving at a new swim spot, always assess how you're going to get in and out in the safest way. Especially getting out, in case you get into trouble.
Assess the hazards before you get in. Do you know which way the wind is blowing? How big is the swell coming into the beach, are there any dangerous rip currents? What is the sea bed like? How rocky is it? – if you are unsure the answer to these questions or how to assess the hazards, best sticking to lifeguarded beaches instead.
Stick to lifeguarded swim spots – unless you swim regularly at a local spot and are an experienced open water swimmer, we advise only on visiting the lifeguarded spots.
If in doubt, don't go out. If it looks dangerous, there's strong waves or wind, or you feel out of your comfort zone, don't go out. Stay on lifeguarded beaches so you can enjoy a swim.
Go with someone. Not only is this more enjoyable but also significantly more safe than going alone.
One of our locals. Newquay harbour is one of the best and safest places to swim. It's protected from storms by the harbour wall, making it an all year round swim spot. Best enjoyed at High Tide. Just watch out for boats coming in and out.
Parking available in Newquay Town Car Parks, the closest being Dane Road or Belmonth, within a 5 minute walk..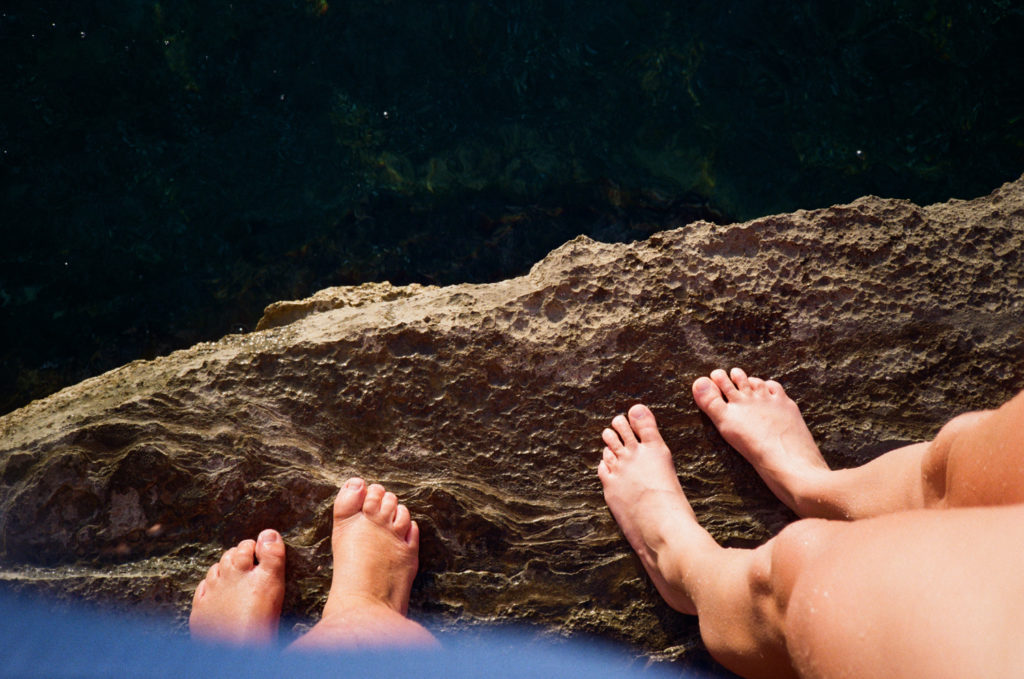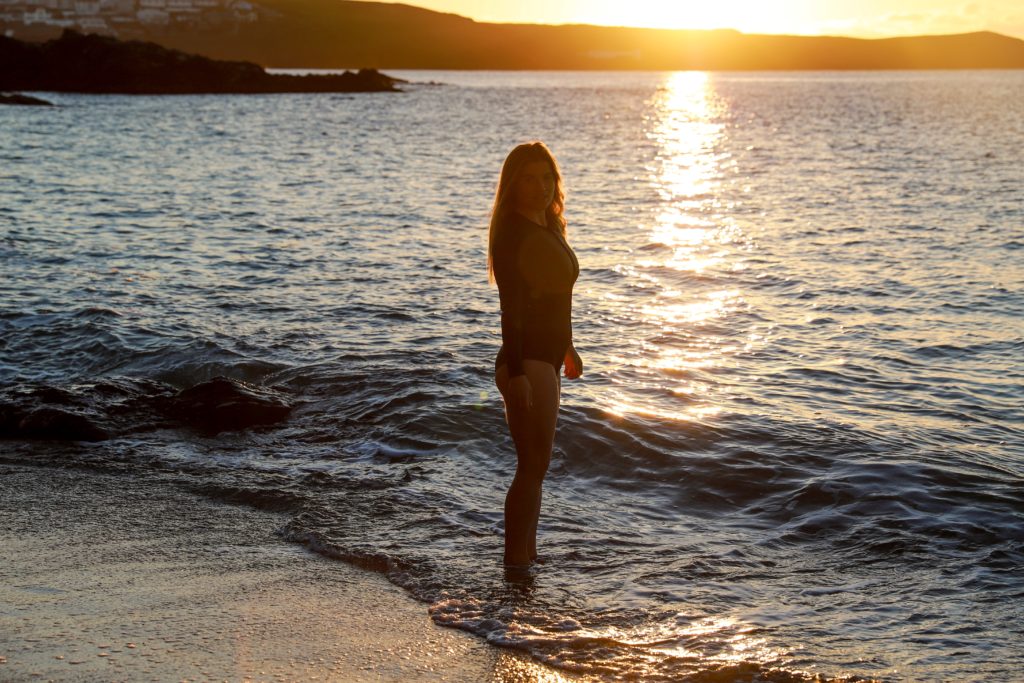 Tucked away on Towan Headland, you've got two opposite facing spots. The Slipway is an old lifeboat ramp taking you down to the "The Gazzle" facing Northwards. Best enjoyed at High Tide, avoid it during the strong Northerly winds and Northerly swells and watch out for the metal at the end of the slip way.
Little fistral on the other side, might be more friendly for those who want a bit more open space and a chance to chill on the beach after your swim. Little Fistral faces west and can get a fair bit of swell coming in so check before you head in. A few rocks sticking out and potential currents on the right hand side by the rocks. Best enjoyed when there's flat water at high tide.
Parking available in Towan Headland Car Park right next to the beach.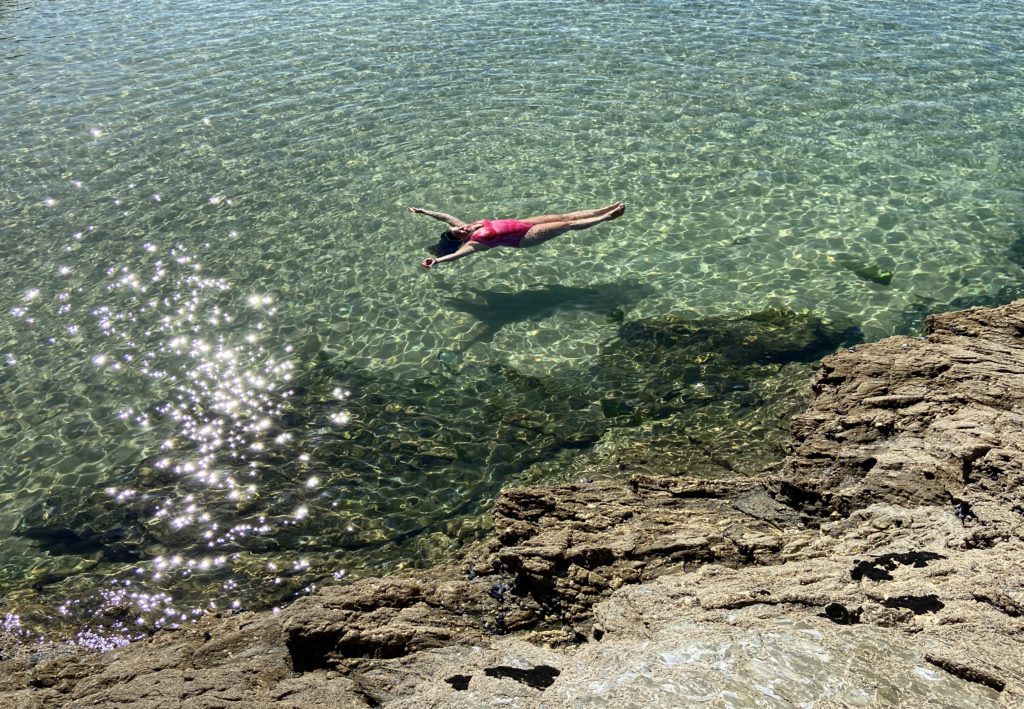 Head to this spot at High Tide or 1 hour before or after. I absolutely love the Gannel. Is a beautiful estuary surrounded by trees and offers a tranquil escape from the bustling of Newquay centre.
We advise heading here if you're a confident sea swimmer at high tide only as the estuary can get some strong currents, particularly in the middle. Stick to the side nearest the rocks. Accessible from Riverside Crescent or Pentire Crescent in Newquay.
A great low tide spot! Perranporth tidal pool is nestled into Chapel Rock (the big rock on the beach often with St Pirans flag a top. From here you can enjoy views of the sea and watch the surf. A nice place to relax and chill. Avoid at high tide as otherwise you might get swept up by the surf.
You can park on the beachfront or at the top of the hill in the car park and walk back down to the beach.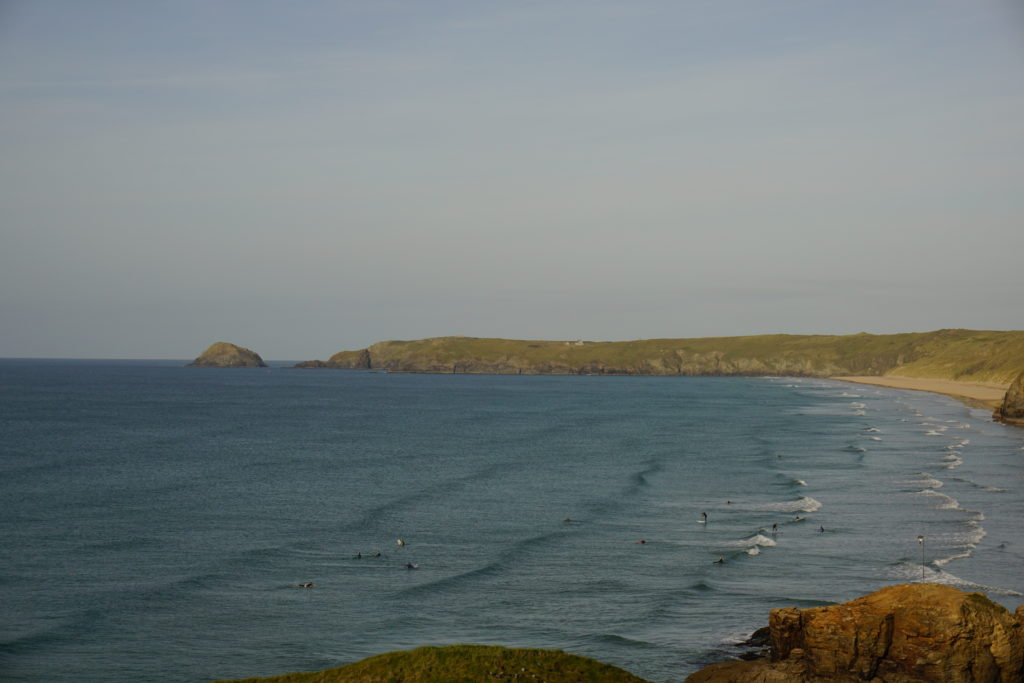 My personal favourite Tidal Pool can be found at Trevone, Nr Padstow. A great little escape if you want a change of scene from Newquay and up for exploring a little further afield. It's a short five minute walk from the village and easily accessible from the coast path. Like all tidal pools, hit it at low tides.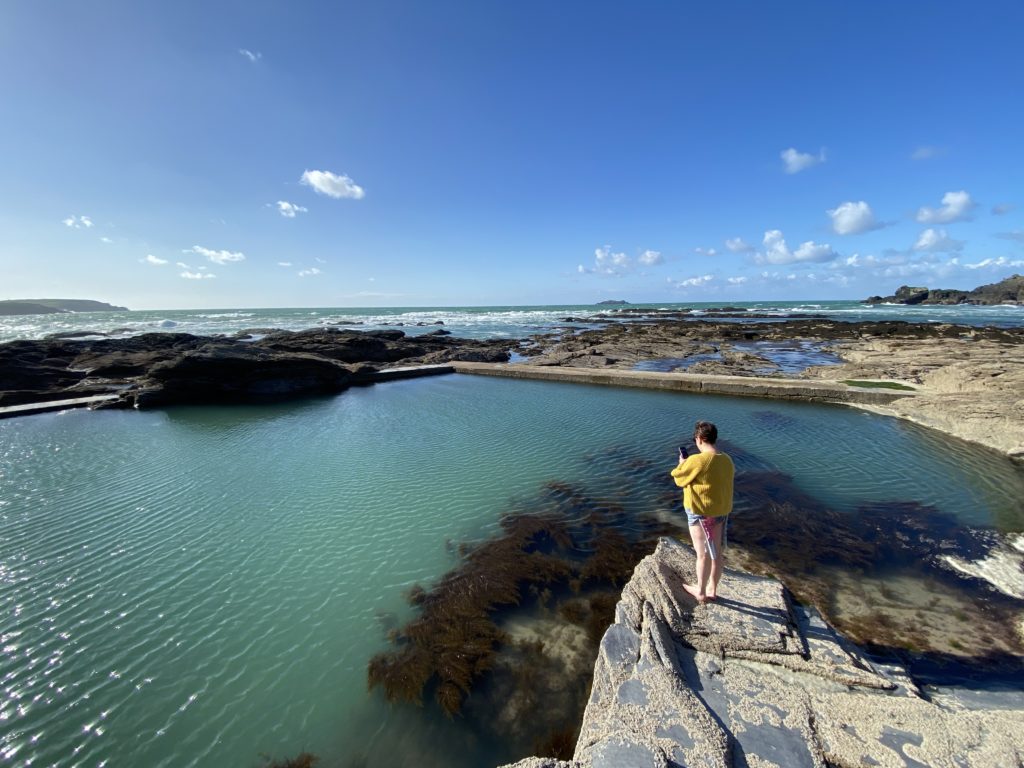 Ok it's not a tidal pool or a wild spot but it's iconic! So you must visit. Especially as it's the UK's largest deep sea lido and geothermally heated pool. Jubilee Tidal pool makes me wanna grab my 60s style bathing suit, retro sunnies and join some sort of synchronised swimming group. I feel like I'm in some Californian coastal town when I go here (apart from it's probs colder). But the geothermal pool can get up to 35 degrees! And the main pool is 1-2 degrees warmer than the sea, so it's not too frosty! You need to book in advance which can be done at their website.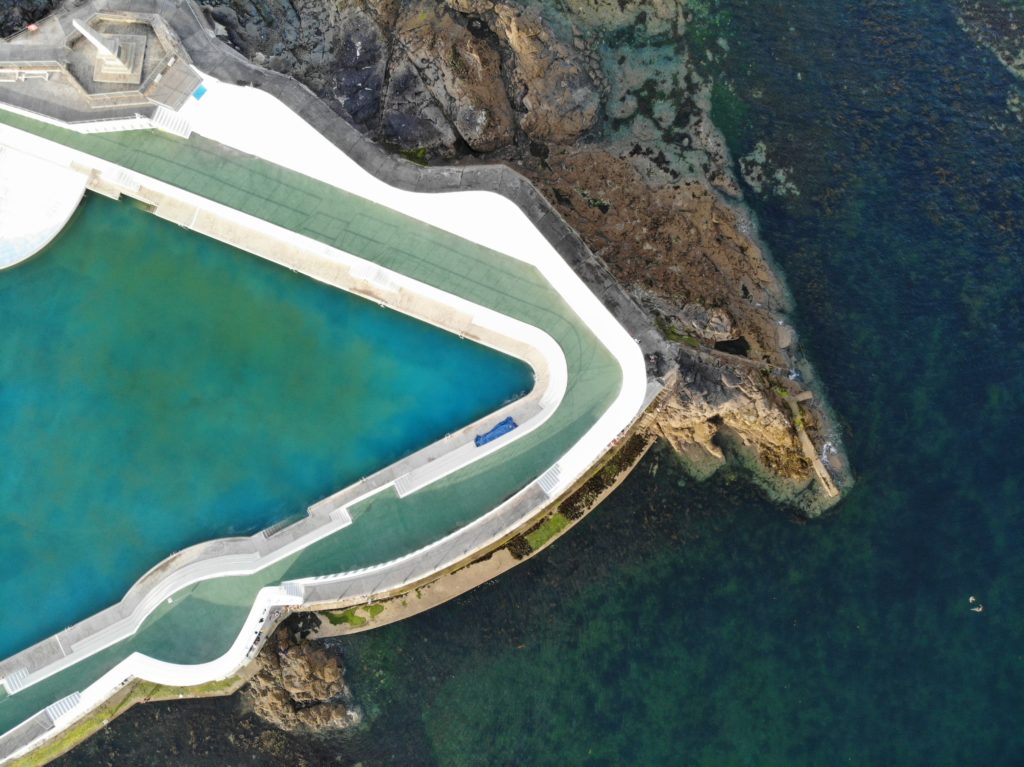 A very relaxed swimming spot, not far from Newquay! High Tide is the best time to go and the beach is protected from most swells so it's normally pretty calm waters! There's beach car parking on the other side of the road, next to Roo's Beach Café. Great for a coffee + pastry stop after your swim. Plus it's lifeguarded in the summer, adding extra peace of mind.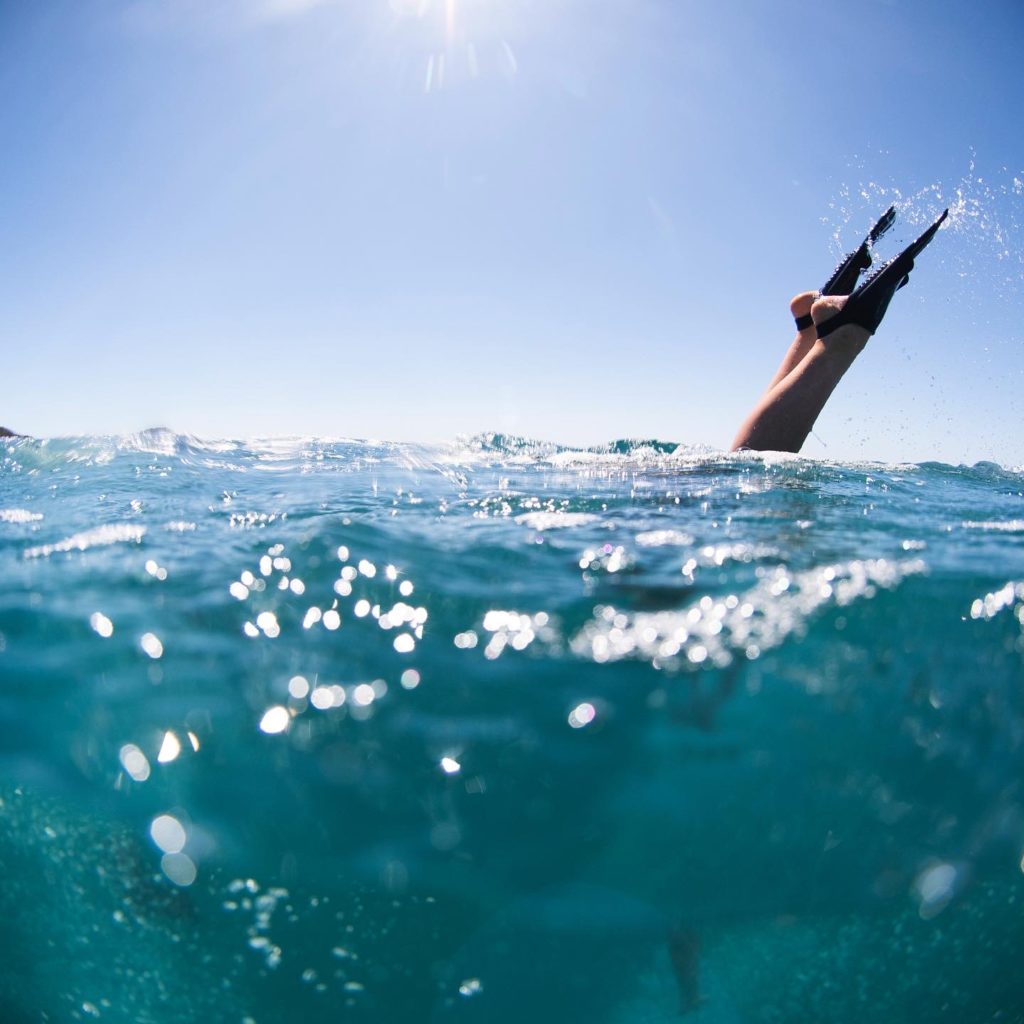 A semi natural Tidal Pool free to enjoy by anyone. It has been open since the 1930s and perfect for wild swimming! It is fully managed by charity donations if you do head up there and enjoy your time you can donate to the Friends of Bude Sea Pool.
Parking is available in Bude Town Centre and the Tidal pool is located at Summerleaze Beach.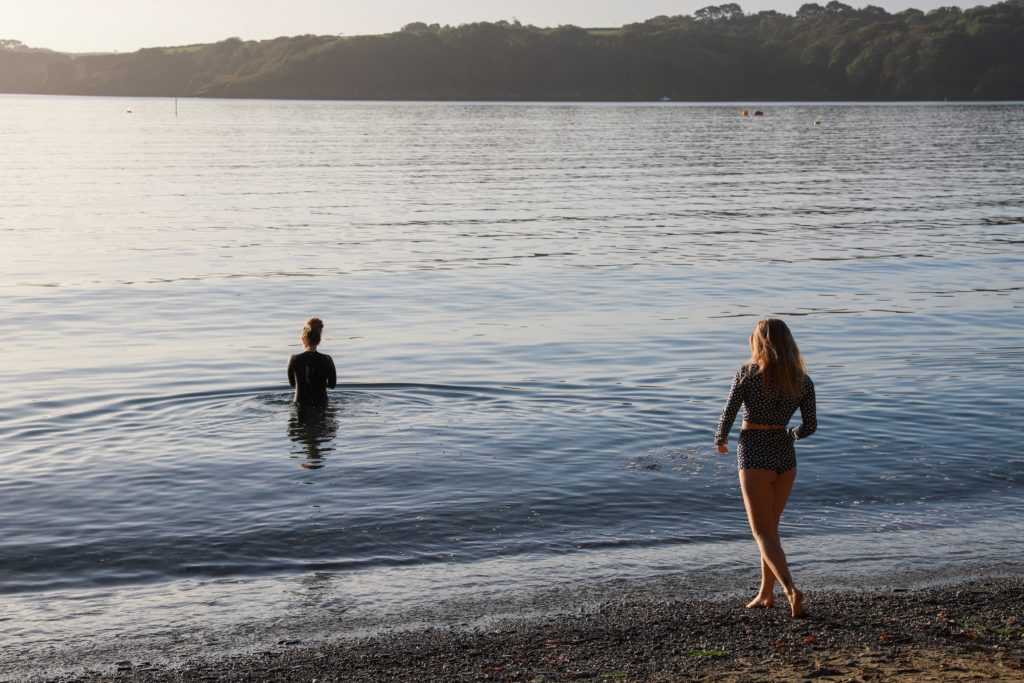 Oh the Helford. So many swim spots to enjoy down this magnificent estuary that you can seek out by following the coast path. For first timers to the area, we recommend Grebe Beach. As it's an estuary you can enjoy flat water most of the year round, just avoid it on any howling south easterly winds that come through. Parking at Bosveal Car Park.
The perfect place for first time wild swimmers and experienced swimmers alike! Falmouth has a thriving wild swimming community due to it's (mostly) year round calm flat waters. Gylly Beach is the hub of this activity with easy access, a seasonally lifeguarded beach and flat water most of the year round (just avoid during those winter storms). Go at high tide and you can enjoy a hot bev to warm up at Gylly Beach cafe afterwards. Parking available along the road leading to Gylly or in the Falmouth Town car parks (10 minutes walk to the beach from centre).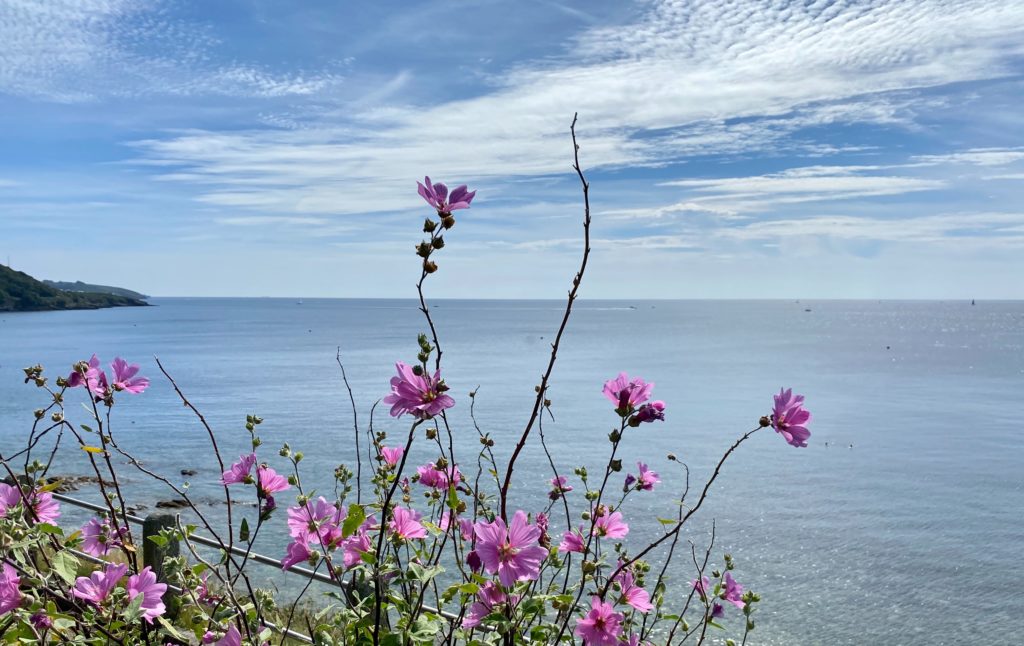 If you're looking for guided swimming with everything taken care of, join us on our Swim Sistas Cornwall Wild Swimming Retreats.