Is your skin getting frazzled by salt and sun? Yep, ours too, we don't want to look like leather handbags before our time and we want products that are kind to our bodies and the environment too, so the hunt is on for products that we love.
Our Surf Sistas instructors are a talented and creative bunch with a heap of interesting projects on the go, but even we were blown away when we discovered Surf Sistas Yogi Wendy Christiansen was developing her own skincare company Mystic Roots. We had to sit her down and find out more ..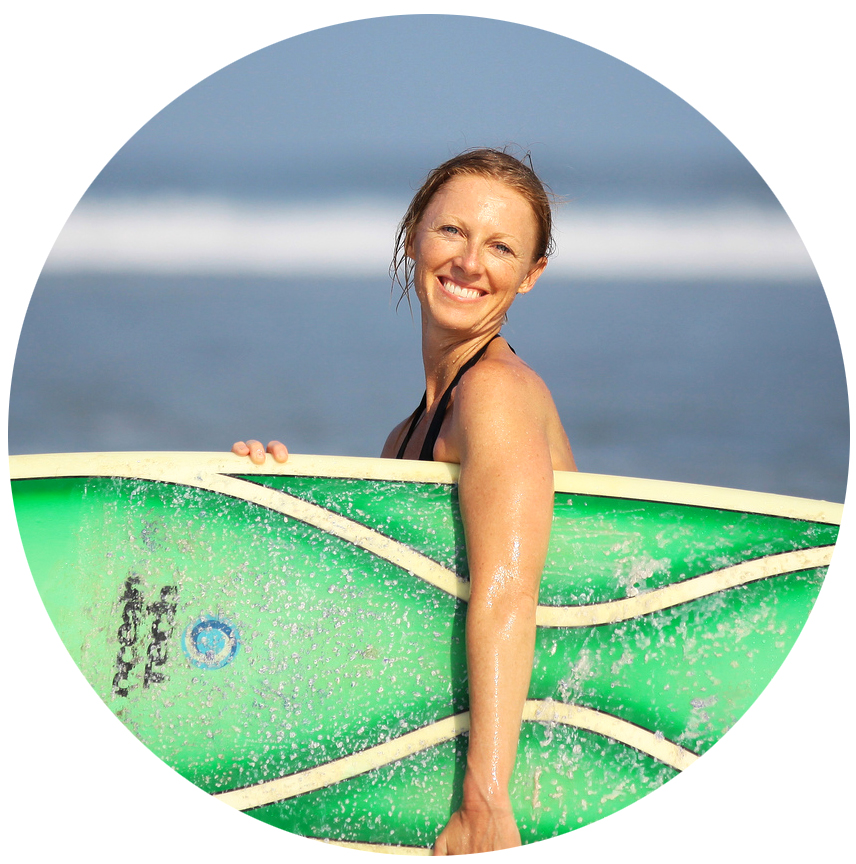 Hola Wendy! We wanted to find out more about your Mystic Roots skincare products and what motivated you to start making your own?
I didn't know it yet, but Mystic Roots was inspired and created when I began traveling in 2007. I wanted to teach yoga, learn more about other parts of the world & explore myself to find out what my life was all about. I soon realized that pure skincare products without chemicals and preservatives were very difficult, if not impossible to find. So, I did some research and realized that many benefits come from the simple products that Mother Earth provides such as coconut oil, Argan oil, honey, cacao butter, and essential oils just to name a few.
I was able to get those in the countries I was living in, such as Guam, Morocco, Thailand, Nicaragua, and Costa Rica. From that point on, I was making my own skin care products and experiencing more healing benefits than I had ever before. It was fun and beneficial…I was hooked!
I returned back to the United States in 2012 and now have the resources to create pure, organic & healing skin care products with no chemicals or preservatives. I'm so grateful and incredibly overwhelmed from all the positive feedback I have received from family, friends, and my loyal customers. This was not something I had ever planned to do but it is happening and growing faster than I can believe. I have sent products to many countries around the world, including the UK, France, Portugal, Canada & the USA. Because of this, I believe this is one of the things I'm supposed to be doing in my life.

How did you create your recipes and how long did it take you to perfect your formulas?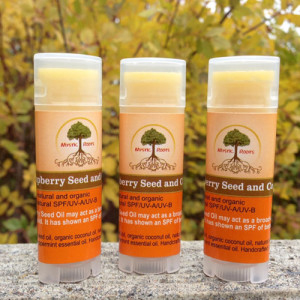 I'm very proud to say, I have created all my own recipes. I have four products so far which include a face cream, lip balm, sunscreen, and body butter. It was a bit challenging at first to come up with the perfect formulas but I did it by researching each individual ingredient and how it would react with other ingredients that I wanted to use. Trial and tribulation is always a part of creating a new product, but I think that is part of the fun!
My goal is to create products that are very beneficial for all skin types, products that will heal the skin from the inside out, products that will protect the skin from environmental pollutants, products that will reverse skin conditions caused by harmful chemicals put in other skin care products, and products that create healthy and beautiful skin.
We read recently on the inertia that sun creams could be bad for us .. what are the ingredients we should be avoiding and will Mystic Roots be making a suncream?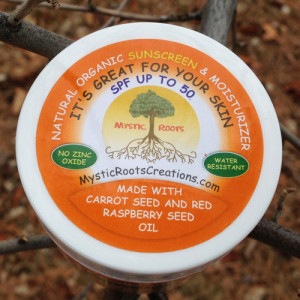 I'm so glad you asked this question because yes, it is true! Most sunscreens on the market are very bad for our skin. Oxybenzone, Octinoxate, Homosalate, Octisalate, Octocrylene, titanium dioxide, Zinc Oxide, Avobenzone, & Mexoryl are the majority of the ingredients you will see. These ingredients are very harmful not only for our skin, but they absorb into our body and affect the functions of our systems. If you do your research, you will find that most "can" cause cancer. I don't know about you, but I can not justify putting that on myself, my friends and family.
Mystic Roots has created a sunscreen and we have found organic and healing ingredients with a natural sunscreen. We add red raspberry seed oil and carrot seed oil which are said to have an SPF between 28-50. How incredible is that?
Thanks Wendy!  We are really loving seeing Mystic Roots flourish and can't wait to try your new products!
Visit the Mystic Roots website here!  With lip balms starting at just $4 and worldwide shipping available, we can all invest in our skincare with Mystic Roots this summer.