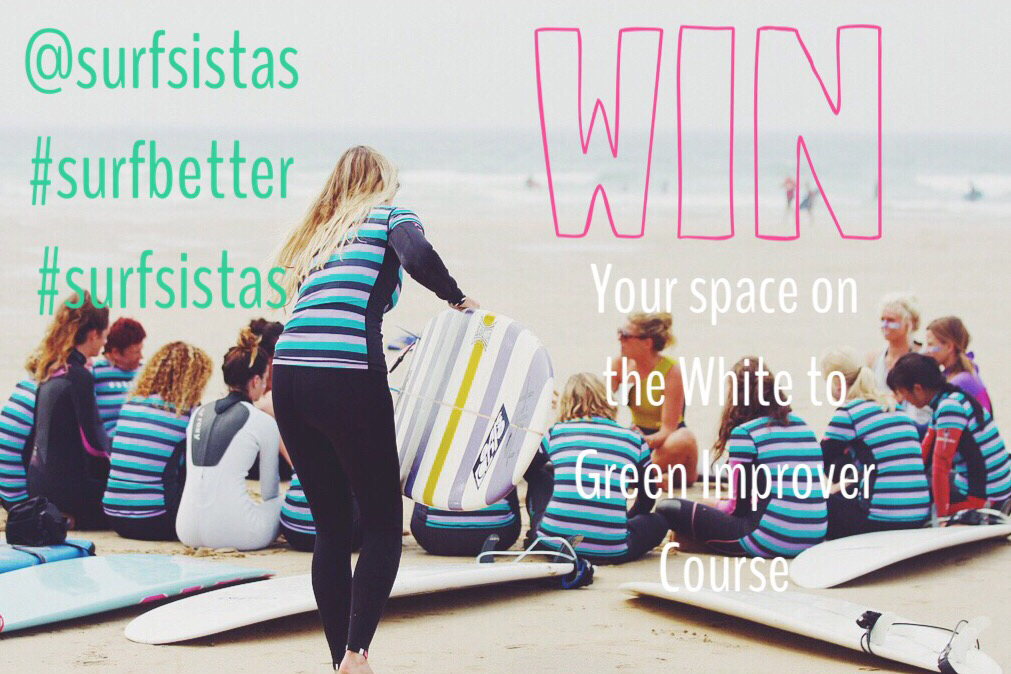 Surf better in 2015 with a little help from Surf Sistas!  To kick start the year and banish those January blues we are giving away a space on our summer 2015 White to Green Improver course in Newquay, Cornwall.
Our White to Green course is now in its 6th year .. its a chance for all our participants to really focus on their surfing, get out of that white water rut (we've all been there) and start consistently catching green waves.  Its also a great week for anyone that is consistently out back and wants to start doing more on the wave or is looking to work on specific aspects of their technique.  Come and take it to the next level with us .. #surfbetter, have a great time & make some new surf buddies too!
To be in with a chance of winning a free space worth £249 all you need to do is:
1).  Follow Surf Sistas on twitter and/or instagram

2). Share one of the Surf Sistas WIN images that we have shared on twitter and instagram
3) Tag your post #Surfbetter with #Surfsistas
Some ruuuuules & stuff .. listen up .. 
– The winner will be drawn at random from our magic hat & announced on twitter & instagram.
– Contest closes on 25th January & you can enter up to 3 times (each entry = your name in the hat)
– Dates for the course are 20-24 July 2015
– The prize is one free space on the Surf Sistas course as described  here:
https://www.surfsistas.com/white-to-green-improver-course/  The winner is responsible for her own transport, accommodation & food.
– The minimum surfing level required to participate in this course is consistently standing in white water, if you are not sure or have any questions about the course, drop us a line to surfsistas@gmail.com
Good Luck!