Get the right thickness wetsuit for your time on a Surf Sistas course and beyond!
Back in the day, surfers would take the sea in their swimmers, catching waves until they turned blue! Luckily for us lot, wetsuit technology has advanced dramatically in the last few decades, giving us a great deal of choice when it comes to wetsuits.
However with choice of wetsuits, comes more jargon and more confusion.
Which wetsuit? What is technobutter? Which thickness? Built in hood? Limestone neoprene? Yulex? And what even is an insulated firewall?
We've simplified it. Wetsuits came into being to keep us warm. Being warmer means more time in the sea doing what we love – SURFING! So in this blog we've given the lowdown on what thickness wetsuit you need based on the water temperature and time of year. We've also stuck in a few handy tips for buying the right wetsuit.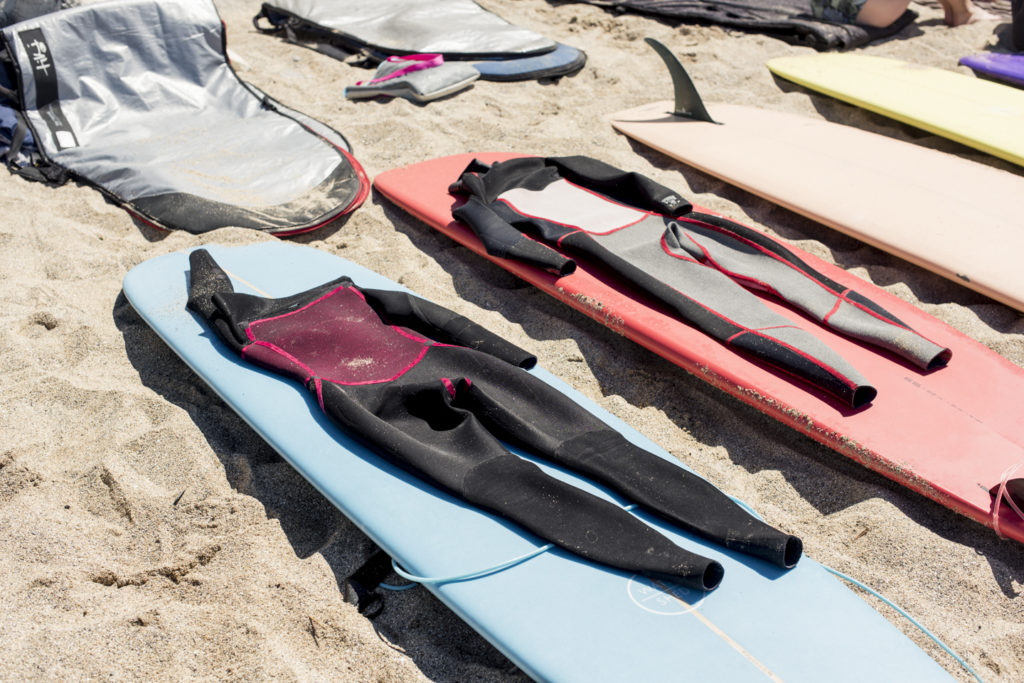 What does the thickness mean?
It's not uncommon to hear surfers chatting about their wetsuit thickness amongst other surf related surf small talk in the line-up; "Are you in your 4 3 today?" "Nah it's balmy in here mate, got the 3 2 on!"
To someone not well versed with surf jargon (consider yourself lucky in some respects) this can be confusing as to what these numbers mean. What is the difference between a 4 3 wetsuit and a 3 2 wetsuit?
These numbers measure the thickness of wetsuits in mm. There are two numbers as some parts of the wetsuit are thicker than others. In the example of a 4/3mm wetsuit, the thicker parts will be 4mm and cover your organs and torso whilst the 3mm parts will be the arms and legs giving better flexibility for all those wonderful surf manoeuvres .
Wetsuits can range from 7mm thick (mostly for divers) to 1mm Springsuits (Springsuits are shorty neoprene suits). The most common wetsuits people use in the UK and the ones you'll want to consider buying are 5/3mm, a 4/3mm or 3/2mm thick.
Which thickness wetsuit do I need for a given time of year?
These are the average water temperatures for Cornwall! If you spend most of your time surfing in other parts of the UK, check the water temperature in the local area. The NE of England is a lot colder than Cornwall for example.
January – March
During these winter months, the water temperature in Cornwall drops to its coldest, ranging from around 7-10°C.
You'll need a minimum 5/3mm hooded wetsuit plus boots and gloves (particularly if your fingers get cold easily).
Trust me when I say you'll need a hood! Brain freeze happens from surfing, not just downing your ice cream too fast.
If you cant get hold of a hooded wetsuit, you can buy a separate hood to wear. This can be good if you want to wear your winter suit further into spring. Having the hood down can sometimes cause more flushing.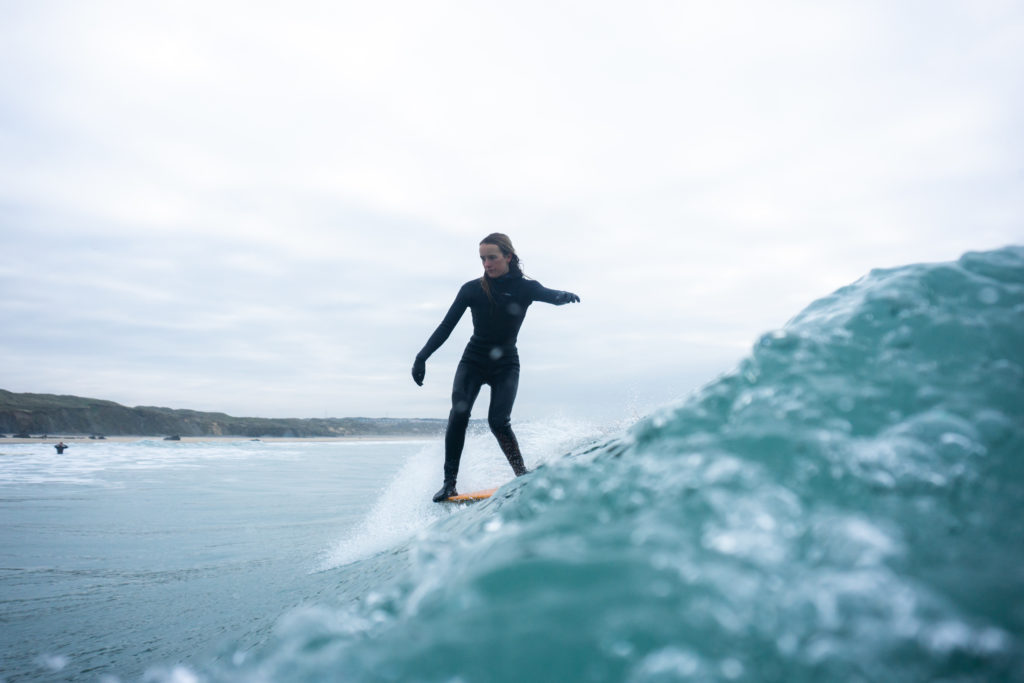 April – June
As spring arrives, the water temperature starts to increase, but it's still cold relative to the air temp. (the sea takes a little longer to warm up.
The sea temperature ranges from around 10-14°C.
For surfing, a 4/3mm wetsuit or a 3/2mm wetsuit is great! And into April and even early May you still might want to opt for boots. So if you're joining a Surf Sistas course in May, we recommend getting yourself a pair of boots.
Feel the cold? April you may still be in your 5/3mm.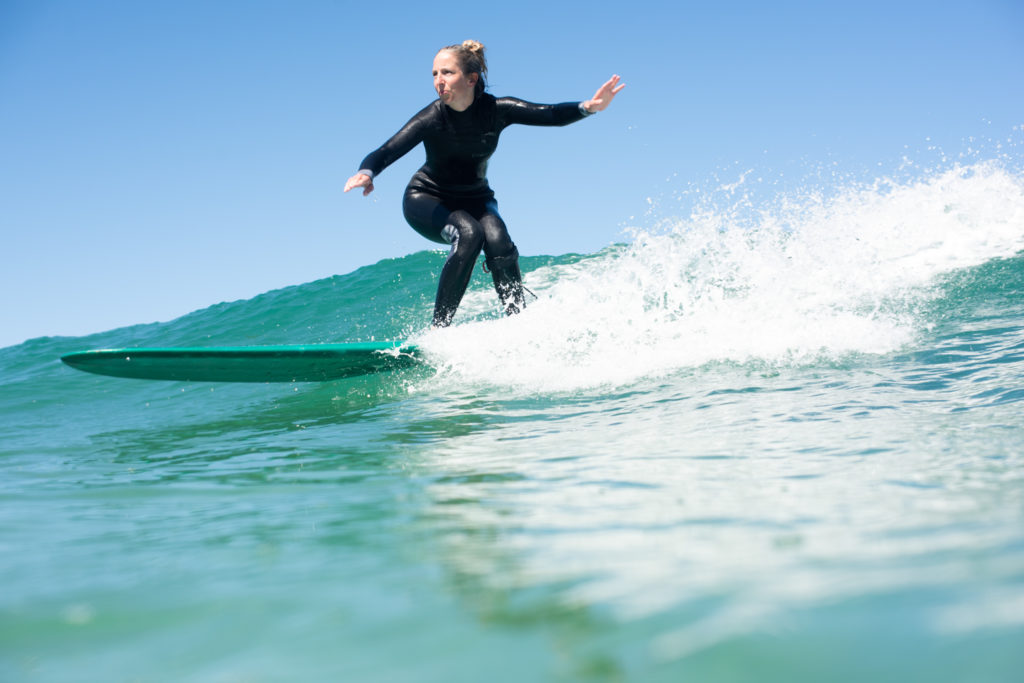 July – September
The last few summers in Cornwall have been extremely hot and dry, making the water all the more inviting for a dip to cool off.
The water temperature in Cornwall can reach up to 18-20°C, so a 3/2mm wetsuit will prevent you melting.
On the warmest of days you may even want to surf in a Springsuit (neoprene swimsuit) or a Long John (sleeveless wetsuit) but if you're joining us on a course, we recommend a 3/2mm as you'll be in the water for 2 hours at a time.
Long johns, surf leggings and Springsuits are also a wonderful choice if you decide to join us on one of our global surf retreats in the tropics!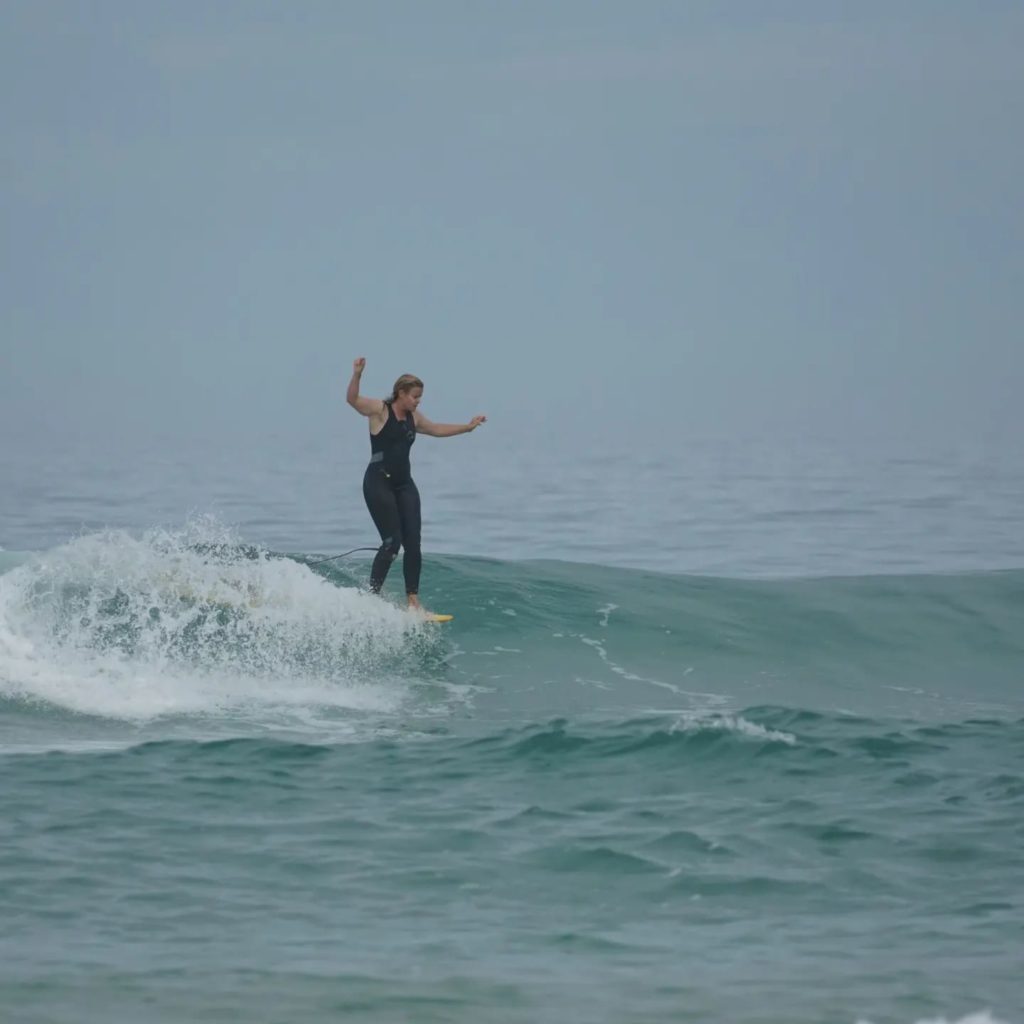 October – December
Autumn brings the start of dropping temperatures. The water is still pretty warm at this time into October, however it's the windchill that will get you.
The water temperature ranges from 10-14°C.
Time to dust of the 4/3mm wetsuit or 5/3mm wetsuit . And it'll also be time to whack the boots and gloves back on.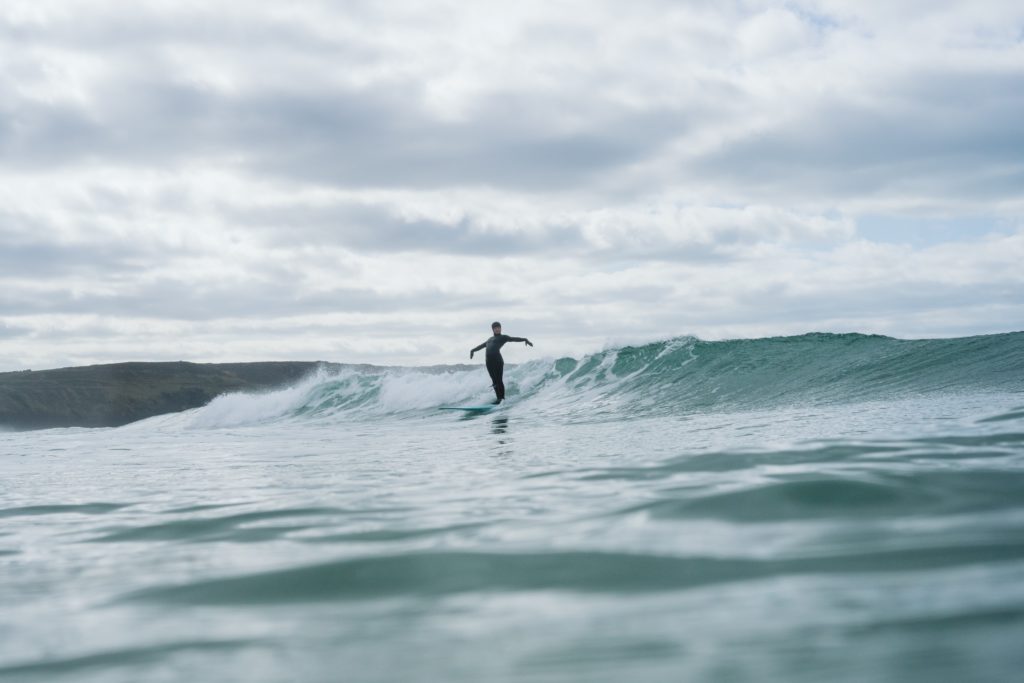 How do I choose a wetsuit thickness?
So you've got an idea of the recommended thickness suits for the water temperature, but the wetsuit(s) you decide to buy can depend on a couple of things
How much do you feel the cold?
If you're someone that clads yourself in a Michelin man insulated jacket, even in mildly cold weather, you might want to consider a thicker wetsuit than the standard recommendations. It's no fun being cold in the ocean and can put a lot of us off surfing, especially in winter.
Don't forget boots, a hood and gloves. Absolutely crucial – these are the places you feel the cold first.
And if you need more tips for coldwater surfing – read this blog.
What's your budget?
If you're a little tight on cash and can only afford one wetsuit, you want to be getting a suit that you can wear for the maximum amount of time. A 4/3mm suit is good choice. You can get away with it for the spring and summer and come winter you can wear a thermal rashvest and hood for an extra layer of warmth.
Having said that, a lot of companies do now offer a wider range or wetsuits with some pretty good budget wetsuits that still provide the flexibility. You can also look for second hand ones – there's a Facebook group for this!
How often are you going to surf?
Be honest with yourself. If you're a busy bee living away from the sea or a beginner surfer, start off with one wetsuit instead of buying the all the gear.
Are you going to be surfing all year round?
Another be honest with yourself situation. Be realistic about how likely you are to get in when it's cold. Many of us hardy surfers still trade in a coldwater surf for a land based activity in winter. I tend to surf a little less in winter. But having said that, the cold should not be a barrier to getting in.
If you are keen to keep up surfing year round (consistency is key to progression) then having the right gear is important. And finally the wetsuit industry has cottoned on the fact that women do want to surf in winter and have started making the hooded wetsuits for us! Hooray!
If this is the case, get a 5/3 (or 5/4) for winter and a 3/2 for summer.
Buying the right fit wetsuit
If your wetsuit doesn't fit properly, then it's not gonna provide you with the much warmth as you'll soon feel the cold flush of water down your neck.
Keep it on the snug side.
It's not meant to be easy getting a wetsuit on, although you'll get used to it the more you wear one. You want your wetsuit to feel slightly tight, especially a new one as they do stretch with time.
Particular under the arms and across the lower back you want it to be snug. It should also we well fitted around your neck, wrists and ankles to avoid flushing. If you have lots of rolls on your arms and legs, it's probably too long.
Top Tip: Take a plastic bag with your when putting on wetsuits. Put the bag over your feet and ankles. It'll help you slide into the suit more easily!
Try before you buy
If you've not worn a wetsuit before, we strongly recommend going to a surf shop and trying on different brands. Brands really do vary in their size and you want to find a brands that fits you best.
The staff in the surf shop can also help you with advice.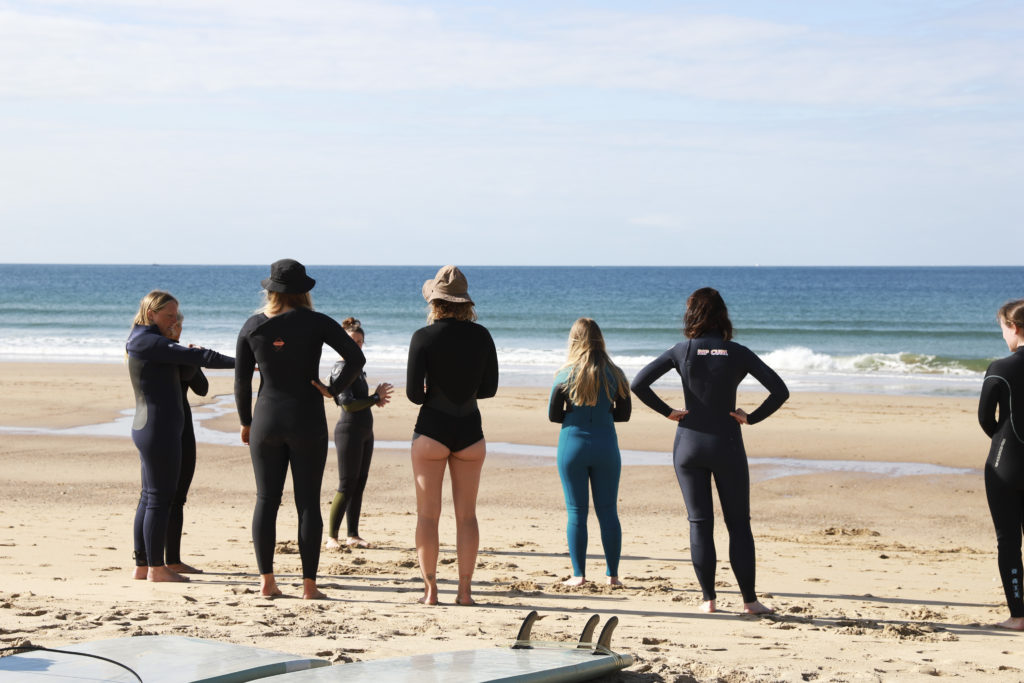 A note on Wetsuit materials: Avoid the Neoprene
Having watched the BigSea Documentary (click here to learn more), we've been educated about the devasting effects of Neoprene manufacturing on the Environment and Human Health. Neoprene is the commercial name for chloroprene which is traditionally used to make wetsuits.
However, the main chloroprene manufacturing facility, Denka, located in Louisana, USA – has been linked to the well above average levels of Cancer amongst residents in the local area and causing Louisana to have the most toxic air in the whole of the USA. The region surrounding the area has been named "Cancer Alley" – You can read more here.
With a lot of uncertainty around the wetsuits industry supply chains – it's hard to know which brands are using Neoprene from the Denka factory and which ones aren't (even the "eco" neoprene).
Therefore we recommend, if you can, buying a Yulex Wetsuit, made from natural rubber and currently the most environmentally friendly wetsuit material.
The following brands offer Yulex Wetsuits:
We do however appreciate that Yulex can be more expensive than regular neoprene, in which case buying second hand or buying a Limestone Neoprene Wetsuit (has less neoprene in it) might be a more suitable option. We're hoping with time, there more wetsuit brands adopt Yulex, the more affordable it'll become.

If you're joining us on a course in Cornwall, we also have a range of wetsuits you can hire! So don't fear if you're stuck on buying one! Our coaches can give you advice on brands and sizing from their personal experience.
For more info on our Cornwall surf courses – Click here.