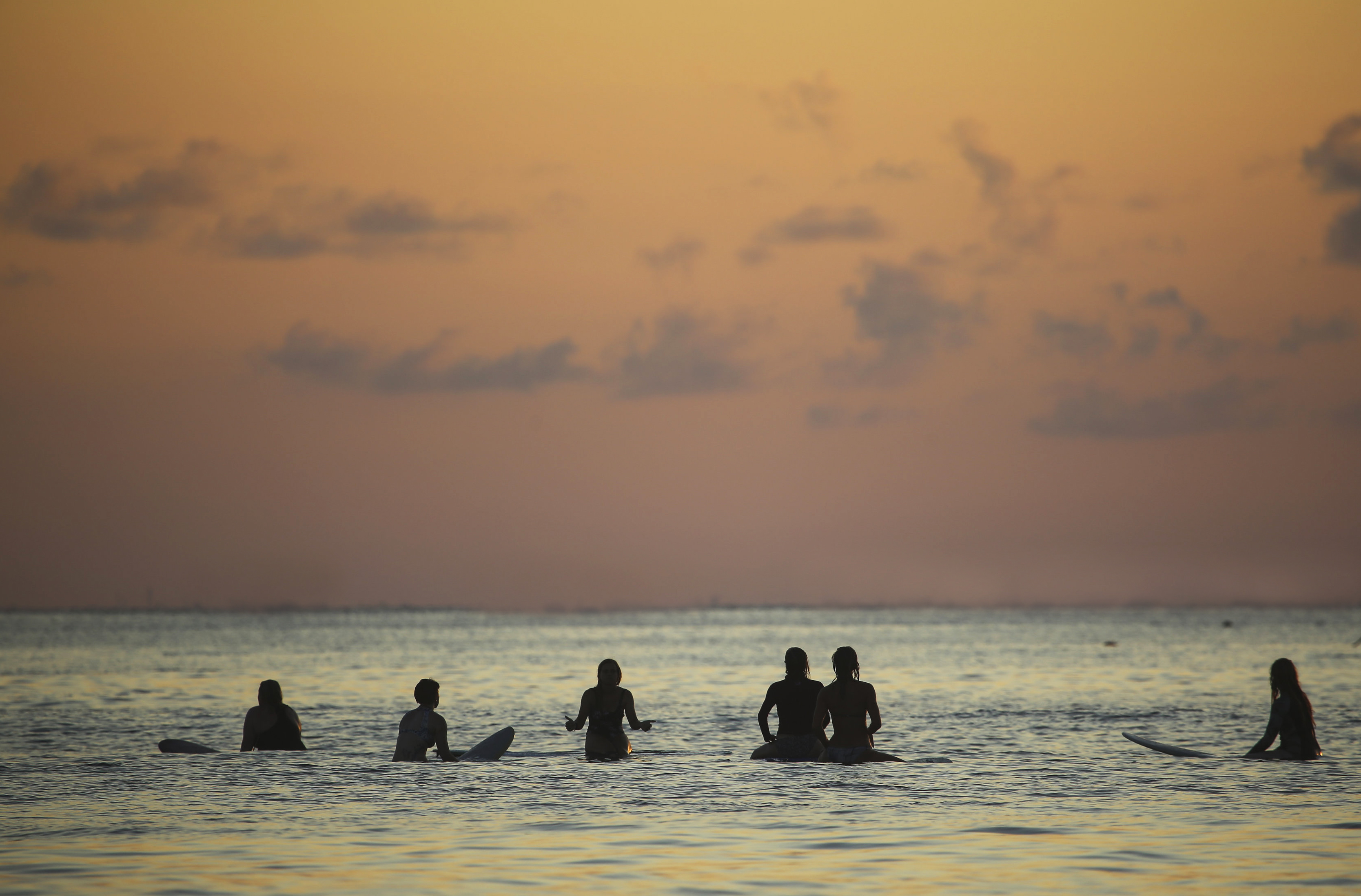 Join us in April for an exciting new Surf Sistas retreat!  We are escaping off the beaten track to a beautiful point break in Java for a much slower pace of life and the opportunity to learn to surf or really progress your surfing on a delightfully mellow wave.  We have a very limited number of spaces available on this trip so don't miss out, book your spot!
Location:  Batu Karas, Java, Indonesia
Dates: 20-27 April 2019
Price:  from £849 per person (FULL)
THE WAVES

We have a point break right in front of our accommodation plus a nearby reef break and some fun neighbouring waves to explore on our adventure day.  In April we are expecting offshore winds and medium size swells, perfect for progression.
SURF COACHING
Your retreat includes two daily surf coaching sessions with our fun and experienced Surf Sistas instructors.  This trip is fantastic for beginner and improver or intermediate surfers, whatever your experience level our coaches are there to guide you towards your surfing goals.
Beginner surfers will learn the basics of surfing, how to position yourself on the board, catch waves and pop up, and importantly how to stay safe in the water. By the end of the retreat we will be concentrating on your paddling, how to catch green waves, and turning.
Intermediate/improver surfers will benefit from our 'White to Green' coaching, helping you to really take your surfing to the next level where you are gaining confidence in paddling out the back, consistently catching and riding green waves, turning and trimming along the wave, turtle rolling or duck diving. We will use photo or video analysis where appropriate to help you to identify the key areas you need to work on.
Experienced surfers will benefit from an introduction to this area of Java with like-minded women, and coaching using video analysis to work on specific aspects of your surfing.
We tailor our instruction to your ability level, splitting the group when necessary to make sure everyone surfs the best waves to help you progress.  We are slaves to the tides and finding the right waves can mean surfing at the right time each day, be ready for early morning surfs & sunset surfs when the tides dictate ..   which is as amazing as it sounds!
SURFBOARDS
Bring your own surfboard or rent one for the trip. If you know what kind of board you want to ride then let us know in advance and we will make sure we have the right board for you when you arrive. We will choose the right board for you if you are a beginner.

ACCOMMODATION & EATING/DRINKING
We have a beautiful place to stay right by the beach overlooking the point, a simple, stylish hotel where we can check the waves from the pool!
Choose between twin or double rooms with ocean views, AC,  and balconies.  If you are coming solo but would like to choose the twin room option we will match you with a Surf Sistas roomie.
There is wifi at the hotel but don't expect a high-speed connection!

GETTING THERE
Book your flight to Yogyakarta (JOG), Bandung (BDO), Cilacap (CXP), Cijulang Nusawiru Airport (CXN).  We have included transfers from any of these airports.  When you book we will discuss your travel plans with you and help you to make the best flight choice for you.

HOW TO BOOK
Prices:
Twin share ensuite room £849 per person
Private occupancy ensuite room £1049 per person
See www.xe.com for an up-to-date conversion to your own currency.
Select the Paypal button below to pay a 50% deposit to reserve your space(s).  The remainder is due 8 weeks prior to departure.  Once your deposit is received your space is reserved and we will email your booking confirmation within 24 hrs.
Any booking questions please email or call +44(0)7779099770