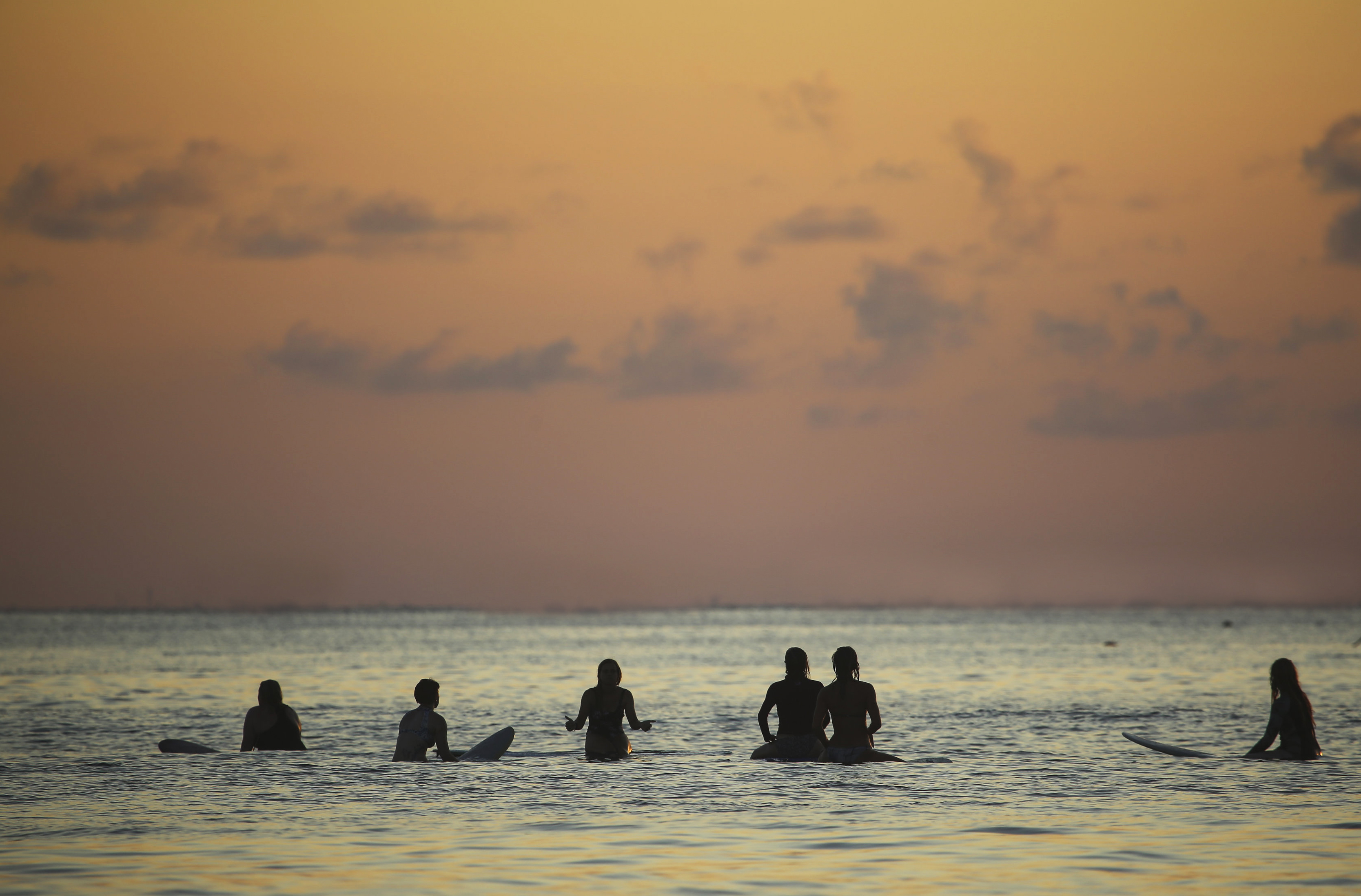 Join us in April for an exciting new Surf Sistas retreat!  We are escaping off the beaten track to a beautiful point break in Java for a much slower pace of life and the opportunity to learn to surf or really progress your surfing on a delightfully mellow wave.  We have a very limited number of spaces available on this trip so don't miss out, book your spot!
Location:  Batu Karas, Java, Indonesia
Dates: 20-27 April 2019
Price:  from £849 per person (FULL)
THE WAVES

We have a point break right in front of our accommodation plus a nearby reef break and some fun neighbouring waves to explore on our adventure day.  In April we are expecting offshore winds and medium size swells, perfect for progression.
SURF COACHING
Your retreat includes two daily surf coaching sessions with our fun and experienced Surf Sistas instructors.  This trip is fantastic for beginner and improver or intermediate surfers, whatever your experience level our coaches are there to guide you towards your surfing goals.
Beginner surfers will learn the basics of surfing, how to position yourself on the board, catch waves and pop up, and importantly how to stay safe in the water. By the end of the retreat we will be concentrating on your paddling, how to catch green waves, and turning.
Intermediate/improver surfers will benefit from our 'White to Green' coaching, helping you to really take your surfing to the next level where you are gaining confidence in paddling out the back, consistently catching and riding green waves, turning and trimming along the wave, turtle rolling or duck diving. We will use photo or video analysis where appropriate to help you to identify the key areas you need to work on.
Experienced surfers will benefit from an introduction to this area of Java with like-minded women, and coaching using video analysis to work on specific aspects of your surfing.
We tailor our instruction to your ability level, splitting the group when necessary to make sure everyone surfs the best waves to help you progress.  We are slaves to the tides and finding the right waves can mean surfing at the right time each day, be ready for early morning surfs & sunset surfs when the tides dictate ..   which is as amazing as it sounds!
SURFBOARDS
Bring your own surfboard or rent one for the trip. If you know what kind of board you want to ride then let us know in advance and we will make sure we have the right board for you when you arrive. We will choose the right board for you if you are a beginner.

ACCOMMODATION & EATING/DRINKING
We have a beautiful place to stay right by the beach overlooking the point, a simple, stylish hotel where we can check the waves from the pool!
Choose between twin or double rooms with ocean views, AC,  and balconies.  If you are coming solo but would like to choose the twin room option we will match you with a Surf Sistas roomie.
There is wifi at the hotel but don't expect a high-speed connection!

GETTING THERE
Book your flight to Yogyakarta (JOG), Bandung (BDO), Cilacap (CXP), Cijulang Nusawiru Airport (CXN).  We have included transfers from any of these airports.  When you book we will discuss your travel plans with you and help you to make the best flight choice for you.

HOW TO BOOK
Prices:
Twin share ensuite room £849 per person
Private occupancy ensuite room £1049 per person
See www.xe.com for an up-to-date conversion to your own currency.
Select the Paypal button below to pay a 50% deposit to reserve your space(s).  The remainder is due 8 weeks prior to departure.  Once your deposit is received your space is reserved and we will email your booking confirmation within 24 hrs.
Any booking questions please email or whats app/call +44(0)7779099770
YOUR VACATION INCLUDES:
Airport transfers
7 nights accommodation
Breakfast every day
Daily surf tuition tailored to your ability.
Adventure day exploring the local area, think new breaks, waterfalls & culinary delights.
Surf Sistas host on hand 24/7 to help you maximise your stay
Photo package including photos of you surfing & lifestyle shots
Amazing Surf Sistas Goody Bag
Optional Extras include:
Massage treatments
Surfboard rental (700,000 Indonesian Rupiah – approx £35)
Cooking lesson
Boat Trip

USEFUL INFORMATION
Extend your stay
Let us know if you would like to book extra nights either side of the retreat in Batu Karas or if you would like advice on further travel in Java and Indonesia, and we will be happy to help.   If you would like to head to Bali then check out our 10-day Bali Surf & Yoga Retreats in May, there is 1 week between the Java retreat and the first Bali Retreat.
Flights
The trip includes arrival and departure meetings to/from Yogyakarta, Bandung, Cilacap or Cijulang Nusawiru airports.  You will need to book your own international and domestic flights however we can advise you on flights that others are taking and/or the latest deals that we have discovered.
Please check your baggage, size, number and weight allowance with your airline. Remember to check your airline's procedure for carrying surfboards and book yours in advance if you are bringing one.
Currency
The currency is Indonesian Rupiah.  We recommend bringing the cash that you will need for the trip with you and bringing a debit or credit card for use within the hotel. Our accommodation has safety boxes for passports and cash. You will not need much cash as the trip covers most eventualities, just money for extra activities, lunches, evening meals and drinks.
Documents
It is essential that your passport has over 6 months left until it expires (from the date you return to the UK), preferably much longer, or you will be denied entry to Indonesia. Most passport holders can now enter Indonesia on a free 30 day visa. If you wish to extend your stay beyond 30 days you should obtain your visa before departure or buy a $35 visa on arrival as this is extendable during your stay.
If you plan to hire a car or motorcycle you will need an international driving license, which can be obtained from the AA.
It is a good idea to carry photocopies of your important documents (packed separately) and note that it is also easier to carry photocopies of relevant pages from heavy guidebooks etc. We also suggest that you scan/photograph copies of your important documents and email them to yourself.
Packing
Check our blog for advice on surfwear for the tropics and general packing advice for Bali. 
This is a muslim area (although relaxed) so we recommend to bring modest clothing.
Here is our brainstorm of packing essentials to get you started..
A couple of well-fitting bikinis/one-pieces.
Rash vests (long and/or short sleeved)
Surf leggings protect against sun burn & board rub.
Surfboard, if you are bringing your own. (wrap in bubble wrap, use pipe cladding to protect rails, wrap towels around for added protection, for boards that don't have fixed fins, remove them, write fragile and topload on bag)
Surf suit or shortie wetsuit (optional but protects from sun and rub)
Reef booties (optional)
Beach towel
Warm water wax
Travellers cheques/ credit debit card
Travel itinerary
Flight tickets
Any medication required
Our contact numbers
Travel insurance document
Passport (With a minimum of 6 months to expiry)
Sun Block and/or Zinc
Insect repellant
Toiletries
blue tac/ear plugs if required.
Bottle to carry water
Sun hat
flip flops
Plug adaptor for gadgets
Medical
Please inform us of any medical complaints/conditions prior to the trip. We will carry a first aid kit at all times but we advise that you also bring your own containing: scissors, bandages, plasters, antiseptic, sting cream, burn cream, steri-strips, Betadine, pain killers, rehydration sachets.
Use Mosquito coils in your room and the local repellant.
The radical change in temperature and diet affects people differently. Maintain a good water intake and a healthy diet. Carry immodium or similar in your medical kit alongside your rehydration sachets.
Travel Insurance
It is essential that you take out a comprehensive personal travel insurance policy. Please check with your insurer that you are covered to surf each day.
Heath, Safety, Inoculations
As you travel at your own risk it is your responsibility to be up to date on Foreign Office & health advisories concerning travel to the region. The UK governments travel advisory on Indonesia is a good place to start.