Happy Friyay Folks!  Have you heard about the Wyatt & Jack Inflatable Amnesty?  Wyatt & Jack are a small family business based on the Isle of Wight who make awesome bags and luggage from discarded beach fabrics, they save once loved bouncy castles and deck chairs from landfill.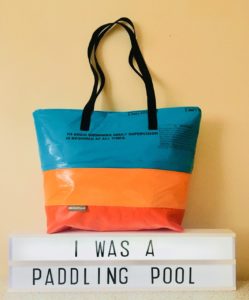 This Summer they had the bright idea of repurposing punctured and unwanted inflatables and launched an Inflatable Amnesty!  Send them your unwanted inflatable unicorns and donut rings and watch their progress from workshop bench to beautiful useful tote bags, rucksacks, clutch bags, and even earrings!
The Amnesty has been a massive success, watch the Wyatt & Jack insta stories to see them unpack their new finds, it's like Christmas every day!
There are a few ways you can get involved with this awesome eco-project.
1) Get in at the beginning of the supply chain and send your unwanted inflatables to Wyatt and Jack.  Either by post to: Wyatt & Jack  Unit 7, Weavers Yard. Bembridge. I.O.W. PO35 5US, United Kingdom  or to one of their Amnesty collection points – check the map here for your nearest one.
2) Shop the Inflatable Amnesty Collection .. there are some absolute beauties.  They fly off the shelves and they are all one of a kind so if you see one you like, snap it up!  Click here to see the latest creations
3) Support the Wyatt & Jack Inflatable Amnesty Crowdfunder! The success of the amnesty is awesome but it has also overwhelmed a small business .. by purchasing your awesome bag via the crowdfunder you will help Georgia and her team to grow sustainably on the island, employing locally without having to outsource to meet demand.   You can purchase items from just £10 and up!
To celebrate and promote the Crowdfunder we have teamed up with Wyatt and Jack to giveaway an awesome watermelon travel set from the inflatable collection of a yoga bag and large travel tote.  To enter all you have to do is follow Surf Sistas and Wyatt & Jack on Instagram and then on one of our competition posts tag a friend who you would take on a weekend adventure!
We will pick a lucky winner on Friday 26th October 2019 and announce on Instagram! 
#wearemadebythesea #inflatableamnesty #surfsistas #wyattandjack