We are excited to launch OCEAN CONFIDENCE our new retreat series in collaboration with our friends at Ibiza Swim and Freedive Ibiza!
This retreat is for salty souls who want to boost their confidence in open water.  Mornings will be spent working on breath and swim technique in the pool at our gorgeous villa in the campo. Afternoons will find us swimming and freediving our favourite spots in Ibiza.
Dates:    16-20 September 2017
Price:     From  850 Euros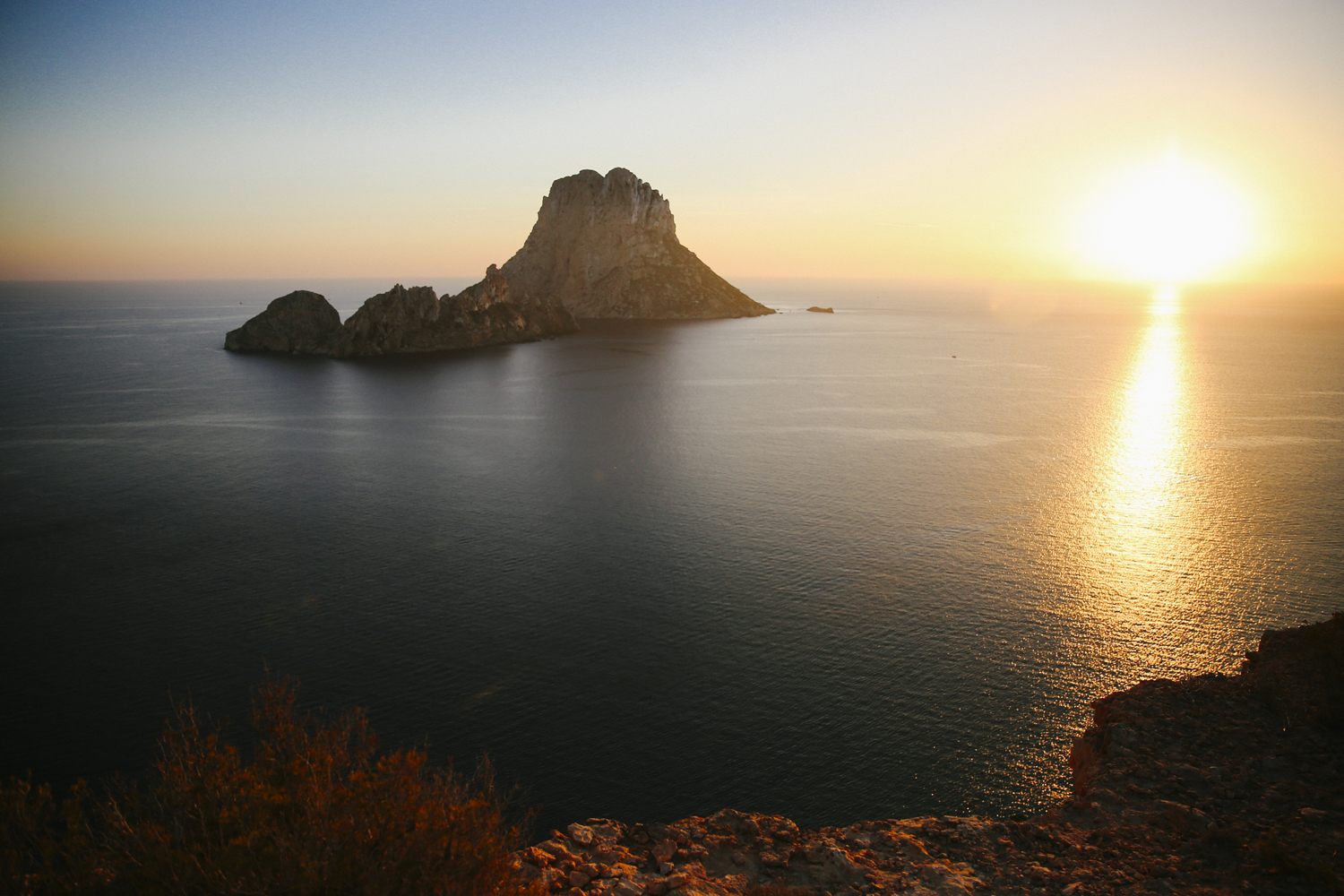 ABOUT THE RETREAT
We have designed this retreat so that you will experience the beauty and energy of Ibiza while developing your open water confidence and skills – essential for improving your surfing, triathlon or general open water swimming (as well as your enjoyment and safety in the water).
Your experience starts with a relaxed swim, dinner and sunset at one of the most picturesque locations on Ibiza – think waters to rival the Caribbean and a back drop of Balearic beats.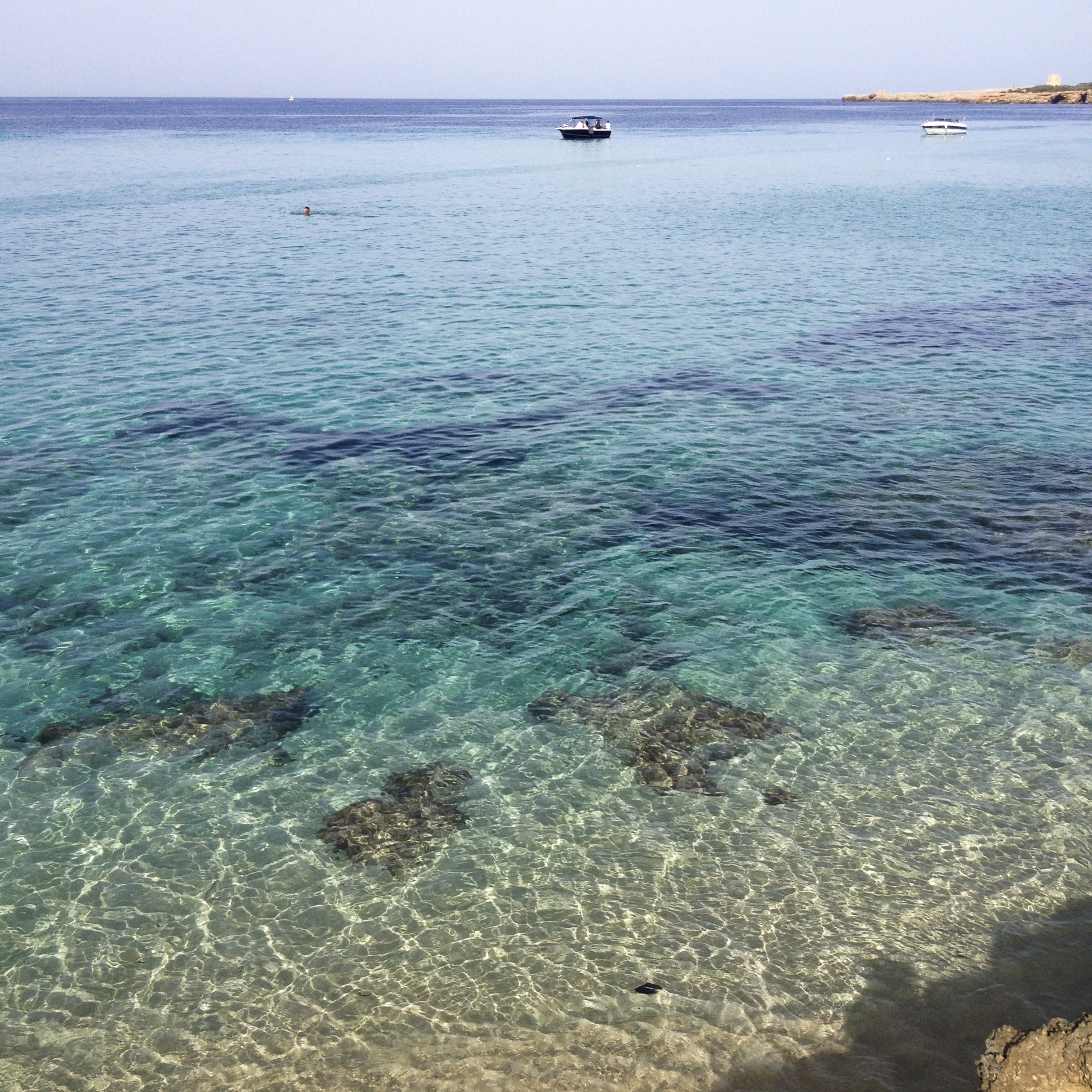 Each morning we will begin with a healthy breakfast and pool sessions at the villa on swim and breath hold/freedive technique.  Afternoons we will be out and about enjoying the beautiful turquoise crystal waters of the Mediterranean Sea, practicing our improved swim techniques, developing swim (and paddle) fitness and strength, diving under the water on breath hold and learning to let go and relax….
We will either lunch at one of our favourite restaurants or pick up a healthy packed lunch and head to the water. We've got a treat of a boat trip planned for you, and we'll be taking in another sunset after spending the afternoon swimming and freediving at another one of our all time favourite Ibiza locations.
On the last afternoon of the retreat we'll head to one of the famous party beaches (which is also one of the most beautiful places to swim in Ibiza). This beach has stunning hidden calas (coves) if you want to find yourself your own private Ibiza. For those who would like to party this is your opportunity or just to people watch. This beach is where the rich, beautiful and/or famous hang, often in their yachts moored just of the beach, it's the place to be.
No trip to Ibiza would be complete without seeing Ibiza Town so one evening we will all head to a local tapas restaurant under the ramparts of D'alt Villa (the Unesco heritage site), you'll also have the opportunity to explore Ibiza Town.

WHAT TO EXPECT
FREEDIVING
What surprises most people about freediving is that we ALL have an innate ability to hold our breath and dive under water for longer than we expect. We are mammals – just like whales, dolphins and seals – and our human bodies have a very similar mechanism that enables us to spend time underwater. We just need to learn how to wake-up this reflex.
Another surprise that this activity holds for us is that it is all about relaxation. Freediving requires relaxation, but it also generates relaxation. Which is partly why it is so addictive! If we are not relaxed, it just doesn't work so well. And sometimes relaxation isn't that easy! However, when we achieve that sense of calm, it gives us more confidence, and more confidence helps us to relax even further.
You can imagine how this ability can be applied to many aspects of our lives, and especially when we are in the water, whether that is for surfing, open-water swimming, SUP, or triathlons.
What you will gain from your freediving sessions:
A basic understanding of your body's innate diving reflex
How freedivers use our breathing and other tools for relaxation
The ability to 'equalise' your ears to be able to dive below the surface safely
Technique training to move efficiently and gracefully through the water
Safety/rescue technique to be confident you can help a friend
A sense of pride and amazement at your abilities!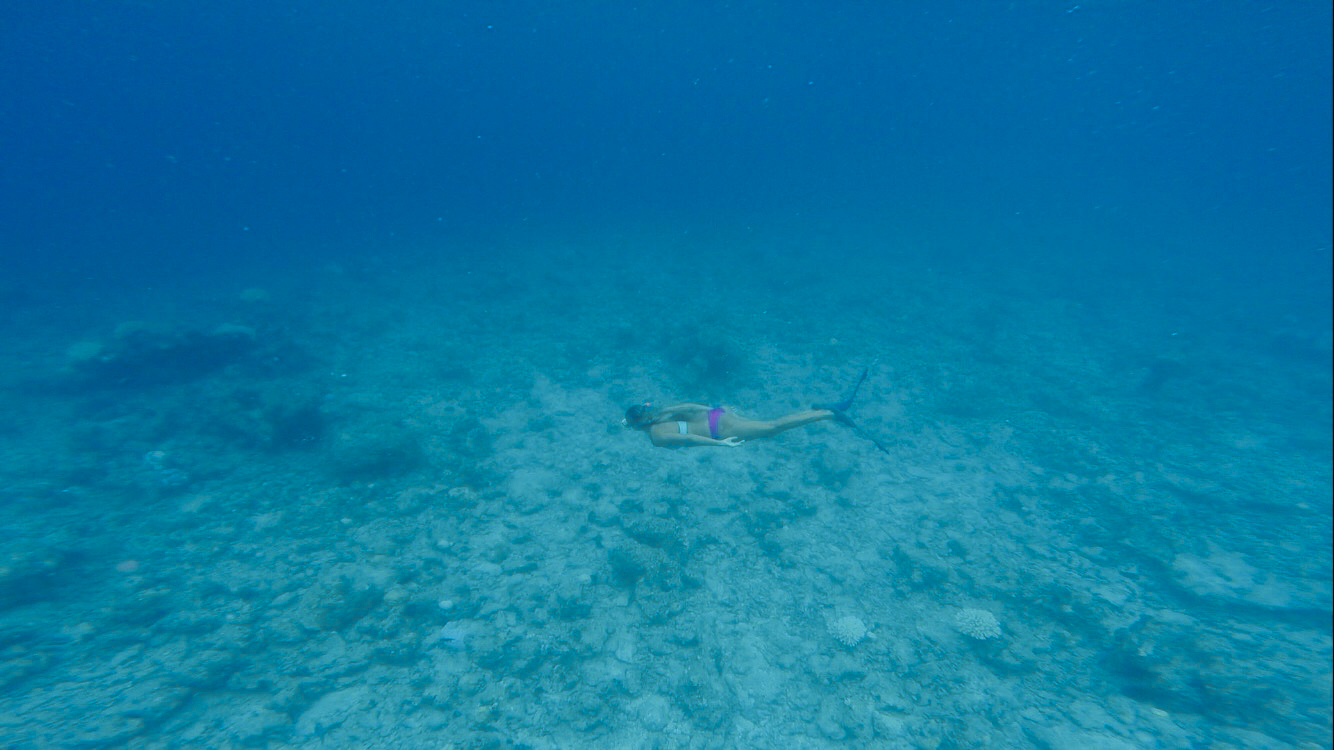 SWIMMING
Swimming in the sea or the ocean is a totally different experience to swimming in a swimming pool and confidence in open water comes from time spent in it.  Good technique is essential with anything so we'll be working in the pool on improving technique so that your stroke is more efficient and therefore less tiring when you swim.  You will then have the opportunity to put your new skills into practice when we swim in the sea.
If you are new to any sport that involves open water swimming and your experience of swimming in the ocean or sea is limited then you will benefit greatly from this retreat.
Triathletes and open water swimmers will benefit from the tuition on technique and experience and stamina built in the open water swims.
For surfers your whole surf experience will benefit from being more confident swimming in open water, not to mention your safety.  If you are not a strong enough swimmer or you are prone to panic in open water the prospect of a swim in to shore if your board or leashbreaks can be pretty daunting and physically challenging to downright dangerous.  You have a responsibility to both yourself and the surfers around you to make sure you are a strong enough swimmer to swim to shore in whatever conditions you're surfing and also to be calm and confident swimming in open water.  To do this you need to have both the technical skills as a swimmer for this and also an ease in open water that only comes from swimming in it!
What you will gain from your open water swimming technique sessions:
Improve swim technique, efficiency and stamina

Gain and improve water confidence in open water
Be calm in open water

Feel more confident and experienced in open water whatever open water sports you do

For surfers know that you can swim in to shore should your leash or board break
IS THIS RETREAT FOR ME?
Whether you are a surfer, triathlete, open water aficionado or just want to improve your swim ability and experience in open water, you will love this retreat.   It is open to guys as well as girls.
This retreat is for anyone who can swim already and who would like to improve their swimming technique, confidence and experience swimming in open water, and who are interested in an introduction to the freediving techniques of breath hold and relaxation.

YOUR INSTRUCTORS
Louisa and Ruth could be described as professional mermaids!  Both experts in their field and happiest in the ocean, you will be safe and happy in their hands as they share their techniques for ocean confidence with you.
Louisa Collyns is a freediving instructor for AIDA and PADI, and a professional safety freediver and dive coordinator at international freediving competitions such as Vertical Blue, Blue Element and the Caribbean Cup. She has also represented the UK at the Depth World Championships.  Internationally Louisa teaches alongside elite freediving athletes in their training camps and courses.
On dry land Louisa is a pilates teacher, specialising in rehabilitation, and pioneered a 'Pilates for Freediving' program, implemented at freediving training camps. She has published articles on pilates and freediving for Freedive Magazine and Barefoot Running Magazine; and freediving travel for DeeperBlue.com. Louisa based in Ibiza where she founded Freedive Ibiza. She is also a massage and reiki therapist.
Louisa is an Emergency First Response (First Aid and CPR) Instructor and worked for many years as a PADI IDCS Scuba instructor.
Ruth Osborn is a competitive swimmer from childhood, a surfer for six years and she started freediving in Ibiza with Louisa two years ago. She is a UK ASA qualified swim instructor and an AIDA 4* certified advanced freediver qualifying her to assist Louisa in teaching freediving. Her favourite place to be is in or under the water, preferably in Ibiza or the tropics.  She has competed in open water competitions in Ibiza distances ranging from 2-7km and was on the podium for most of them. She runs a successful private swim tuition business in Ibiza,  Ibiza Swim, which she set up ten years ago and (prior to getting hooked on surfing) she was coach for two seasons of Ibiza Masters and Club Natacio Portus – two of the local swim teams. She loves sharing her knowledge, expertise and passions for swimming and the water and watching as swim technique, along with enjoyment of swimming, is transformed under her tutelage.
ACCOMMODATION
We will be staying in a traditional Ibicencan finca in the campo in the heart of the island and waking up each day to a healthy breakfast and morning pool sessions.
Our boutique accommodation offers a true mix of today's modern amenities in an centuries-old family farmhouse with a stunning outdoor pool, Yoga studio, rooftop with views to the sea and Formentera, terraces and plenty of space to relax and enjoy the tranquility of the countryside.
PRICES & WHATS INCLUDED
Double or Twin room, shared bathroom  – Euros 850
Double or Twin room, en suite bathroom –  Euros 950
Double room, single occupancy, en suite bathroom – Euros 1350
Your retreat includes:
Transfers to and from the airport
4 nights accommodation in our gorgeous Villa in the Campo
Delicious healthy breakfasts
Boat trip
All neccessary equipment if don't have your own (fins, snorkel, mask, wetsuit and weight belt)
3 x in pool swim technique coaching sessions
3 x open water swims
1 x open water theory session
3 x freedive in pool sessions
2 x freedive open water sessions
1 x freedive theory session
1 x Yoga session (focusing on breath)
Wifi
Transport to all scheduled activities
Surf Sistas host on hand everyday to help you maximise your enjoyment of the White isle.
Amazing goody bag
 
HOW TO BOOK
Use the paypal links below to book your space with a 50% deposit or the full amount. If you choose to book with a deposit the remainder will be due 4 weeks prior to departure.
Please click here for our terms and conditions of booking.
Do you have questions about the retreat?  send us an email and we will be very happy to help you.
FREQUENTLY ASKED QUESTIONS
Do I need a wetsuit? 
Yes you will need a wetsuit for the open water free diving sessions.  We recommend to bring your own if you have one, if not let us know when you book and we can provide one for you.
I am traveling solo is that ok?  
Yes absolutely!  You will find a friendly crew and other solo travellers like yourself.  You can either opt for the private occupancy room or choose a twin and we will match you with a roomie (same sex).
The Ocean Confidence Retreat is a collaboration between Surf Sistas, Ibiza Swim and Freedive Ibiza