From white to green .. take your surfing to the next level with our Surf Sistas intermediate surf coaching week in Cornwall. A fun and comprehensive surf course designed specially for you by women who love to surf!
We all get in a bit of a rut with our surfing at times, still having a great time but wondering if we will ever actually step it up to the next level. If you are struggling to get out the back consistently, not sure how to turn or to duck dive, confused by swell reports, want to buy your own board but have no idea where to start, or your pop-up is a bit of a disaster.. then look no further..
Our Surf Sistas White to Green Intermediate Surf Coaching week aims to get you out of the white water and onto those elusive green waves. This 5 day course is jam packed with plenty of water time alongside understanding oceanography and swell reports, meeting a local shaper, and learning about surf health and fitness.
We have spaces for a maximum of 10 students on the course and with 3 Surf Sistas instructors and our videographer/photographer on hand you will receive plenty of 1:1 instruction throughout the week as well as benefiting from the group training sessions and of course the support of your fellow Sistas!
Upcoming 2023 Dates:
15-19 May
29 May – 2 June
12-16 June
26-30 June
10-14 July
24-28 July
21-25 August
4-8 September
See below for the full course lowdown and how to book:
Hours: The course hours are 9.30am – 4.30pm each day, although this will be kept flexible so that we can make the most of the conditions each day. Be prepared for dawnies and sunset sessions if it means we can catch the best waves. We will run two water sessions per day alongside theory sessions and an optional visit to a local board shaper. On Thursday evening there is a BBQ for course participants and instructors.
Is this course right for me? This course is targeted at those who have learnt to surf but find themselves in that white water rut. Maybe you have picked up some bad habits with your pop up, need a confidence boost to paddle out the back, want to learn to duck dive or turtle roll, or can catch green waves but need to learn to bottom turn and trim along the wave.
If you are a complete beginner we recommend that you participate in one of our Surf Sistas beginner surf weekends prior to the course so that you have covered the basics, can stand up in the white water waves and are ready for the next step!
I had an awesome week, great girls, great instructors and I learnt HEAPS. Can't wait to keep getting back in the water to put everything I've learnt in to practice and now I feel like I can actually progress. This week has taught me how important it is that you don't let 'the fear' ruin your surf, and you've just got to have fun with it and paddle like your life depends on it! The words 'set on!' will stick with me! Loved it.
Lucy, West Sussex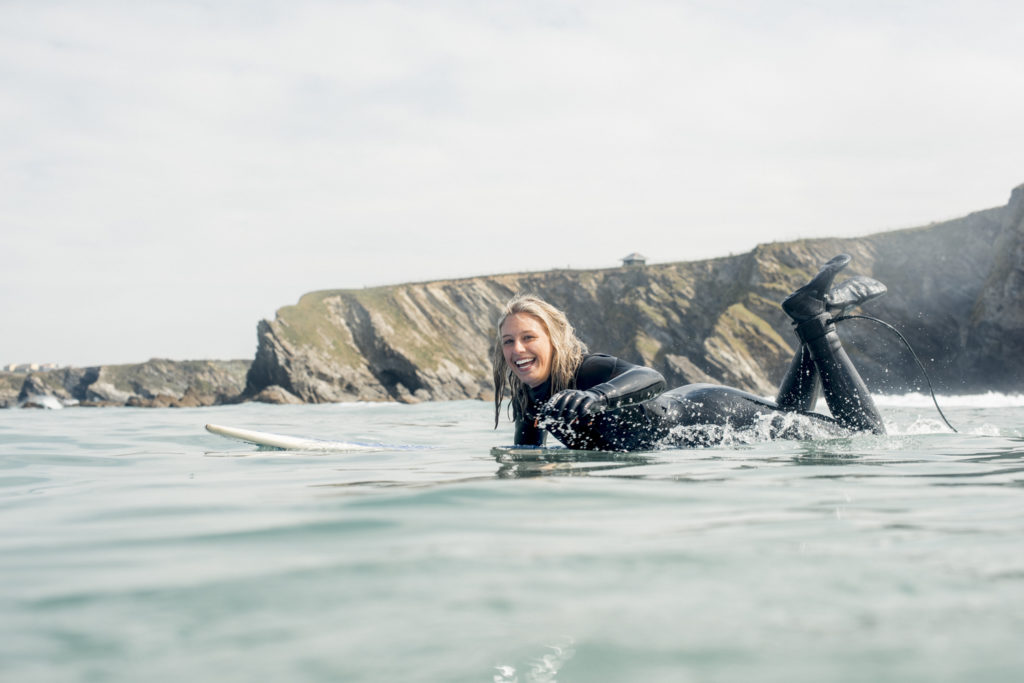 What will I learn? Following introductions our first water session will be all about finding out what level you are at and setting individual goals for the week. We will then tailor your tuition for the next 5 days around these goals.
During the week we expect to cover the following in the water – pop ups, turtle rolling, paddling, duck diving, board control, turning, positioning, etiquette, and of course confidence.
Out of the water our theory sessions will look at areas needed to enhance your progression such as fitness, nutrition, focus, and core strength and stability.
We will also look at the contributing factors to good surf, and the basics behind wave formation. We will look at tides, wind, swell and how these contribute to daily surfing conditions, applying this knowledge to understanding and using surf reports.
For anyone that is interested there is the option to visit a local board shaper to discuss board design and how to choose the right board for you. This is a great opportunity if you are about to choose your first board or change the board you have at the moment and would like some impartial guidance.
Photo & Video Analysis: We will be using video and photographs throughout the week to help you to improve your technique. You can download these images from an online gallery after the course.
Road trip: One of our favourite parts of the course is the road trip. We will all check the forecasts together for that perfect spot, making good use of our instructors local knowledge! Then we will strap the boards to the roof and hit the road on a mini surf adventure, stopping for a cream tea on the way home of course!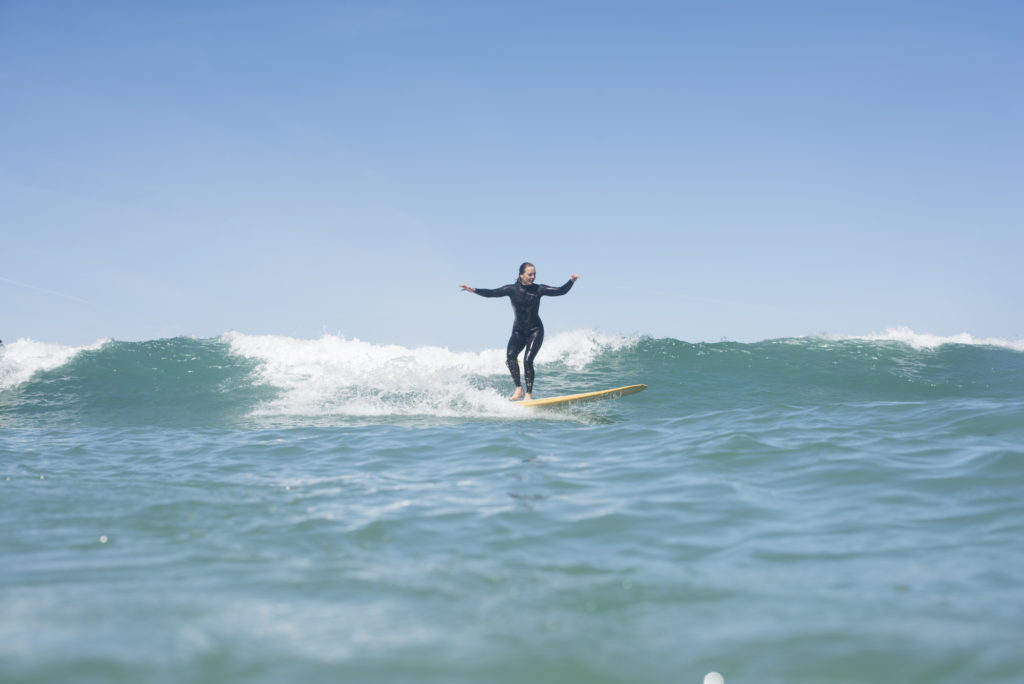 I just wanted to say what a great time I had. You and the other instructors are such an inspiration; strong women! I feel like I have achieved something that is very important to me.

Sadie, Devon
How to Book
Price: 
Early bird booking price £349
2023 `price £399

2023 Dates: *Book now at 2022 Prices
15-19 May 2023 (Spaces)
29 May – 2 June 2023 (Spaces)
12-16 June 2023 (Spaces)
26-30 June 2023 (Spaces)
10-14 July 2023 (Spaces)
24-28 July 2023 (Spaces)
4-8 September 2023 (Spaces)
11-15 September 2023 (Spaces)
5 day course (Mon – Fri) includes:
The course as detailed including Pizza Night
An amazing Surf Sistas goody bag
Wetsuit rental
Optional Extras:
Surfboard rental (£10 per day)
Yoga classes to stretch out
Spa treatments & massage to sooth aching limbs
If you need accommodation please let us know when you book and we can recommend various accommodation options for the week (Campsites, Surf lodge, B&B, Spa Hotel).
To book please use the paypal link below and once we have received your payment we will email you through your booking confirmation with all the information you need about the course, what to bring, and how to find us on the Monday morning. You can pay a 50% deposit to reserve your spot and the remainder is due 2 weeks prior to the course.
Any questions that you have please do email us surfsistas@gmail.com

We can't wait to meet you & surf with you!
As a female learning to surf in a male dominated sport it was wonderful to have Gwen right there beside you in the water, coaching you, encouraging you, laughing and singing. through the fear and adrenalin, what an inspirational woman to have around.
Prue, London
Can't make these dates? Check out our Surf & Yoga weekends or if you are comfortably paddling out to the line-up then our Intensive Progression weekends might be suitable for you.