Are you an experienced surfer, looking to cut down the length of your board and wanting to push your surfing to the next level?

At Surf Sistas we are committed to helping surfers learn new skills and fine tune their existing ones and we've designed this Shortboard clinic for those of you who are looking to step up your game.
This course is run by qualified and passionate female surf instructors who have years of surfing experience and have learnt the hard way so you don't have to!

UPCOMING DATES:
Coming soon!

LOCATION:
Newquay, Cornwall, UK

PRICE:
£175


Includes:
4 in-water sessions
Daily theory and photo/video analysis sessions
Group table reservation at one of our favourite local restaurants for the Saturday evening (Covid restrictions allowing).
Wetsuit rental if needed
Photographs of you shredding
A lovely Surf Sistas goody bag to take home
Optional Extras:
Surfboard Rental (£15 per day)


"I recently attended the 2 day Surf Sistas Shortboard Clinic and can't recommend it enough. The instructors Allannah and Ferry were super welcoming, really encouraging and approachable. They tailored the course to our level of surfing, and picked beaches where the conditions were best on the day for giving us the chance to improve.

The course was really well structured and the theory sessions between each session gave us the chance to put things into practise in the next session and really improve. Allannah was brilliant at giving us instruction and encouragement in the water, and Sarah Ferry was onshore snapping pics of every ride we got over the 4 sessions, so we were able to see our improvements and what areas we need to work on. I'd always found shortboarding a bit intimidating, but after the clinic with Surf Sistas, it's really boosted my confidence and given me a whole new level of excitement for it!
Naomi, Cornwall, Summer 2021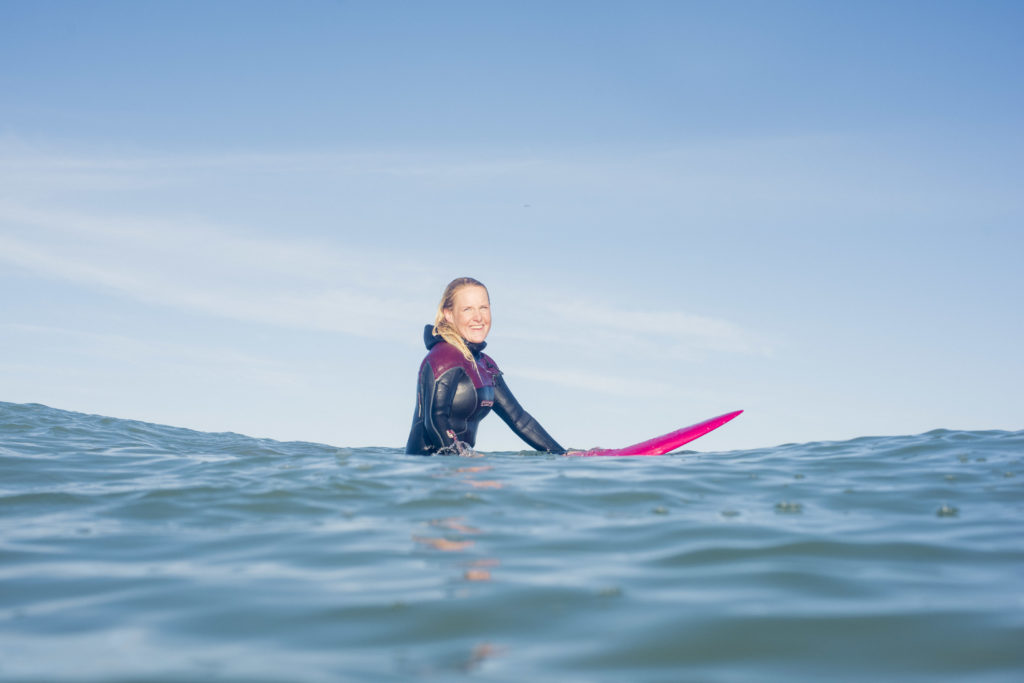 WHAT TO EXPECT
DAY 1 – Technique
Depending on your surfing experience, we will start with working through your understanding of different techniques including; handling your board and duck diving / getting out back efficiently, perfecting your stance, talking about types of waves and different wave sections for specific manoeuvres on a shortboard.

Using Video analysis, we will break down the footage to take a look at your bad habits (and good ones!) so that we can work on specific skills and manoeuvres over the weekend, building confidence in the line up and setting you up for the future.

Day 1 includes two in-water sessions with your coaches and a theory session. Our photographer & videographer will be with you all day to capture your waves.

DAY 2 – Progression
The second day is all about taking in what you have seen and learnt from your footage and giving it a go, starting with baby steps to ensure that you are pushing your surfing to the next level in a controlled and fun environment with your instructors who are there to help you every step of the way!
Day 2 comprises 2 in-water sessions and a theory session and once again our videographer/photographer is on hand to capture your progress.

IS THIS COURSE RIGHT FOR ME?
This course is designed for those who have several months/years surfing experience that want to progress onto a shortboard / smaller board.

To ensure that you are able to make the most of this programme please check that the criteria below describes your current surfing ability:

– Consistent pop up
– Good fitness/paddle fitness
– Basic board skills to get out the back
– Comfortable in 2 – 4ft / waist – head high green waves
– Able to catch green waves without assistance
– Wanting and starting to learn basic manoeuvres such as: bottom turning left and right, cutbacks, floaters, top turns & more

Our coaching ratio on all of our advanced courses is 1:4 maximum, often 1:3. For these clinics we will have a maximum of 10 students with 3 Surf Sistas coaches plus our videographer/photographer, so you can be assured of plenty of one to one attention that will help you achieve your individual goals.

If you have any questions at all please do drop us a line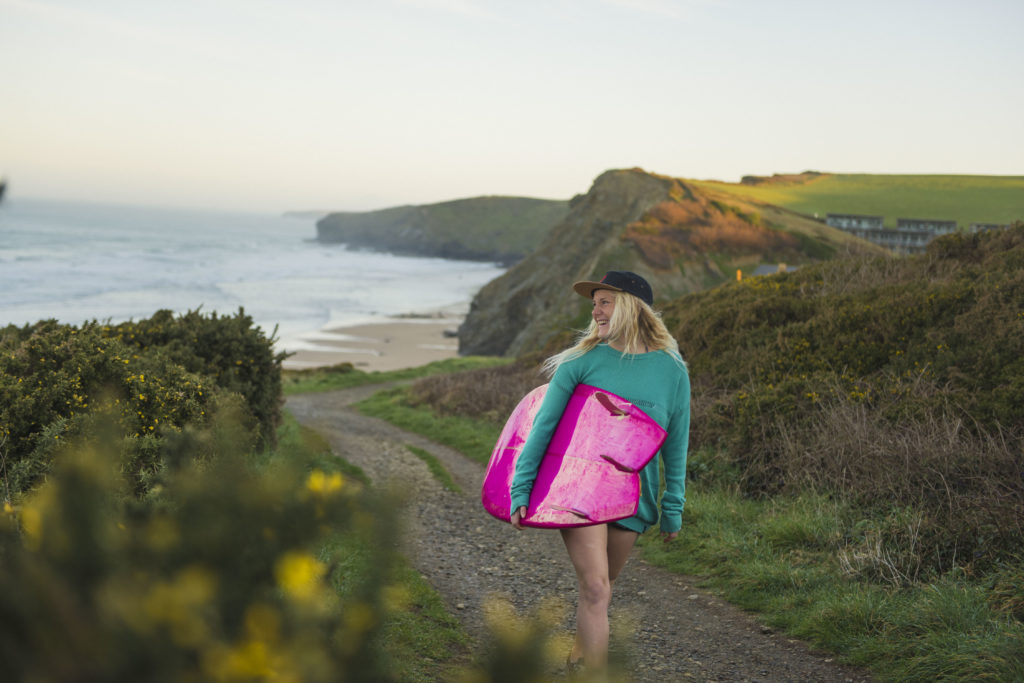 HOW TO BOOK:
Book your spot with the Paypal link below. If the link has gone it means the course is full, don't despair drop us a line and join the wait list. If it is long enough we will run more weekends!


Covid Update
– 01.03.21
Following Government and Surfing England Guidelines we will be running our Shortboard Clinics as listed with some appropriate amendments to our operational procedures.
If Covid restrictions change for the worse and we have to cancel the clinic that you book we will refund your booking or re-schedule your dates, whichever is your preference.

If you have to cancel your space on the clinic for a Covid-related reason personal to you (eg. local lockdown or self isolating) then we will offer a postponement or credit note.

Any questions at all please don't hesitate to drop us a line
Check out our full terms and conditions here.


ACCOMMODATION
If you need accommodation in Newquay please let us know when you book and we can recommend various accommodation options for the weekend (Campsites, Surf lodge, B&B, Airbnb, Spa Hotel).


FAQs
What is a shortboard?
Shortboards are considered to be under 7ft in length, and can come in many shapes and sizes for all kinds of waves, small and mushy, or big and powerful!
Shortboards tend to be easier to maneuver than bigger boards, so it can make turning and swerving the board around the face of the wave easier.
I usually ride a fish, is this course appropriate for me?
Absolutely! Shortboarding doesn't have to be aggressive and radical, there are so many ways to ride smaller boards and there are many different shapes and sizes out there that are made to suit your style and the style of surfing you are attracted to.
It's our mission to set you up with goals to take away so that you can progress in your surfing, no matter what type of short board you are on.

I want to shortboard but I'm not used to big waves, Is that ok?
Great question! A lot of mainstream footage we see of shortboarders is usually in pumping, barreling waves, but 90% of surfers don't surf those types of waves!
During the course, we will ensure that we will be surfing waves suited to everyone's ability, where we can have fun and catch lots of waves to practice the drills set by your instructor.

I've never been on a shortboard before I usually ride a mid-length, longboard, is this right for me?
We recommend that you have some / little experience riding smaller boards, so that you have a basic understanding of how to catch waves, turning left & right on a green wave, on a shorter board. We believe this is important so that you will get the most out of the theory sessions and the course.

I don't know how to duck dive can you help me with that?
For sure! We will be splitting the group into 3 ability groups with its own instructor, so we can support and guide you through the course, aiding you in specific things that you want to learn, and duck diving and getting through the waves is one of the topics!

I'm worried my surfing is not advanced enough, I don't want to hold the group back, can you advise?
You don't have to be an ultimate shredder to join this course, we will be surfing waves that are suitable for everyone, as well as splitting up into smaller ability groups so that you will be surfing with fellow Sistas that are at a similar level and that want to learn similar things to you. Our aim is for everyone to feel comfortable and confident out in the water.

I want to work on cutbacks, top turns and making my board more vertical, is this clinic going to be useful for me?
By splitting into 3 ability groups, we will be going through drills and theory that is relevant to what you want to learn. Our instructors are all passionate shortboarders and all have their own style and approach to riding shortboards and their knowledge of how to do specific manoeuveres is great, so they will be there to breakdown and explain how to do certain manoeuveres in detail.
We will also be doing photo / video analysis over the weekend, which is a great tool to help you complete and start doing these maneuvers.

I've joined progression surf courses before and found them too beginner focused, will this be the same?
With all of our courses, we understand that everyone is at a different level and everyone joins the courses for different reasons. This is why we work with a high coaching ratio, to ensure that your time with your instructor is maximised and that we can split the wider group down to account for inevitable variations in ability level.
There will be a maximum of 10 students per course, with 3 instructors, to break off into 3 separate ability groups, which means that you will receive lots of in water feedback from your coach and form a good relationship and understanding of your surfing goals with your instructor. Someone will always be close at hand to answer questions and to help you in the water, no matter what level of surfing you are at.